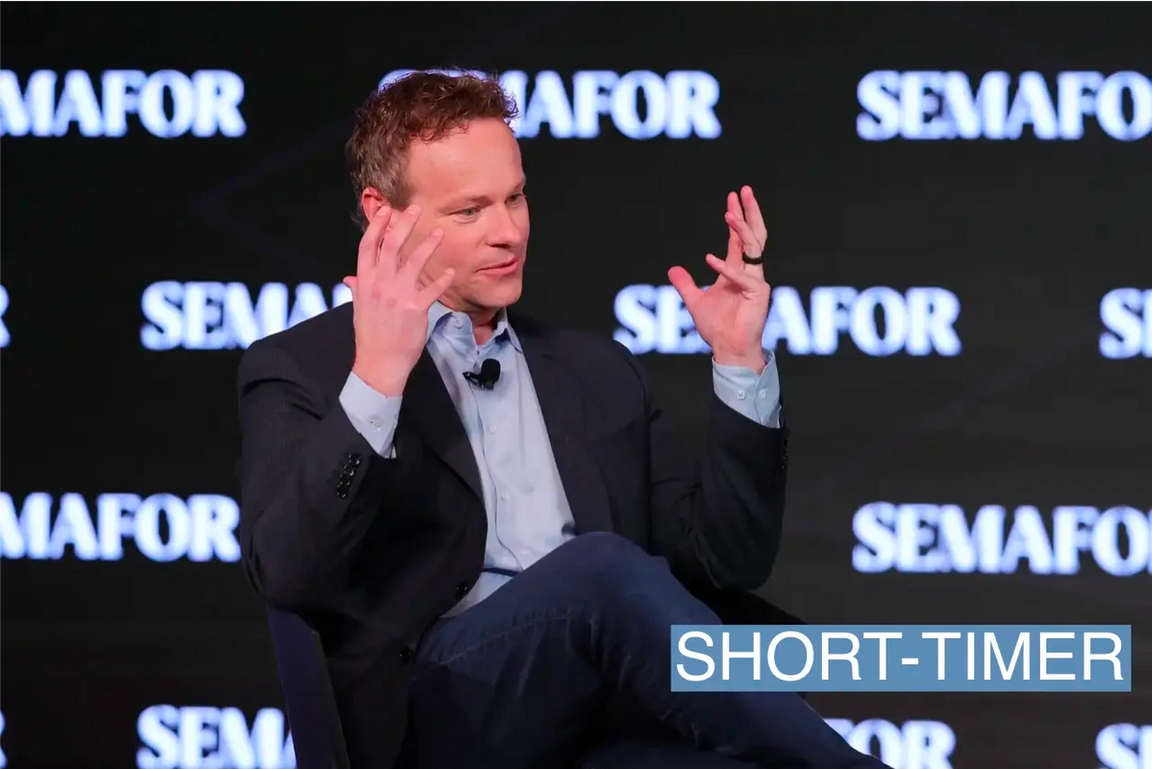 Michael Loccisano/Getty Images for Semafor
THE NEWS
Chris Licht will be stepping down as the CEO and Chairman of CNN.
Amy Entelis, Virginia Mosely, and Eric Sherling will act as the network's interim leadership team, according to an email David Zaslav, CEO of Warner Bros Discovery, sent to the newsroom on Wednesday.
In the email obtained by Semafor, Zaslav wrote that the job "was never going to be easy" and that Licht had "poured his heart and soul into it" but that "unfortunately, things did not work out the way we had hoped."
A wide-ranging profile in The Atlantic titled "Inside the Meltdown at CNN" triggered the final crisis of confidence in Licht.
BEN'S VIEW
Licht's departure is on its surface a management debacle and a reminder that you can't run a television network if you can't keep your key asset, the high-profile on-air talent, happy. And now it's a hard management crisis to fix, because WarnerDiscovery chief David Zaslav has been half-running the place all along, and I'm not sure who will want to half-run it with him now.
But it's also a strategic debacle in which cheap talk about shifting CNN from anti-Trump confrontation toward an imagined center simply didn't find an audience.
And the most obvious explanation is the one that people in media have been saying so long we've stopped believing it: Cable news is in a broad, secular decline. Even the best managers and executives won't be able to reverse that.
The decline of cable has been predicted since the birth of the internet. Veterans of the industry have developed a weariness about predictions of their doom. "We're melting — in the shade," a network president once told me. He wasn't stressed about it.
But the cable news era is pretty new, and fragile. The format has held a central place in U.S. politics for about 20 years, give or take. CNN is a child of the 1980s, but Fox and MSNBC only launched in 1996, and took some time to find their footing. Tucker Carlson's famous firing from Crossfire, after Jon Stewart accused the show of "hurting America," was in 2004, a year when the big political television controversy revolved around Dan Rather's CBS coverage. A bank of simultaneous cable feeds used to mean you were in some plugged-in news hub like the White House lower press office. Now it usually means you're at a gym.
Seen through that lens, Jeff Zucker's tenure at CNN was less a statement about what news ought to be than a heroic feat of television magic. He staved off irrelevance because he saw clearly that there was only one big pool of viewers left for CNN, MSNBC's alarmed Democratic audience. He competed aggressively and head-to-head for them. He was aided by Donald Trump, whose politics almost required a confrontation with The Establishment, represented by its most famous brands.
CNN's stars "not only missed Zucker, but also feared that he alone could stave off the decline of linear television," Puck's Dylan Byers wrote this morning, noting "the reality that CNN will become a smaller business over the forthcoming decade."
What replaces cable? Nothing in particular, and everything. A colleague recently pointed me to a remarkable statistic: The most popular podcast in America is, as you'd expect, Joe Rogan's. But that popularity only gets him five percent of the fragmented market. (And this is among people who have a favorite podcast.)
Fox News is reckoning with that splintering now. The post-Dominion right-wing network is a diminished place, currently engaged in hounding Jeanine Pirro out of speaking opportunities at churches, lest she cost them more money. Its low-budget television rival Newsmax, more willing to play on the fringe and hug Trump, has proved surprisingly enduring, and sometimes beats CNN. Tucker Carlson occupies a tiny little box on Twitter now — which isn't exactly working either, but poses a real alternative. Ben Shapiro's Daily Wire, an obvious acquisition target for both Twitter and Fox, has $150 million in annual revenue and brings in an audience that's still of working age. (I suspect at some point Fox, or Twitter, will pay billions for it.)
The collapse of CNN's ratings, meanwhile, often disguised the fact that MSNBC's have also been in gentle decline this year, after a bump driven by the viewers Zaslav and Licht chased away.
I suspect the transformation of Twitter has accelerated this decline. As Trump understood better than anyone, its truest political utility was to program cable. For a time, cable news shows literally consisted largely of people reading tweets out loud. And the best cable clips then traveled on Twitter, amplifying their relevance. Now, Twitter is less central, particularly to Democratic politics. Any video that looks vaguely like a broadcast or a podcast can travel the same way — Ryan Broderick wrote hilariously about a notorious one, an "extremely graphic video of a woman describing how she would sexually satisfy her hypothetical husband six-to-seven times a day." Talk into something that looks like a microphone and you're TV as far as Twitter and TikTok are concerned.
None of these channels or brands is going away. But it seems likely that they'll matter less and less. Their relevance is under pressure from both sides now. In TV-land, there's a broadcast news business that, despite its own obvious decline, continues to reach multiples of viewers. Online, a splintering digital landscape that has elevated a host of new influences and influencers.
And those new voices won't always fit the simple partisan categories cable news made seem almost permanent.