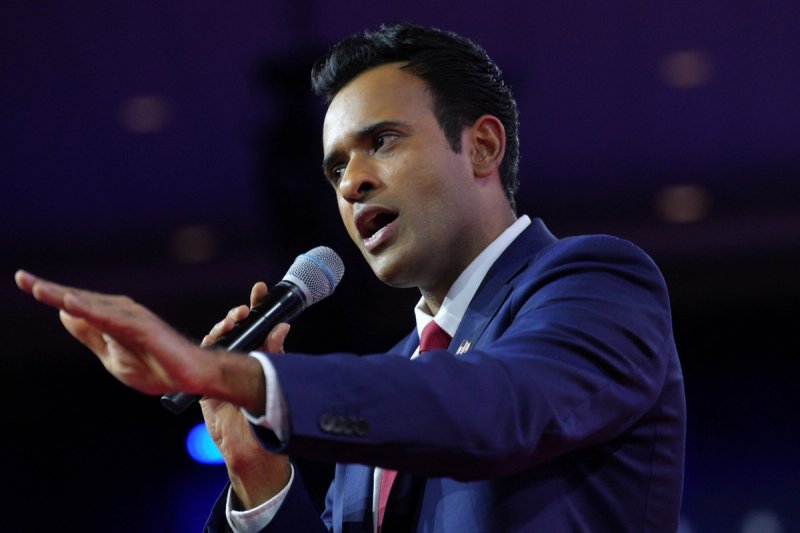 REUTERS/Nathan Howard
"I know that I lost some major donor support over the weekend over this," said Vivek Ramswamy. "I don't care."
The author of "Woke, Inc.," a multimillionaire entrepreneur who entered the GOP presidential race on Feb. 21, had been on a nonstop tear about Silicon Valley Bank's failure. He criticized the bailout that depositors got from the bank-funded federal insurance fund, as well as the tantrum by VC investors that made it happen. He also called out banks for lobbying for looser regulations around systemic risks — only to turn around and claim bailouts on that basis.
"This is part of a necessary and overdue financial disciplining of a culture of excess in Silicon Valley," Ramaswamy told Semafor this week. "It was fed, in part, by the Federal Reserve raining money from on high, like manna from heaven, for 15 years."
Shelby Talcott: You seem to have a pretty nuanced view of this fallout and collapse that I would argue some other Republicans don't have. For example, we saw Ron DeSantis tell Fox that SVB was too concerned with DEI and politics and that that diverted from them focusing on their core mission.
Vivek Ramaswamy: One of the patterns we've noticed over the last three years, even over the last three weeks since I declared, is that when I say something, we'll get an entire GOP movement, quickly, saying the same things. That includes the frontrunners in this presidential campaign. Part of me is grateful for it. Part of me finds it frustrating.
Anyone wants their ideas to be advanced. The frustrating part is that these issues, they're not simple. They're complicated. If you're just a billiard ball that's going in whatever direction you're rolled in, you don't actually hit the target. I think that characterizes the state of most Republican politicians today. I think it characterizes most of the people in the Republican field.
I think we need a leader in the White House who isn't just a follower. There's a time and place for political candidates who can take the football and run with a 9-9-9 plan or a social security reform package. But if you're talking about reviving a national identity, in the face of cultural challenges that go beyond those just strictly posed by government — I think you need somebody who can understand those challenges deeply.
Shelby: I'm wondering if you think the DeSantis answer on all of this is too simplistic. Is he right?
Vivek Ramaswamy: This was a complicated situation. The essence of this goes far deeper than DEI, and I say this as probably the single greatest critic of woke capitalism in America over the last three years. I'm grateful that the foot soldiers like Ron DeSantis have taken on this battle, and executed.
But if you really want to address the root cause here, this is a story about cronyism. This is a story about corruption. This is a story about the relationship between Silicon Valley donors, some of whom donate to the very Republican Party — even the Republican field we're talking about. That's a complicated story. It requires piercing through the artifice that this wasn't a bailout. It wasn't a bailout of a bank. That's true. But it was a bailout of Silicon Valley depositors in that bank. You have to be able to understand the essence of what's happening.
I think there are moments in American history where having an implementer is fine. I think implementers make for great governors, I think implementers can make for great congressmen and senators. There are times in history where implementers can make for good presidents, too. But I think there's times in history where you have to be both the visionary and the implementer, the person who can actually execute it to get the job done. You need somebody whose first personal understanding of it is bone deep enough that just parroting someone else's vision is not going to get the job done.
David Weigel: In your 2022 op-ed with Jed Rubenfeld, you write that "religion and gender identity" can both be matters of choice. Is there such a thing as an immutable gender identity, separate from the sex assigned at birth? Is it something you choose?
Vivek Ramaswamy: I didn't claim that legally. I was making a point, in the cultural zeitgeist of the time. Religion is the best example though, right? Because you choose your religion, you choose your political beliefs — those aren't immutable characteristics. I think the case law, as it stands today post-Bostock, is that "sex," in a plain reading, includes sexual orientation. I do not think it should be included. But I believe that legally, under that precedent, it is included.
David Weigel: In "Woke, Inc" you called January 6, a "deplorable, disgraceful assault on our democratic process by misguided rioters." Tucker Carlson called it "mostly peaceful chaos," showing video clips of less violent moments inside the Capitol. Was it mostly peaceful chaos, or a riot?
Vivek Ramswamy: I have been alarmed by how much of that footage was suppressed, and I think that my views have moved on it a little bit. But the biggest way my views have moved is my sense of concern for defendants who have been either convicted or have pled, and are serving in prison, without having had the opportunity to review that potentially exculpatory evidence.
I think it's a constitutional problem. It's the Brady rule. I don't care if you're on the left or right — and by the way, I was one of the weirdos back in the 2000s, believing that, even if you're in Guantanamo, even if it's for the most heinous of crimes, you have due process. Well, this isn't Guantanamo, this isn't 9/11 — the analogies that many on the left have tried to draw. The principle has to matter. And I think that I'm disappointed that the very people who were standing with me back then don't have a peep to say about Brady violations when it comes to January 6 prisoners.
So I think those convictions should be vacated, and the President has the power to do that, and if necessary, set a retrial to at least make sure any defendant has all exculpatory evidence available to protect themselves.
David Weigel: But you're not promising a blanket pardon.
Vivek Ramaswamy: I'm waiting for the facts. My position is generally if somebody was entrapped by the government — I don't care if that's a police officer or the Capitol Police, there's no bureaucratic distinction with the government — that can be a basis for pardon. I don't think anybody should be led with a red carpet to their jail cell by the government itself. But I would only trust what we're able to see publicly, unfiltered.