The News

For years, Goldman Sachs talked about its nascent consumer bank in generational terms. CEO David Solomon called it "the digital bank of the future," and told a Harvard interviewer in 2019, "we're building it as a platform for Goldman Sachs over the next 50 years."
That dream is now all but dead. With profits under pressure and senior partners in quiet revolt, Solomon is beating a hasty retreat from Main Street. He recently unveiled a major restructuring that will spotlight its historical strengths in trading and investment banking, and essentially bury its consumer-loan business, launched in 2016 to great fanfare.
Since then, the costs have piled up. Despite what is set to be Goldman's second-best year ever, by revenue, a funk has settled over its headquarters at 200 West Street. The firm plans to lay off up to 4,000 people, or 8% of headcount, and is planning deep cuts to bonuses for its 450-odd partners, Semafor has reported.
Next month, the firm will release three years' worth of financial results that align with that new structure. The report will pinpoint the cost of its push into consumer banking, with losses that are expected to approach $2 billion for 2022 alone, and more than $4 billion since 2019, people familiar with the matter said.
Goldman is now winding down its personal-loan business, called Marcus, for Goldman's 19th-century founder, who peddled short-term loans to merchants along Manhattan's wharfs. The firm will stop making new loans, Reuters previously reported and Semafor confirms, and is weighing a sale of the loans that remain on its books, people familiar with the matter said.
It is also abandoning a plan to launch Marcus checking accounts, after four years of work and nearly $100 million dollars spent, people familiar with the matter said.
Checking accounts were a key pillar in Solomon's consumer ambitions because they would make Goldman their customers' primary bank. In a sign of its ambitions for the accounts,  Goldman had budgeted some $250 million for a marketing campaign to them to the masses, the people said.
But the project was problematic almost from the start. Marcus executives had planned to use the Mastercard network to handle the debit payments associated with the checking account. Mastercard was the network the Marcus-linked Apple card ran on, and so was already tied into Goldman. Solomon pushed for Visa, in part to preserve investment-banking relationships with the firm, people familiar with the matter said, which added costs and complexity.
The payments vendor that Goldman hired to design the account, FIS, missed deadlines and ran up costs, people familiar with the matter said. When Marcus executives raised complaints, a senior investment banker defended FIS, noting that it was a major client that had paid Goldman more than $100 million in fees over the past few years, the people said. (Goldman advised FIS on its $35 billion takeover of Worldpay in 2019.)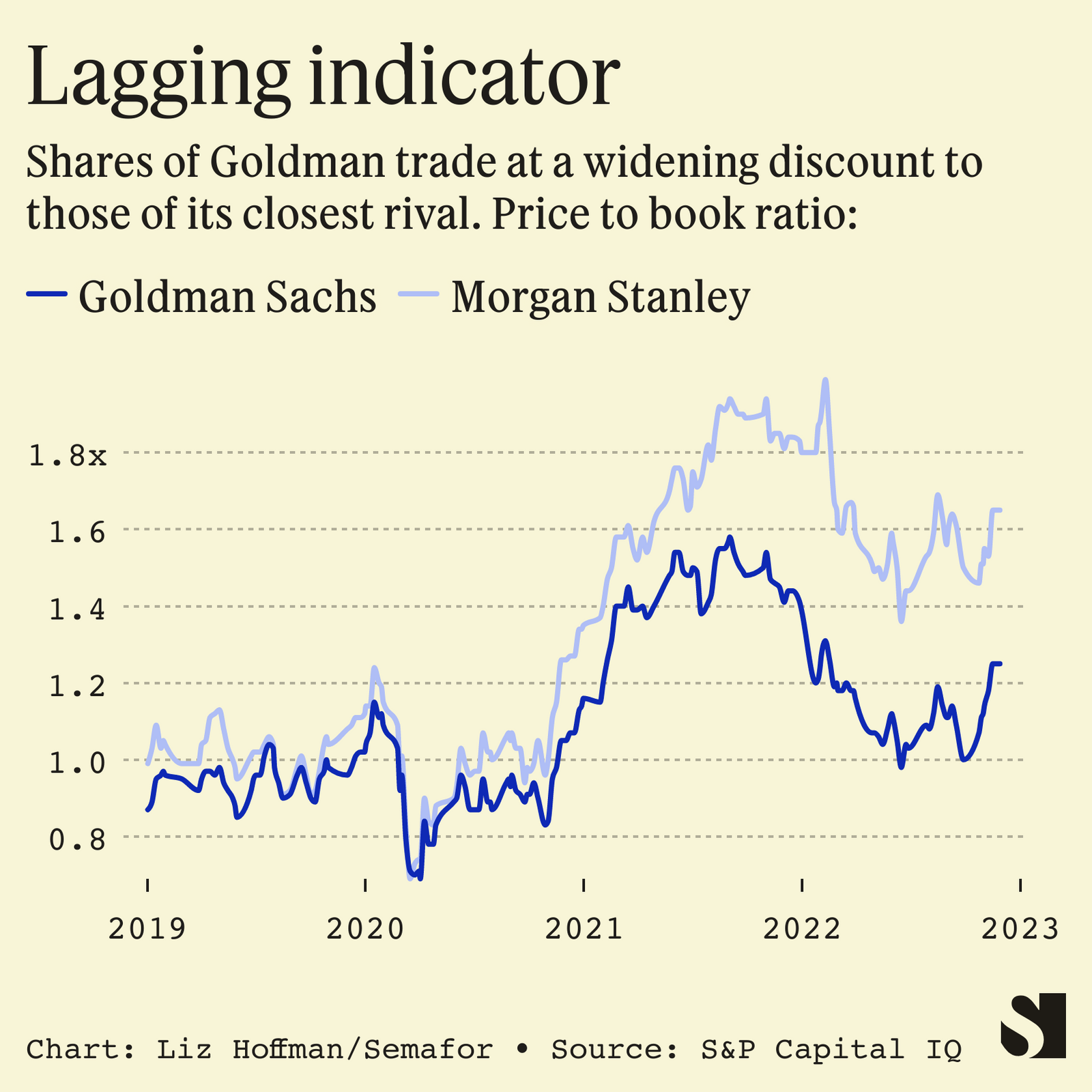 Liz's view
Three years ago, I wrote a story at The Wall Street Journal with Peter Rudegeair marking the third birthday of Goldman Sachs's push onto Main Street. It began:
Two dozen of Goldman Sachs Group Inc.'s most profitable traders were kicked off their desk last year to make room for the swelling ranks of the firm's Main Street lending arm.
Harit Talwar, the newcomers' Allbirds sneakers-wearing boss, ribbed his counterpart, a Briton named Julian Salisbury who favors crisp suits and ties knotted in a double Windsor. "Thanks for making all the money we're spending," he said, according to a person who heard the exchange.
Revisiting that anecdote with sources in recent days. I found it was more prescient than I had realized at the time. It nailed the root cause of the challenges Goldman is now facing, six years into what was supposed to be a transformation into a more balanced bank: Its Wall Street old-timers make all the money, and the Main Street newcomers spend it.
Something had to give, but not before the bank spent a lot of time and effort trying to prop up Marcus. Goldman explored partnerships with Reese Witherspoon, Rihanna, and LL Cool J, along with The Skimm, the buzzy newsletter company aimed at younger readers, according to people familiar with the matter. Nothing ever came of them. (Witherspoon approached Goldman, one of the people said, not the other way around.)
In 2020, Harit Talwar, who had been hired from Discover in 2015 to build the consumer bank, floated the idea of Goldman buying his old firm. Solomon considered Discover low-rent, but put Goldman's strategy team to work analyzing whether it could buy American Express, people familiar with the effort said.
The next eight weeks will present the biggest test Solomon has faced since taking over as CEO in 2018.
In mid-January, he'll announce fourth-quarter earnings, lay off thousands of workers, and pay out smaller bonuses for those that stay. Then he'll defend his strategy at two high-stakes events: a partner retreat set for Miami in early February and an all-day shareholder presentation in New York at the end of the month. That's a tough gauntlet to walk.

Room for Disagreement
Marcus is an easy punching bag for Goldman's investment bankers and traders, but it's not entirely to blame for falling margins and bonus cuts this year. The biggest contributor to profit declines is Goldman's asset-management arm, where the firm marked down investments in private equity,  real estate, and credit, people familiar with the matter said.
The about-face on Marcus will raise fair questions about Solomon's strategic vision and execution chops. But Goldman's consumer operations will come out of this restructuring in a better position, piggy-backing for free on the firm's existing relationships with corporate America rather than being sold through an direct-to-consumer site built by thousands of engineers hired over the past few years at huge cost.
The Apple card has been a winner – from a branding standpoint at least, if not yet a financial one. Goldman has basked in the tech giant's brand halo and expects to start making money from the relationship next year.

Notable