The News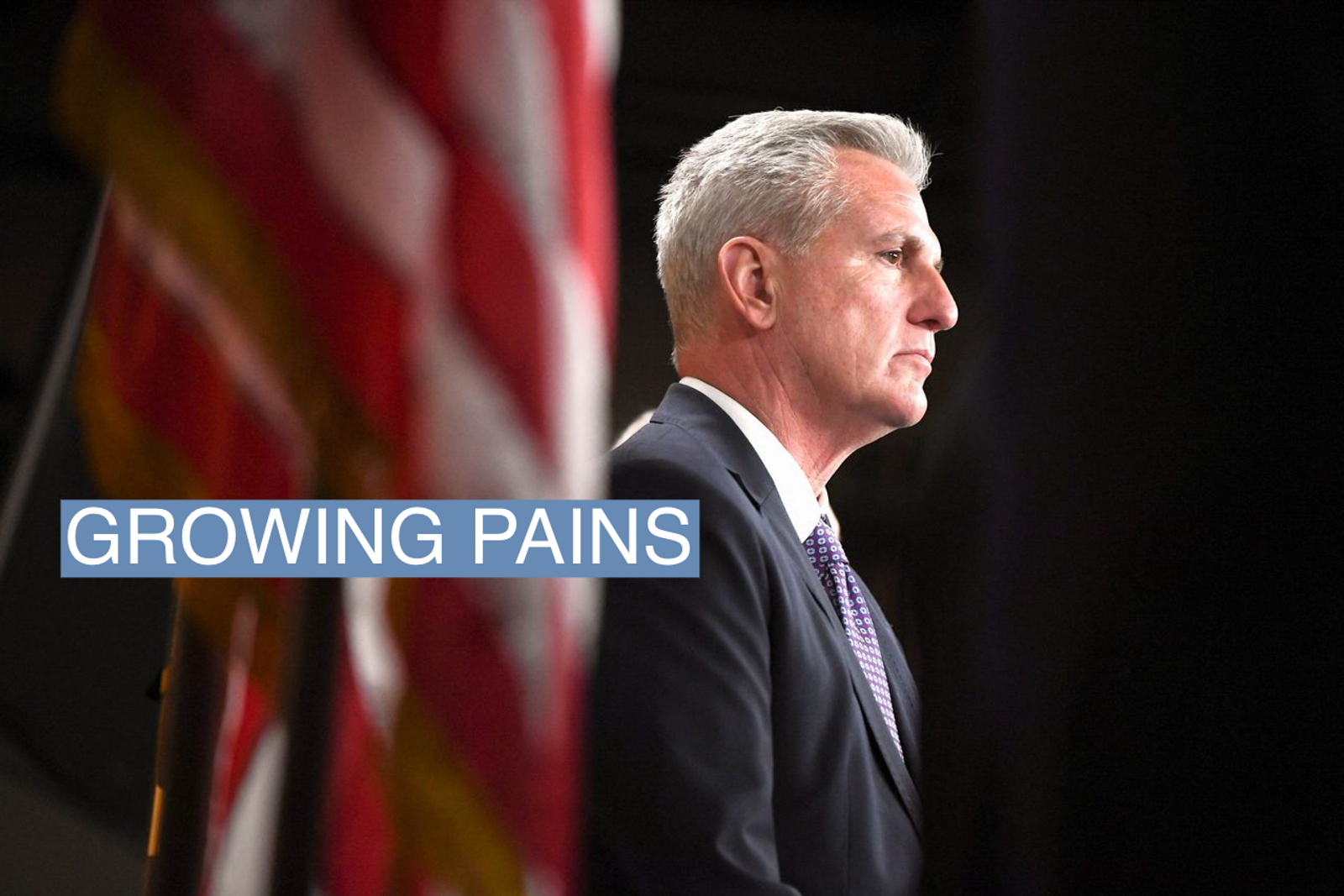 House Minority Leader Kevin McCarthy is fuming over being cut out of a massive bill to fund the government through next year and the Senate thinks that's just adorable.
With Mitch McConnell, Chuck Schumer, and Nancy Pelosi all working towards an omnibus spending deal, McCarthy wants a short-term funding bill instead that would expire soon after Republicans take control of the House and let them start from scratch.
"Allow the American people what they said a month ago, to change Washington as they know it today," McCarthy said at a press conference on Wednesday.
But with the exception of a few conservative allies, Senators are largely dismissing his complaints, telling McCarthy to get his House in order before asking for a seat at the grown-up table. And remember, they say, they're doing this for his own good.
"I just think for Kevin's sake, even though he's not asking for it, I think some Republicans just feel like we should relieve him of that burden," Sen. Kevin Cramer, R-N.D., a former House member, told Semafor.

Joseph and Kadia's View
It makes sense some House Republicans are mad. The backdrop of the negotiations is that nobody involved in the deal wants McCarthy (or whoever ends up in charge) negotiating this bill come January.
McCarthy is poised to run a narrow 222-seat majority next year that is already forcing him into tension with his far right flank, who currently are threatening to tank his speakership and urging him to take a hard line with McConnell.
"We need to have everyone vote no [on an omnibus], and then we also need to call out the Senate and challenge the Senate to also vote no, because the Senate can stop this," Rep. Bob Good, R-Va., one of the holdouts on the speaker's vote, said.
With the House GOP still going through its awkward phase, neither Democrats nor Republicans working on a deal are confident McCarthy can keep his caucus unified in a high-stakes shutdown fight. In addition to the potential for chaos, a House-led deal could jeopardize bipartisan Senate priorities like Ukraine aid and a bill to block Jan 6th-style coup attempts that's set to ride the omnibus.
So while top negotiators say they understand that maturing leaders need to show off in front of their new friends sometimes, they worry that an omnibus would be an awful lot of responsibility for a still-growing caucus.
"He's running for speaker and I understand that, and he's got a lot of dissidents, so people say what they want," said Sen. Richard Shelby, R-Ala, an appropriator who McCarthy has complained is not "accountable" to voters due to his impending retirement. "But I'm hoping we can pass an omnibus, fund the government, fund the military, fund the veterans."

Room for Disagreement
For all the acrimony, it's not clear how different a spending deal negotiated with House Republicans would actually be, Manhattan Institute fellow Brian Riedl told Semafor. Since future spending bills will still require 60 votes in the Senate, bipartisan talks there are likely to have a huge influence on the final outcome.
"I think Senate Republicans are happy to have a House Republican majority," Riedl said. "But they also think whatever is going to pass a supermajority in the Senate is probably going to pass a slightly-Democratic versus slightly-Republican House with about the same difficulty."

Notable
CNN notes McConnell and McCarthy haven't seen eye to eye on bipartisan legislation throughout the last Congress: "Bills to bolster the nation's infrastructure, new gun safety programs and a ramp up of semiconductor chip production all became law with McConnell's support and over McCarthy's opposition."

Editor's Note
An earlier version of this story misstated Sen. Cramer's committee assignments. He does not serve on the Appropriations Committee.