The News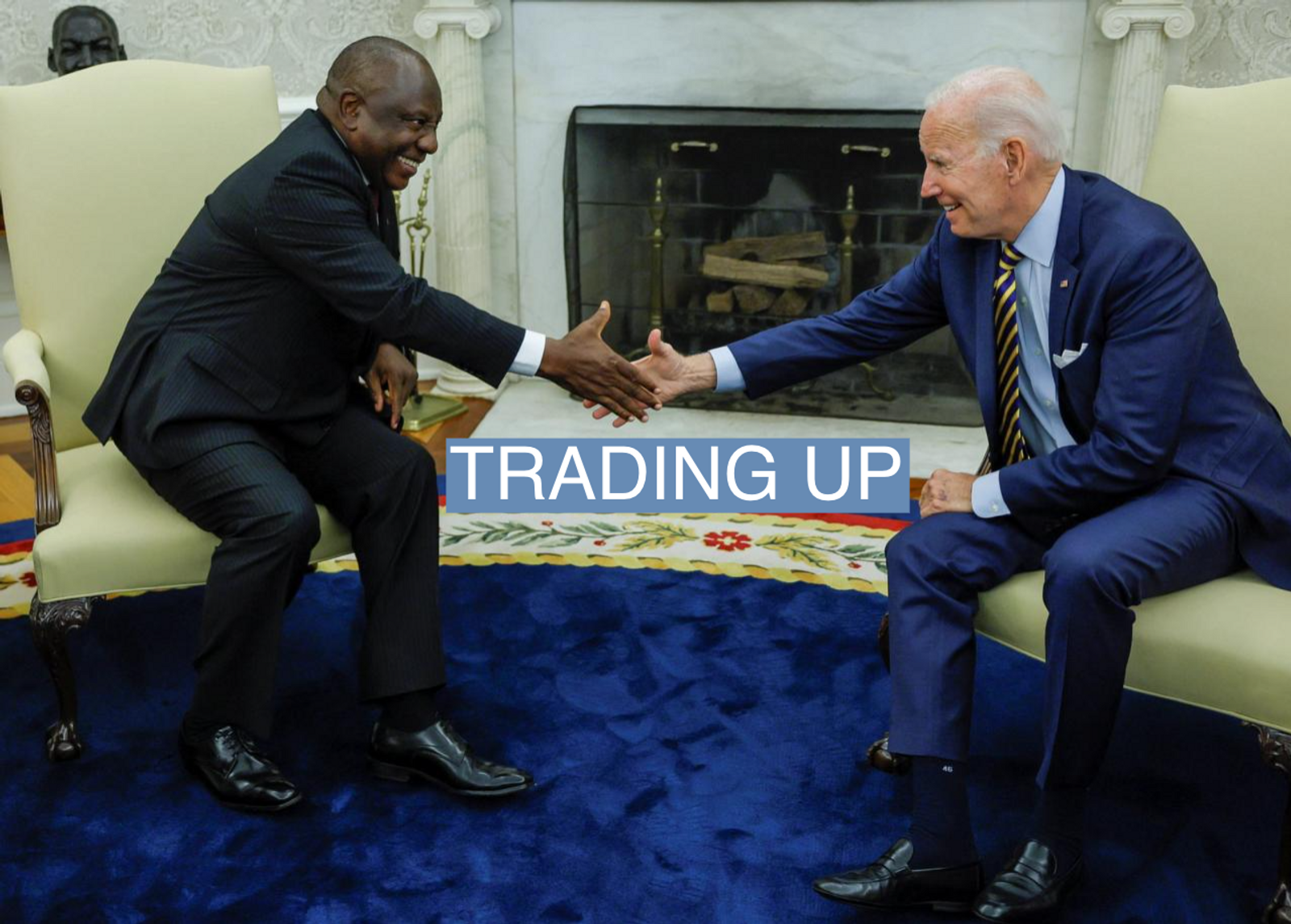 The future of the African Growth and Opportunity Act (AGOA) will be one of the key talking points with African governments when they meet U.S. government officials at the White House's US-Africa Leaders Summit next week with the 49 heads of state and other leaders.
There are going to be "robust engagements" about AGOA, said senior administration officials on a pre-summit call on Thursday (Dec.8). They said President Biden and his Africa-focused team would be especially interested to hear what African leaders have to say about the current state of the program.

Yinka's view
The level of intrigue and concern around the future of AGOA is palpable in US-Africa policy discussions around Washington DC. But it's a more urgent question in African capitals where the trifecta of runaway inflation, economic slowdown, and concerns about sharp, rising unemployment are very real at present.
AGOA has been at the core of U.S. economic policy and commercial engagement with Africa since it was enacted in 2000. It is believed to have helped create tens of thousands of jobs on the continent and enabled up to $4.8 billion of trade last year, according to the US Trade Representative. But the legislation is set to expire in September 2025 and it is unclear if it will be updated in some fashion or just allowed to end as the U.S. considers its options.
The uncertainty around AGOA's future or how best to build on it was perhaps best captured in 2020, when the Trump administration signed a separate bilateral free trade agreement with Kenya. But it's worth noting Kenya is also the largest AGOA exporter of apparel to the U.S., topping $449 million in 2021 and accounting for some 50,000 direct jobs, according to the Corporate Council on Africa.
Whether AGOA survives or not may not be the right question, though there are hints of "substantial deliverables" according to senior Biden administration officials when asked directly about its future.
After 22 years, it might be more useful to imagine how this program might be evolved for the next 25 years after its current form expires in 2050 when there'll be 2.5 billion people on the continent, versus 800 million in 2000. There's little chance the United States, particularly under President Biden, will throw away the gains of the AGOA decades. Based on conversations with US-Africa lobbyists and advisors it's more likely there will be a push to integrate US trade ambitions on the continent into the Africa Continental Free Trade Agreement (AfCFTA) which is the world's largest free-trade area by population with over 1.3 billion people.
As the US looks to diversify supply chains around the world, there's an expectation from the US business community that African governments will take advantage of AfCFTA in helping the continent to move up global value chains. "We need to be joined at the hip in developing these next generation supply chains," said one US-based Africa lobbyist.
Though the program is nearly a quarter of a century old there's still an opportunity to drive home its benefits. "Better marketing and promotion of AGOA and buyer-supplier profiles could significantly close the information and knowledge gaps that have stymied greater AGOA trade," said Alex Vines, director of the Africa program at Chatham House, a think tank in London.

The View From Addis Ababa
If you have any doubt about the importance of AGOA to key African countries you need only to look to Ethiopia.
When the U.S. suspended Ethiopia on Jan.1 from the AGOA trade preference program for "gross violations" of human rights amid the widening conflict in the northern Tigray region, its impact was felt almost immediately.
Within weeks major manufacturing facilities and other companies in the industrial parks of cities like Hawassa and Bahir-Dar began laying off hundreds, then eventually thousands of workers after losing orders from the US market. Through AGOA, Ethiopia has built a thriving duty free export sector for apparel makers for international brands from like Calvin Klein, Tommy Hilfiger and H&M.
The fall out from the war and its subsequent termination from AGOA has put the government of Prime Minister Abiy under intense economic pressure. As the industrial parks laid workers off there were even reports of some buildings in those parks being turned into prisons. Sources tell us Ethiopia is sending a sizable delegation to the US-Africa Leaders Summit next week, including some of Abiy's top economic advisors, with lobbying for its reinstatement to AGOA near the top of their priorities list.

Room for Disagreement
Some are skeptical about AGOA's chances of survival because of how much Africa has grown itself since the start of this century. "AGOA was enacted over two decades ago, which is a long time economically," said Ken Gichinga, Chief Economist, Mentoria Economics in Nairobi, Kenya. "From where I sit, the survival of AGOA will largely depend on changes to ensure more trade balance that takes into account the needs of emerging traders and the growing workforce, most of whom are young. Only by ensuring tenets of fair trade will AGOA survive, otherwise its future is bleak."

Additional reporting by Samuel Getachew in Addis Ababa and Muchira Gachenge in Nairobi.