The News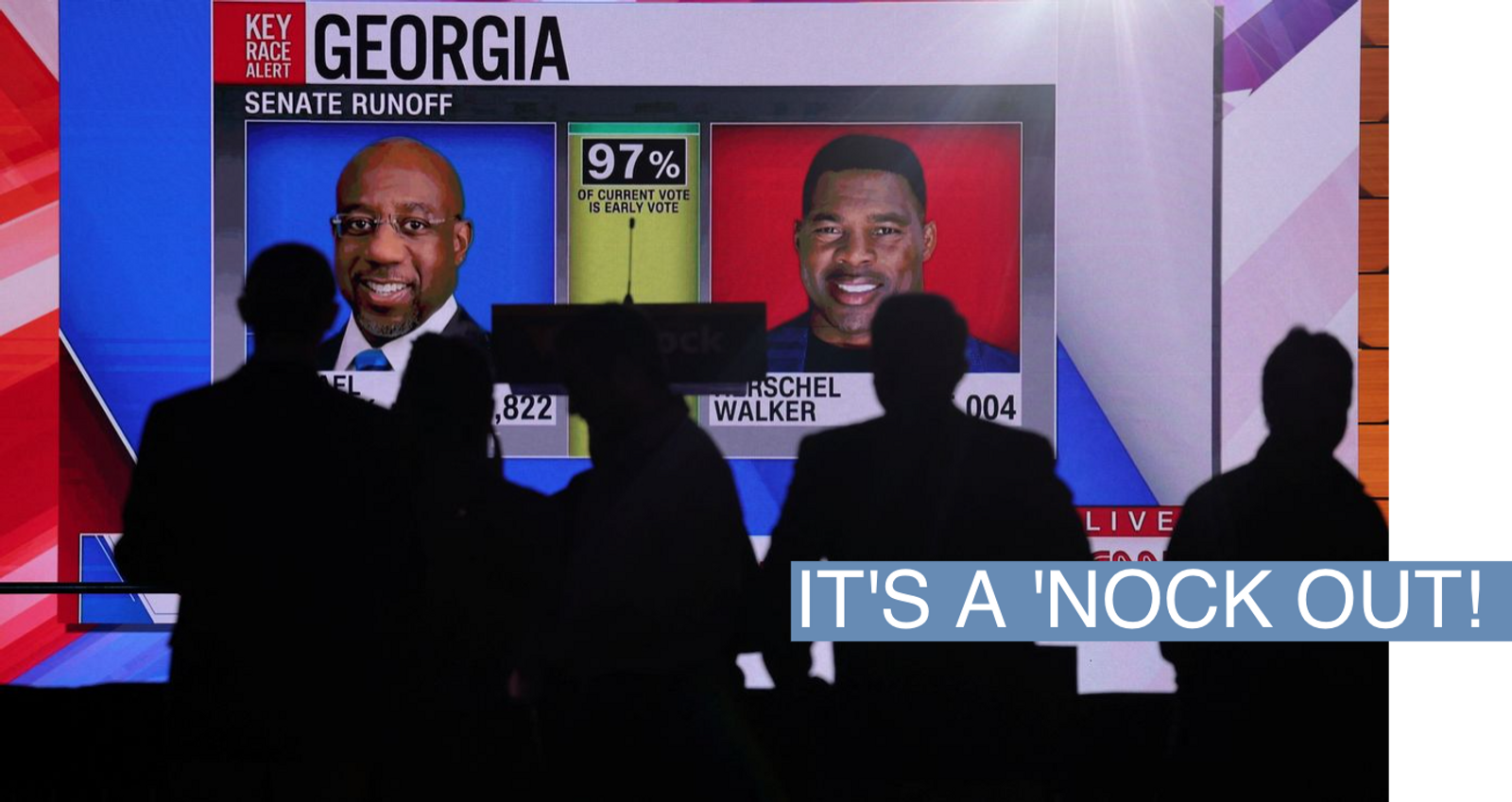 ATLANTA, Ga. — "After a hard-fought campaign — or should I say campaigns — it is my honor to utter the four most powerful words ever spoken in a democracy: The people have spoken," Raphael Warnock said during his victory speech.
Warnock won reelection by overwhelming Republican nominee Herschel Walker in metro Atlanta and limiting his losses in rural counties — another victory for the party's new urban-suburban coalition.
Black Voters Matter co-founder LaTosha Brown told Semafor the outcome showed that "what happened in Georgia in 2021 was not a fluke," when Warnock and Jon Ossoff each won runoffs.
Walker needed heavy turnout on Election Day to erase Warnock's advantage among the 1.9 million early voters — and got it, with the help of a multi-million dollar GOP effort to turn out their base. But while Walker improved on his November margins in dozens of small rural counties, Warnock ran better in Democratic-leaning areas than he had in the first round. By 9:30 PM ET it was clear to both sides Warnock would win decisively.
In his concession speech, Walker said, "There's no excuses in life. I'm not going to make any excuses now because we put up one heck of a fight."

David's View
Walker was one of the worst Republican recruits of the cycle, popular with the Republican base and repellant everywhere else.
How bad did things get this campaign? One of the candidate's children, 23-year old conservative influencer Christian Walker, tweeted the following political epitaph last night: "Don't beat women, hold guns to peoples heads, fund abortions then pretend your pro-life, stalk cheerleaders, leave your multiple minor children alone to chase more fame, lie, lie, lie, say stupid crap, and make a fool of your family. And then maybe you can win a senate seat."
He nearly won anyway, demonstrating just how fragile the Democrats' new electorate is — better at turning out in special and midterm elections than it used to be, but still searching for its bottom with white non-college voters. There's a functional Republican coalition in Georgia that went for GOP candidates up and down the ticket last month, but Walker was just too much for them to bear.
But that also gives Democrats hope moving forward, suggesting that even in an age of extreme polarization, independents and Republicans can still be won over with a superior campaign and message.
"There's a group of people that are willing to change votes based upon what you tell them," Jason Carter, a former Democratic gubernatorial candidate and grandson of the former president, told Semafor. "That puts Georgia in play in a different way than it has before."

The View From Republicans
Recriminations started as soon as the checkmark hit Warnock's name. On Fox News, the call came during Laura Ingraham's 10 pm show, and the host and her guests — including 2016 Trump campaign manager Kellyanne Conway — said little about Trump's Walker endorsement and more about how the party let Democrats out-spend them and build an early vote lead.
"To me, it never felt like the Senate Republicans wanted this guy in office," Ingraham told viewers. "This was winnable."

Notable
With the election over, campaign advisors and staff to Walker broke down where things went wrong for Politico. In addition to the candidate's personal struggles, staff clashed with Walker over strategy, including how hard to target traditionally Democratic Black voters.