The Scoop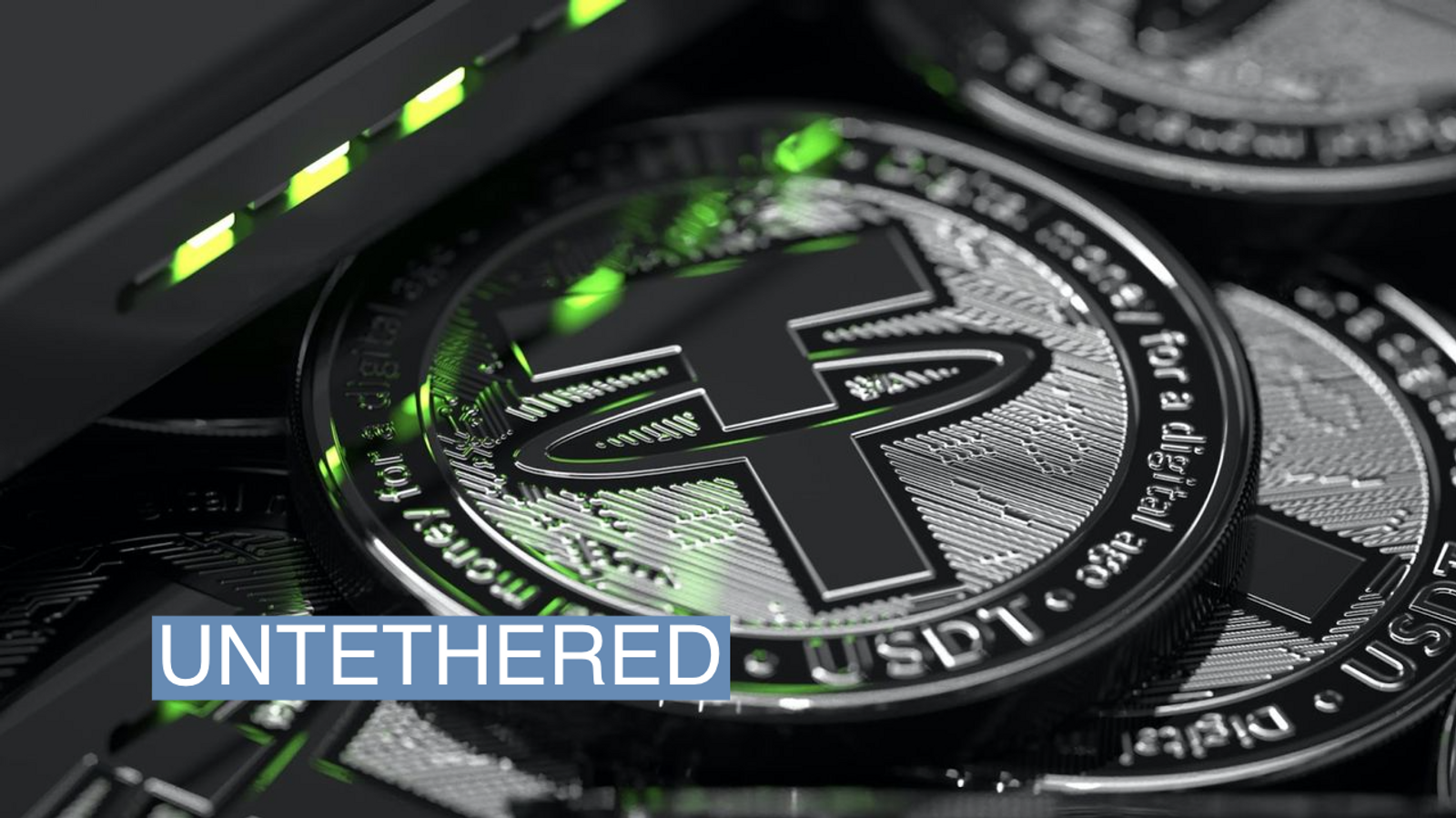 Investors are growing concerned that Tether, a digital token that plays a major role in linking the crypto economy to the dollar, could be the next piece of crypto Kryptonite.
Last spring, a few hedge funds laid a bet that Tether, so named because it's supposed to be tied to the greenback, would drop below its $1 peg. Their view was so contrarian that Wall Street charged them relatively little — about 4% in annual fees, about what you'd pay to bet against Warby Parker stock right now.
Today, one of those traders said, you can't bet against Tether at virtually any price: So deep is the concern that it will be the next casualty of the quickly expanding crypto storm that nobody will take the other side of that wager, even for a fat fee.
Tether, which initially didn't respond to a request for comment, said in a statement that its "reserves remain extremely liquid." It also said that the collapse of crypto exchange FTX caused a liquidity shortage that made it difficult for short sellers to borrow Tether.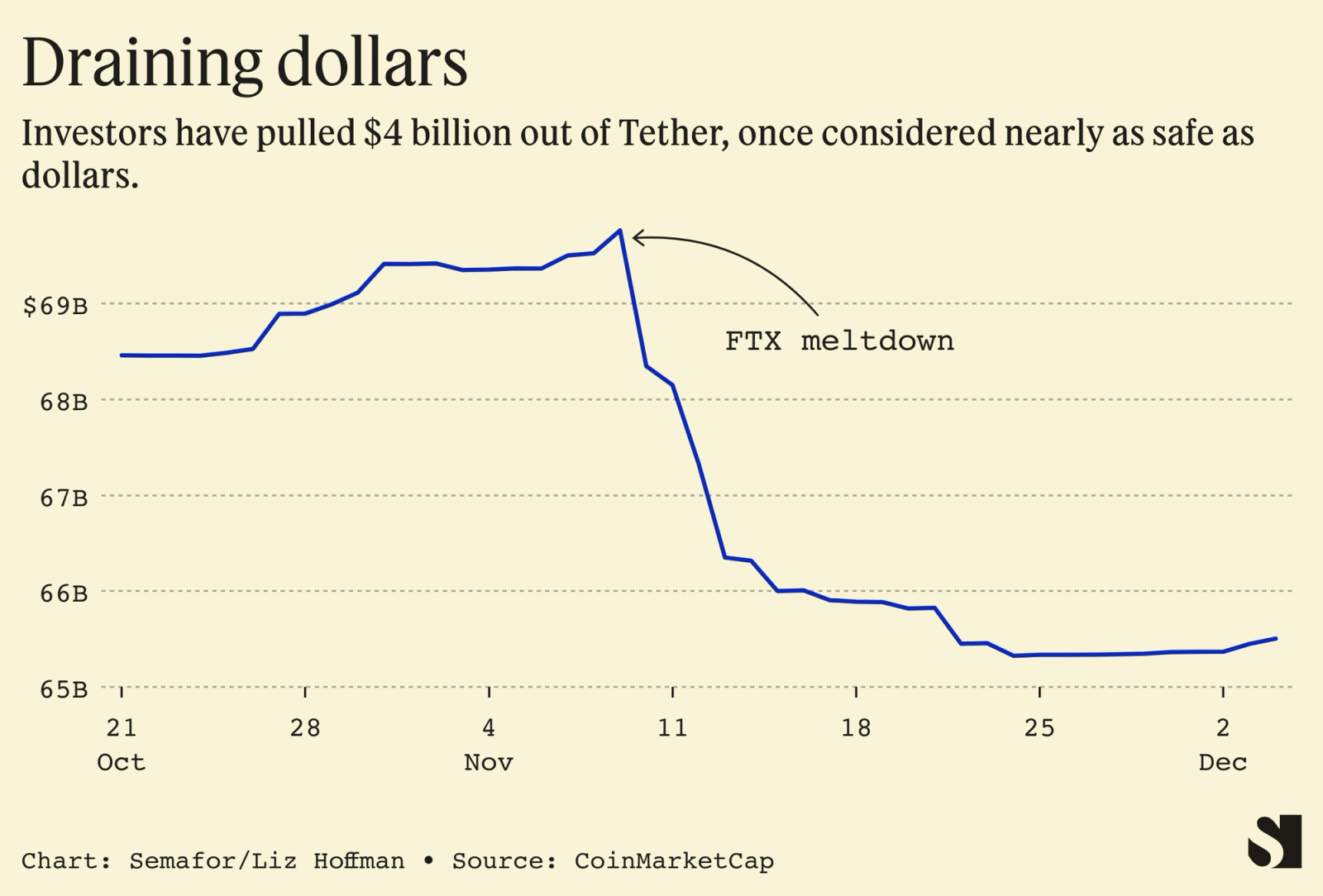 Liz's view
Contagion spreads fast, as we've seen in cryptoland over the past few weeks, and Tether is an obvious place for it to migrate and fester.
Investors' core worries are about what actually backs the $65.6 billion worth of Tether, which is the largest of a set of "stablecoins" that pitch themselves as being backed by easily sold assets like currencies and government notes.
Since a Bloomberg report last year that it held risky investments like short-term loans to Chinese companies, Tether said it has shifted its money into safer things like government bonds. A September report, prepared by Tether's auditor and meant to reassure customers, showed that more than 80% of its $68 billion was in fairly safe, liquid stuff — $40 billion in U.S. Treasurys, $7 billion in money-market funds, and $6 billion in cash. (That list of assets is smaller today after a wave of redemptions.)
The rest, though, is in investments that are harder to value and sell, and about which Tether shares very little. It owns some $6 billion in loans secured by its own coins, a spokesman confirmed to WSJ last week. A loss of confidence in Tether, like the one that hit FTX's token, would reduce that collateral to zero, taking 10% of Tether's assets with it.
It also owns $2.6 billion in "other investments," according to the September report. It's not totally clear what's in them, but they are likely venture stakes in other crypto companies held by its owners and affiliates, according to a global investigations firm commissioned by a hedge fund betting against the price of Tether. Semafor reviewed the findings of its report that found Tether holds equity stakes in more than a dozen crypto startups.
Semafor was able to verify some but not others. We confirmed that the crypto exchange that owns Tether invested, either through itself or an affiliate, into: an online-betting site called Betfinex; Dazaar, a data-sharing service; Dusk Networks, whose software turns financial investments into tokens; a crypto trading platform called Rhino; Shape Shift, a crypto wallet; Blockstream, a blockchain infrastructure company; Netki, a digital-ID company; and Keet.io, a video-chat app.
Any honest assessment of that $2.6 billion "other investments" portfolio would likely mean it is worth less today than it was in September.
And as token-holders ask for their money back, Tether has to sell the stuff it can — government bonds, corporate bonds, money-market positions. That means the stuff it can't sell — namely, venture investments – will start to make up a larger portion of its assets. This is how runs on banks start.
After crypto exchange FTX went under, Tether fell to $0.98 last month, forcing its chief technology officer to confirm the company was giving hard currency back to token holders who asked for it: "No issues," he tweeted.
Since Nov. 9, the day after FTX's problems became known, investors have pulled $430 million out of Tether, about 6% of their money.
It's also worth pointing out that, setting aside any risks lurking in Tether's portfolio, the crypto crash is bad news for the company. A major reason to own Tether is that it's a useful currency on many crypto exchanges – a sort of arcade token that makes transacting in cryptoland easier and cheaper. There's a lot less of that happening now.
Tether said that the "reality is, given our extremely liquid assets that include 82.5% in cash equivalents, any short seller attempting to borrow USD₮ to sell would put themselves in extreme danger."

Room for Disagreement
"Tether Dominance Nears All-Time High as Crypto Crashes," read a headline last month from Blockworks, an industry site.
All but the most bearish, bordering on get-off-my-lawn-you-kids crypto skeptics believe that someone will come along and professionalize the industry. The problem is, that was supposed to be Sam Bankman-Fried and FTX. (Bankman-Fried is an investor in Semafor.) With that role unfilled, any crypto investors who remain committed need somewhere to keep their money, and Tether may be the last one standing.
Outflows have stabilized and slightly reversed over the past week, with investors putting more money into Tether than they took out in three of the past four days. In this jittery market, a 6% decline is nothing.

Notable
More details on the short wagers against Tether back in the spring, much of them arranged by Genesis, a giant crypto lender now facing its own problem.
Stablecoins like Tether "can only import stability, not manufacture it, making them a net drain of stability from the financial system," writes Steven Kelly, a researcher at Yale.

Update
The story was updated to add a statement from Tether, which didn't initially respond to a request for a comment.