The News
Thousands of people on Weibo -- China's version of Twitter -- are openly dismissing concerns about the Omicron variant's severity, sharing their own experiences with the virus to criticize the severe zero-COVID lockdowns.
Many users noted that this was the first time they had heard directly from people what it was like to get COVID.
On Thursday, posts with the hashtag "What's it like to be infected with COVID?" had over 53 million views on Weibo. Dozens of posts critical of the government's strict zero-COVID measures remained uncensored on the platform.

The Posts
Many users said they wished they would have known about people's experiences with COVID earlier.
"I really want to know what it feels like," one user wrote. "I suggest that [China Central Television] directly make a special topic, interview hundreds of infected people of different ages, and let them speak directly!"

Several people posted about how their mild COVID symptoms didn't justify strict lockdowns.
"It felt like I had no symptoms or just a small cold," one user wrote. "On the other hand, I was scared to death about what the domestic media was saying about it."

"I had tonsilitis with a 104 degree fever, which was just like my (COVID infection): I laid down for seven or eight days before I got out of bed, and I wasn't dead," another post said. "Anti-epidemic enthusiasts can take care of themselves. However you die, you're not likely to get hit and killed by a car if you can't go out and live your life."

Some users said that while they didn't have COVID and didn't want to know what it felt like, they had experienced both the emotional and economic toll of COVID lockdowns.

Room for Disagreement
Many Weibo users noted that removing lockdowns would put vulnerable and older people at risk of getting COVID. Some who never had COVID said they were in favor of lockdowns to avoid getting it.
"I don't even want to catch a cold, let alone [Omicron]," wrote one user. "If the country wants to open up, I hope it considers the medical security of those left-behind like the elderly in rural areas, newborn babies, pregnant women, and those with underlying diseases."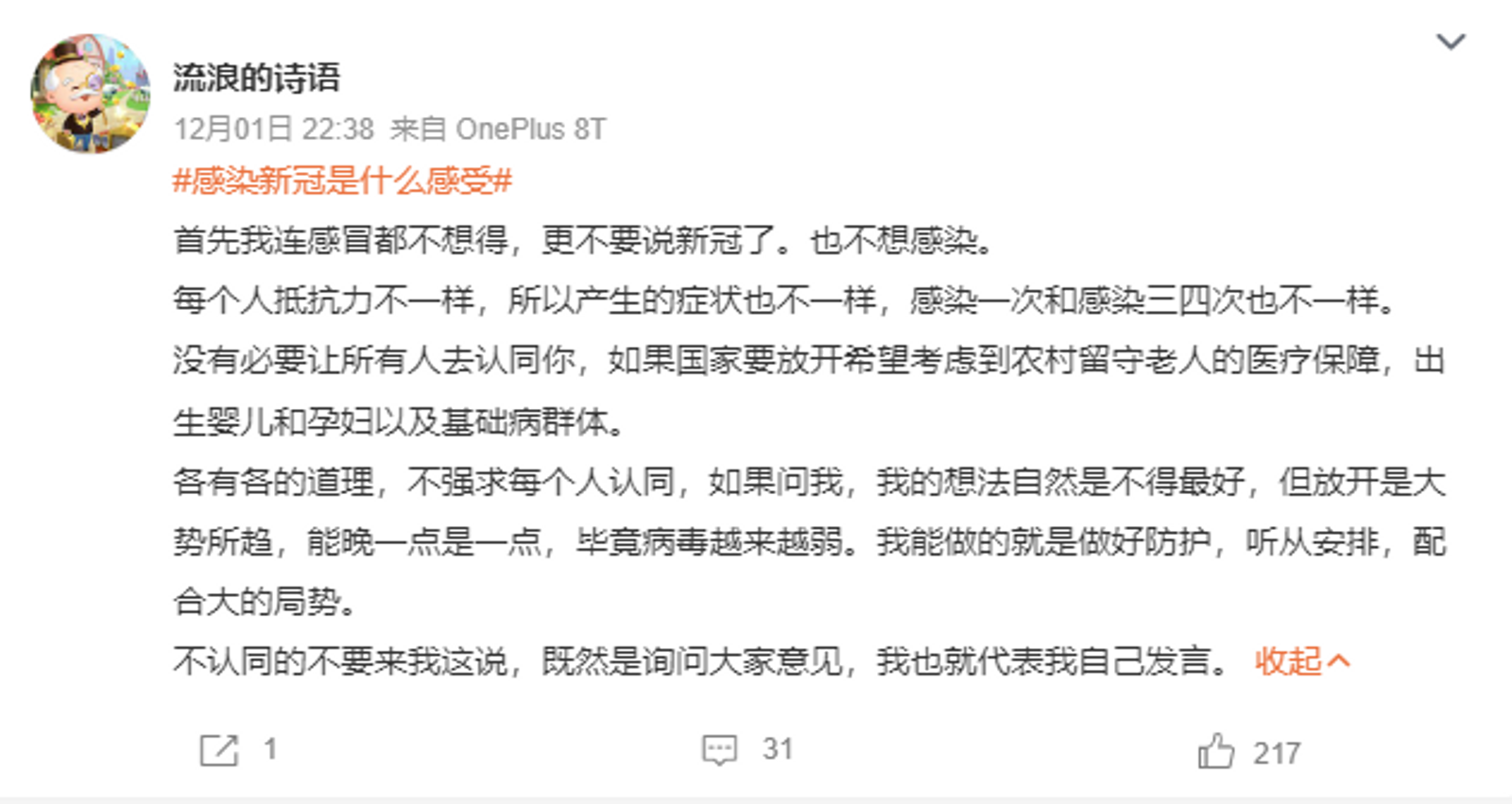 Step Back
The online conversation began as both state media and public health officials have notably changed their tone on the omicron variant over the past several days, following a series of unprecedented anti-lockdown protests that rattled the country.
On Wednesday, Vice Premier Sun Chunlan -- a central figure of Beijing's pandemic response -- said at a public health meeting that the Omicron variant was weakening and vaccination rates improving, which many China watchers interpreted as a sign that the country could soon begin scaling-back zero-COVID protocols.
On Twitter, some pointed out that state media was now showing footage of maskless fans at the FIFA World Cup after TV channels in China had cut those images from their broadcast earlier this week.

The View From the United States
The conversations on Weibo echoed those that many in the United States have had in the past two years as people began to accept that COVID is here to stay and that isolation is not a permanent solution.
But in recent months, long COVID has become a concern for many, with some health experts calling it the "next public health disaster in the making."

Notable
The Economist wrote that Xi Jinping faces a sociopolitical crisis regardless of whether he eases zero-COVID protocols.
On one hand, not scaling back lockdown measures -- and cracking down on demonstrators -- will only further enrage citizens, the article said. But an analysis from the Economist found that abandoning lockdowns altogether will lead to a surge in COVID cases that will require ICU beds seven times higher than China's current capacity.