The Scoop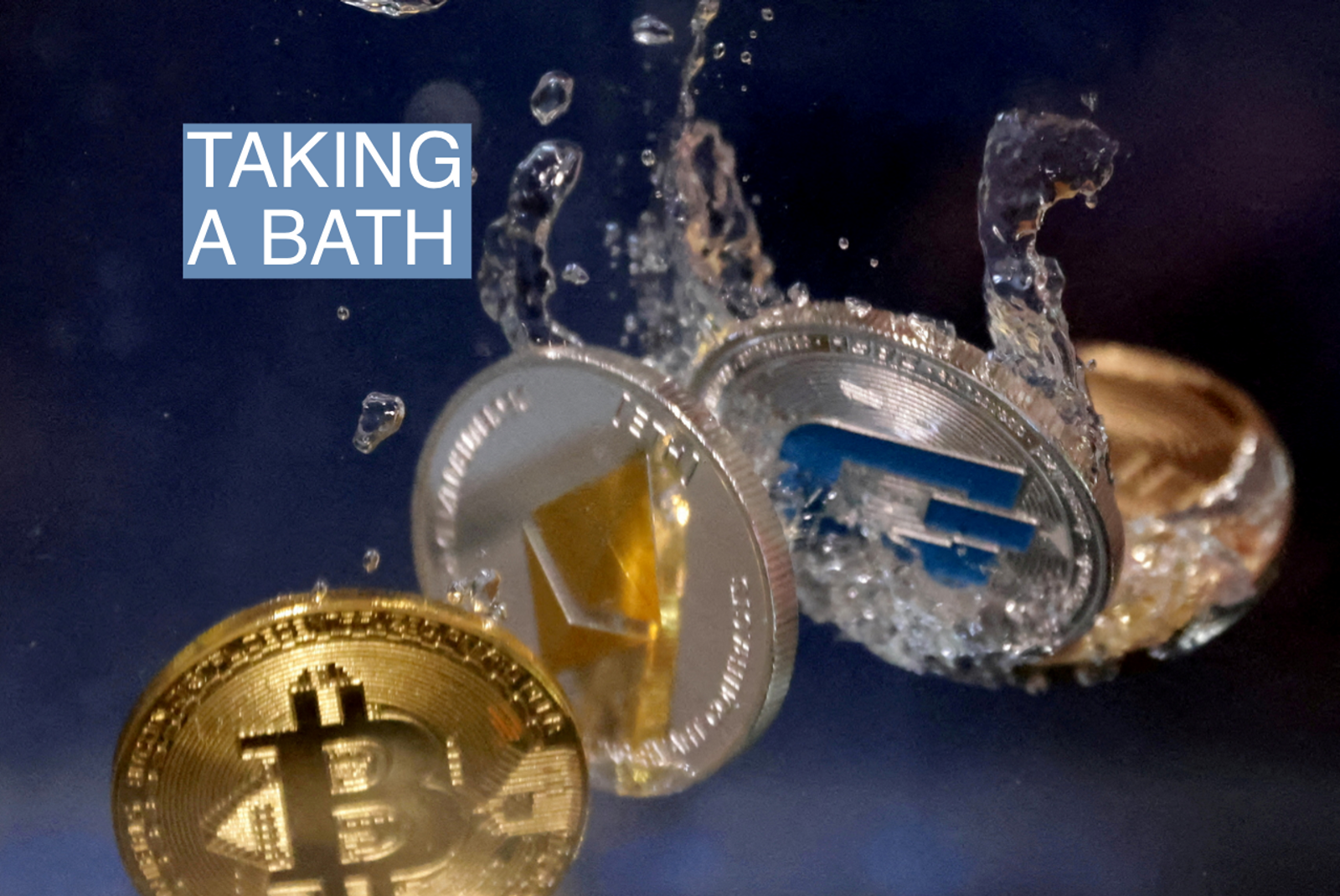 CoinDesk, the online news site whose story on cracks in Sam Bankman-Fried's crypto empire sparked an industry-wide meltdown, has attracted takeover interest as its owner tries to reassure investors, people familiar with the matter said.
One of the approaches suggested a $300 million purchase price but it was considered too low, some of the people said. CoinDesk was making about $50 million in annual revenue from a mix of traditional online advertising and its popular Consensus conference.
It is part of Barry Silbert's privately held Digital Currency Group, a conglomerate that includes Grayscale Investments, which manages funds that own bitcoin, ether, and other coins, and Genesis, which lends against customers' crypto holdings. That business is under pressure, as the collapse of Bankman-Fried's FTX exchange spreads chaos and contagion through cryptoland. Bankman-Fried is an investor in Semafor.
There's no formal sales process for CoinDesk, but it has attracted interest from a broad set of potential buyers, including private equity firms, family offices, rival publications including Blockworks, and hedge funds that hunt for distressed assets, the people said.
CoinDesk published an article on Nov. 2, detailing unusually close ties between FTX and a sister hedge fund, Alameda Research. Much of Alameda's money, it reported, was tied up in a digital token issued by FTX.
It was the first loose thread to be tugged. The story shook public confidence in FTX and its tokens, causing billions in customer withdrawals that FTX couldn't meet. The firm declared bankruptcy less than a week later, and Bankman-Fried resigned as CEO, facing allegations that he used customer funds to cover losses at Alameda, which is owned by him.
The contagion is still spreading, and CoinDesk is one of many companies that might be facing an uncertain future. Crypto lender BlockFi declared bankruptcy Monday, and Bitcoin is down more than 20% this month.
Silbert has tried to reassure his own investors, which include Alphabet's CapitalG and Western Union, that DCG is safe. It has $2 billion in debt, including $575 million borrowed from its captive lender, Genesis, which has halted customer withdrawals and stopped making new loans.
"We have weathered previous crypto winters," Silbert wrote in a letter to investors last week, "and while this one may feel more severe, collectively we will come out of it stronger."
DCG's crown jewel, Grayscale, has more than $13 billion in assets across its different investment products and has so far weathered the industry's troubles. It put out its own statement on Nov. 18 assuring investors their money is "safe and secure."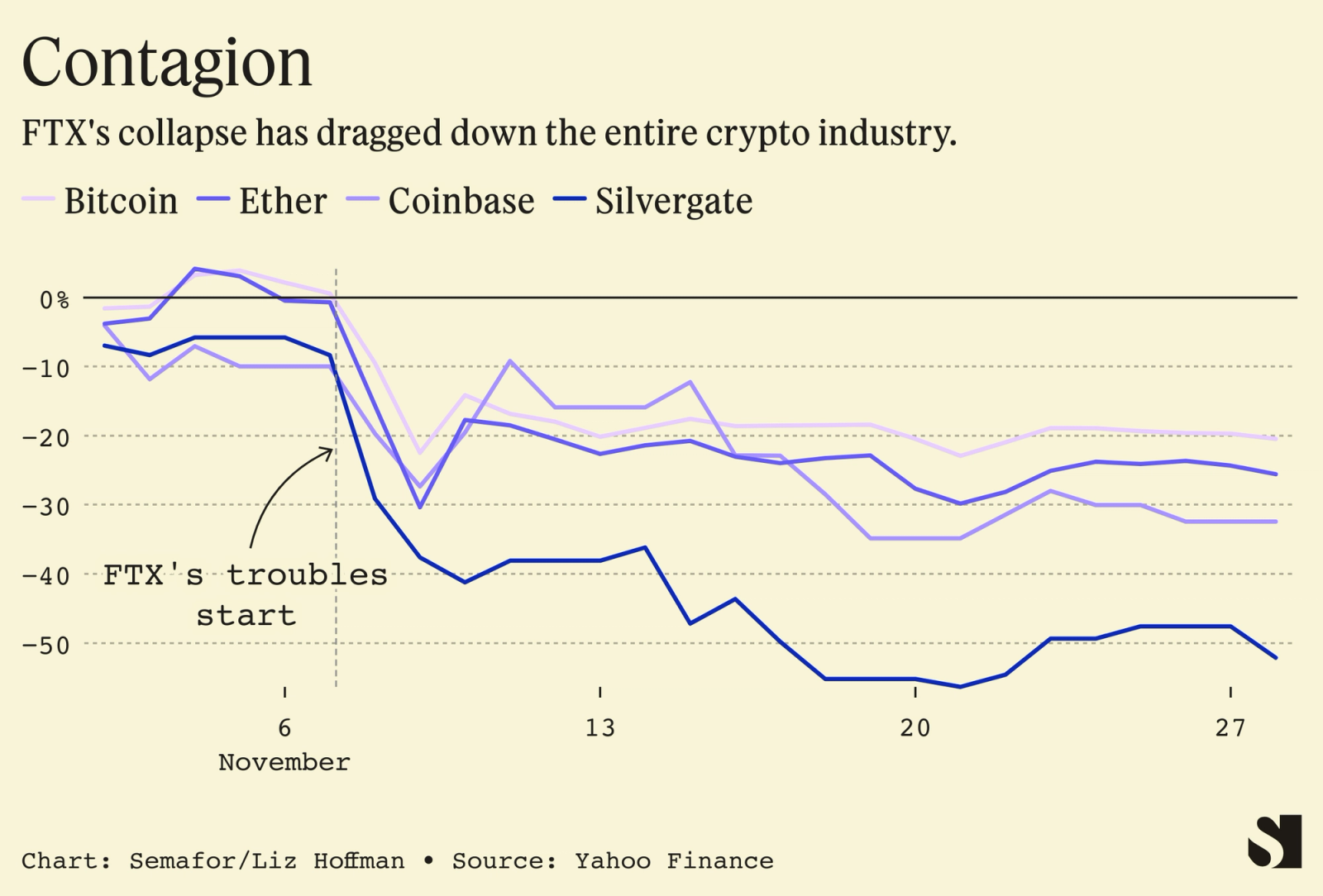 — Ben Smith contributed to this report

Bradley's view
The crypto winter will spare no one, and that includes the media that sprouted up to cover the industry.
CoinDesk's reporting was early on the FTX story, burnishing its credentials as a serious chronicler of the industry. And its Consensus conference is one of crypto's hottest events, with 17,000 attending last year's Austin bash.
But with once-stable crypto companies falling one after another, the publication and its competitors are at the mercy of an unforgiving environment. Unlike most trade publications, CoinDesk and its peers offer their content for free, funding their businesses with revenue from advertisers and events. The pool of both is shrinking fast. The Cyber Monday offer for the Consensus conference — a buy-one-get-two-free deal — may not be enough to entice people who have lost 90% of their net worth to pay thousands of dollars to network.
The core criticism of the once-high-flying space is that it created value out of nothing — and it would all come crashing down like a house of cards when macroeconomic winds changed or regulation was introduced. Crypto-centric publications, despite the great job many have done in covering the collapse, may be part of the collateral damage.

Room for Disagreement
CoinDesk does not need to be sold for any reason related to its business.
The troubles at Genesis may force Silbert to choose between his children, and he could decide to let Genesis go bankrupt so CoinDesk (and Grayscale) can continue to churn ahead.
Typically, lenders are more profitable than media outlets, but crypto is not your typical industry. CoinDesk may be able to survive a cold stretch after its recent month.
The FTX reporting from the outlet — which was linked to in publications like The New York Times and Wall Street Journal — has brought new eyes to the site and its reporters, opening it to new audiences.
Anthony Scaramucci's crypto conference last April, co-hosted by FTX in the Bahamas, attracted big names and serious headlines, but Consensus could easily supplant it as the must-attend event next year.
There's an opening to be the industry flagbearer, and DCG has the components — especially with CoinDesk — to fill the role.

The View From Chicago
The troubles in traditional media have attracted certain actors in traditional finance. Restructuring experts, opportunistic managers, distress specialists — they make their names by finding the gems amid the carnage of a flailing industry. Alden Global Capital, the most well-known of these media buyers, took a profitable newsroom at the Chicago Tribune last summer and proceeded to gut it via buyouts and burnout.
Crypto media might be their next target. CoinDesk is attracting interest from rivals, but also from the kind of ruthless investor types that reporters at print newspapers are all too familiar with. These newspapers — which have grappled with job cuts and office sales since hedge funds turned their attention to the industry — know what it is like to be looked at as just a number.

Notable

Contact
Want to pass along a tip or feedback? Write to us at bsaacks@semafor.com and lhoffman@semafor.com.

Correction
DCG's investors include Alphabet's CapitalG. A previous version of the story misstated investors in DCG.