The News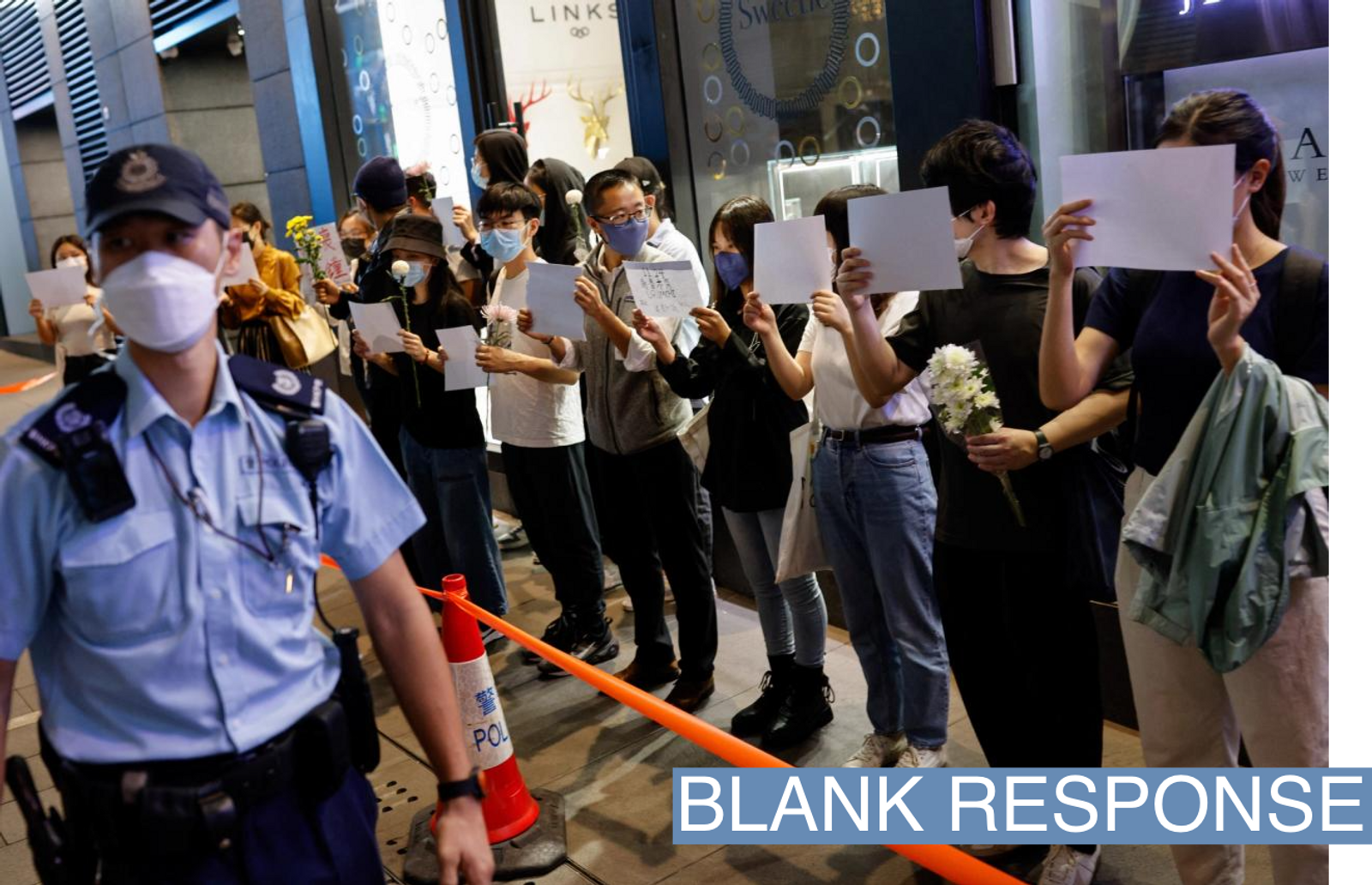 The Biden administration is offering a measured response so far to the outbreak of rare protests across China, expressing general support for peaceful demonstrations and criticizing the country's "zero Covid" policy while avoiding comments that could be viewed as provocative by Beijing.
"The White House supports the right of peaceful protest," national security spokesman John Kirby told reporters Monday afternoon. "We're watching this closely, as you might expect we would."
Demonstrators have taken to the streets across China's major cities in order to vent their rage at the government's far-reaching COVID suppression efforts, which have included strict lockdowns affecting millions and mandatory isolation for those suspected of exposure. A State Department spokesperson gently critiqued China's stringent public health approach Monday, and said that the U.S. would focus on strategies like vaccination, testing, and treatment.
"We think it's going to be very difficult for the People's Republic of China to be able to contain this virus through their zero COVID strategy," the spokesperson said.
The U.S. embassy in China also issued a rare advisory for Americans overseas, urging them to stock up on medication, water, and food amid the lockdowns. Otherwise, administration officials have been largely silent on the protests.
"I can't imagine they're going to say something that would be inflammatory or perceived as such by the Chinese," Nicholas Lardy, an expert on China at the Peterson Institute, told Semafor. The White House, he said, is currently trying to engage with China on various issues. Some worry that backing demonstrators too strongly could rock those efforts.
Notably, the protests erupted just weeks after President Biden and Chinese President Xi Jinping met on the sidelines of the Group of 20 summit in Bali and agreed to resume dialogues on climate change and other subjects — an early sign of tensions between Washington and Beijing potentially easing.
"There's been no change to our desire to continue to see these channels of communication stay open and we were heartened coming away from the G20 that both leaders were able to agree on getting some of these working-level discussions back open and so we're still in that mode," Kirby told reporters.
House Republicans meanwhile are pushing for a more aggressive response and have used the protests to criticize the business and school closures embraced by public health experts in the U.S. at the start of the pandemic before the development of vaccines.
"Zero-Covid policies are bad for public health and deadly to freedom. I supported the anti-lockdown protesters in America and I support them in China too," Rep. Jim Banks, R-Ind. told Semafor. Rep. Michael McCaul, R-Texas, who is expected to helm the House Foreign Affairs Committee in the new Congress, said the demonstrations should serve as a reminder that Xi's "lifelong dictatorship and dystopian governance is neither popular nor unchallenged."

Morgan's view
Biden has often taken an aggressive public posture towards Beijing on issues involving international affairs, such as whether the U.S. would defend Taiwan in the event of a Chinese invasion.
But this isn't the first time Biden has responded cautiously to major domestic political events within China in order to avoid upsetting diplomatic ties. For instance, the White House avoided commenting on the country's ruling communist party congress, during which Xi secured an unprecedented third term. Kirby on Monday described the protests as an issue "for the Chinese people and the Chinese government to speak to."
The administration could become less deferential if the protests escalate significantly, and officials in Washington — including Biden — are keeping abreast of the situation to watch for any major developments.
Former Director of National Intelligence James Clapper told Semafor the intelligence community would be paying close attention to the ongoing demonstrations and largely glean information from open-source reports.
"What they'd be looking for is more draconian control of the demonstrations," he said. "Obviously, we'd like to know just how seriously the regime is taking them, and whether they intend to be more heavy-handed than they have been so far."
But being more vocal about the protests would risk the recent, incremental progress the administration has made managing tensions in the U.S.-China relationship and setting the table for future diplomatic engagements. Secretary of State Antony Blinken is expected to travel to China early next year.
Supporting the protestors too forcefully would also risk backfiring for the White House, since it would potentially allow Beijing to paint the demonstrators as being backed by China's chief foreign rival.
Clapper said that the U.S. would probably be "better served" not to speak about the protests.

Room for Disagreement
At the same time, Biden may have to withstand political pressure to more forcefully condemn China's lockdowns and support the demonstrators, some of whom have reportedly been calling on Xi to step aside. While the Biden administration has cracked down on China's tech sector and largely continued trade policies put in place by the Trump administration, Republicans have sought to portray the president as insufficiently tough on Beijing.
"The Chinese Communist Party's lockdowns have imprisoned people against their will—many have died. As Chinese citizens bravely protest, Joe Biden & the corporate class shrug," Kevin McCarthy, R-Calif., who is poised to become the next House speaker, tweeted late Monday. "Our Select Committee on China will do what Biden refuses—finally reckon with the pariah that is the CCP."