The News
Amazon workers across more than 40 countries planned strikes and protests over wages, working conditions, and climate concerns on Black Friday –– one of the busiest shopping days in the year.

Know More
Demonstrations at Amazon's global warehouses, offices, and outside Jeff Bezos' New York residence in New York were planned in advance, as part of a "Make Amazon Pay" campaign.
"We are workers and citizens divided by geography and our role in the global economy but united in our commitment to Make Amazon Pay fair wages, its taxes and for its impact on the planet," the campaign website said.
International unions representing hourly workers were also involved in planning protests.
The company is planning to lay off approximately 10,000 of its employees in corporate and technology roles, accounting for 1% of its global workforce of 1.5 million, the New York Times reported.

The View From Germany
Workers in cities from Berlin to Munich held demonstrations outside nine of the company's 20 warehouses, according to Reuters.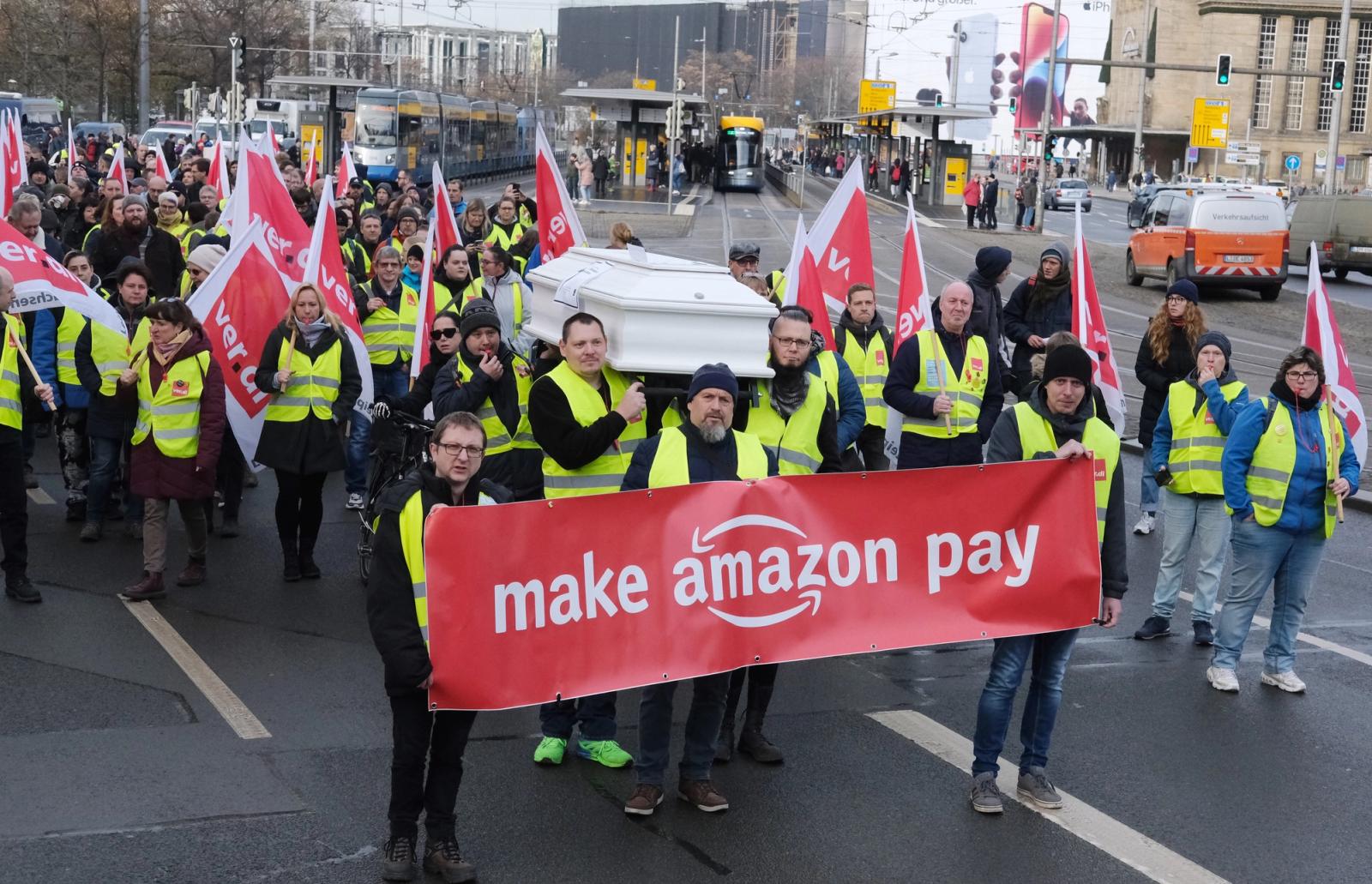 Verdi, a union which represents company workers in Germany, called for the company to recognize a collective agreement on employee wellbeing, saying that some warehouse workers walk close to 13 miles a day on the job.
An Amazon Germany spokesperson said that the company offers "great pay, benefits and development opportunities," pointing to a recent decision to bump up starting pay to 13 euros an hour –– with added bonuses.

The View From France
French unions have demanded higher cash bonuses for overtime workers ahead of the Christmas holidays. For Black Friday, they called on the company to distribute an additional bonus of 1,000 euros, according to Reuters.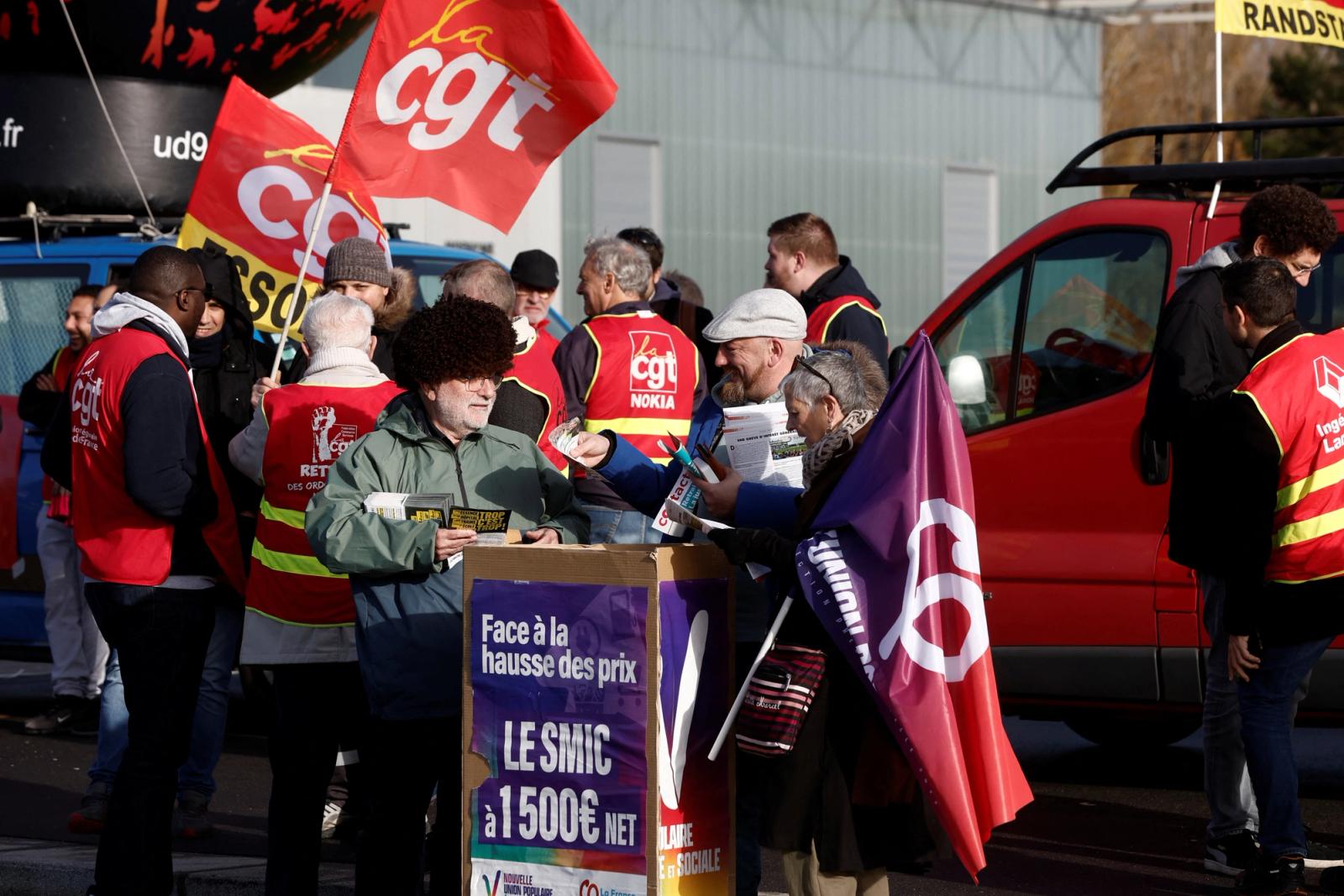 French union officials said that there was not a significantly strong turnout at demonstrations, as workers were seeking overtime amid Europe's cost-of-living crisis.

The View From Ireland
Dozens of Amazon workers gathered outside the company's European headquarters in Dublin to demand better working conditions and protest "unsustainable environmental practices" on Black Friday.
Some demonstrators held up a black banner that read: "Data centers equals blackouts." Amazon's data centers in Ireland are said to take up more than 4% of the country's electricity, according to the Irish Times.
The company was recently approved to build an additional two data centers in Dublin.

The View From the U.S.
Several unions representing retail workers in New York City staged demonstrations outside Amazon owner Jeff Bezos' penthouse apartment.
They called for the retail giant to respect "workers, neighborhoods, small businesses and the planet."

The View From Brazil
Amazon workers in Brazil held up signs calling for Amazon to "pay its fair share" and respect workers.

The View From India
Protesters in India gathered across 23 cities to demonstrate "exploitative practices" in the country's Amazon warehouses, according to the Business Standard.
In an opinion piece for Indian news outlet, The Wire, labor activists wrote that "brick-and-mortar retailers in India have long raised serious concerns about unfair practices employed by Amazon that stifle competition and kill local businesses."

The View From Japan
A handful of protesters lined up outside Amazon's head office in Tokyo Friday, holding up signs requesting for collective bargaining rights.

The View From Thailand
Union members in Thailand also held up posters demanding fair pay.

The View From Bangladesh
Garment workers in Bangladesh staged a rally asking Amazon to pay decent wages and address its environmental damage to the country.
"In Bangladesh, we are on the frontline of climate breakdown, so we know climate justice and social justice cannot be separated," said labor activist Nazma Akter. "We have to make Amazon pay all its workers a decent wage in dignified workplaces and for its environmental damage."

The View From amazon
Amazon spokesperson Kelly Nantel told Semafor in a statement that the company takes its role and impact "very seriously."
We are inventing and investing significantly in all these areas, playing a significant role in addressing climate change with the Climate Pledge commitment to be net zero carbon by 2040, continuing to offer competitive wages and great benefits, and inventing new ways to keep our employees safe and healthy in our operations network, to name just a few. Anyone can see for themselves by taking a tour at one of our sites.