The News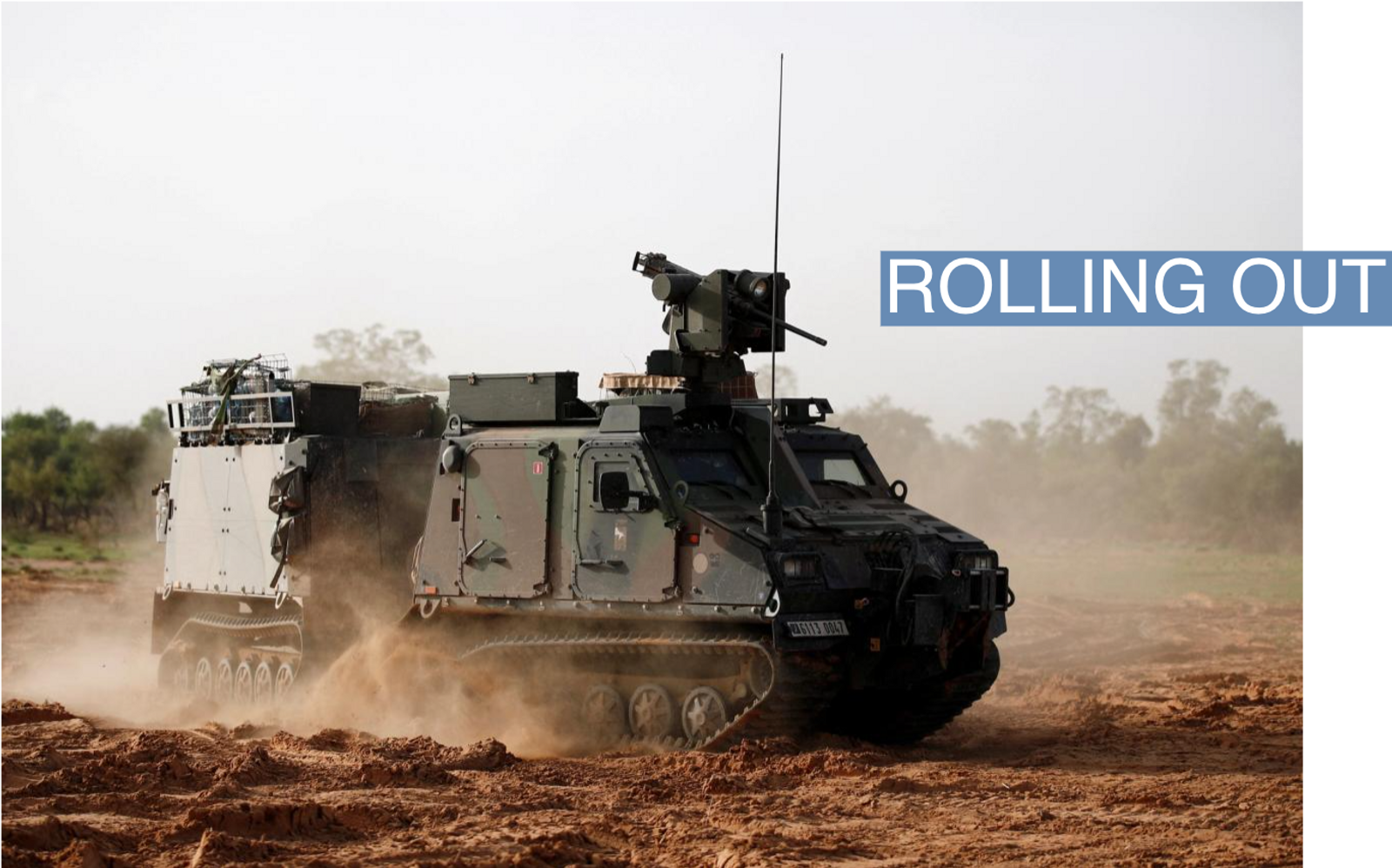 Accra, Ghana — Seven west African countries have agreed to create a military force to fight jihadists who have destabilized the region.
Islamic State and al-Qaeda fighters have carried out hundreds of attacks in and around the Sahel, stoking insecurity that has led to coups in Mali and Burkina Faso in the last two years. The violence has killed 2,000 people, forced around two million to flee their homes, and deprived nearly 10 million of reliable access to food in the first six months of this year, according to the United Nations.
Earlier this month, the U.K. and France both announced the withdrawal of their troops from Mali, with the latter ending its decade-long mission against Islamists in the region. On Tuesday Germany also said it was pulling its troops out of the country. Meanwhile, Mali's ruling junta has in the last year sought help from the Russia-backed private security force Wagner Group to fight insurgents.
This week Benin, Burkina Faso, Côte d'Ivoire, Ghana, Mali, Niger, and Togo held talks in the Ghanaian capital Accra, along with representatives of the Economic Community of West African States (ECOWAS), the European Union, and the African Union to discuss security. The seven African countries formed a group five years ago called the Accra Initiative to collaborate on regional security and share intelligence.
On Tuesday, Accra Initiative members said their new anti-jihadist "joint task force" would start operating within a month. The announcement came after Ghana's president Nana Akufo-Addo told those taking part in the talks that insurgents were "seeking new operational grounds" and drifting south to the region's coastal countries.
Ghana's national security minister Albert Kan-Dapaah told Semafor the full details of the "standby force" and the contribution from member states needed to be finalized.
Half of the 346 insurgent attacks recorded in Africa in the first three months of this year took place in West Africa, according to Kan-Dapaah. He added that there were another 264 militant attacks between July and September this year, which killed 745 people. "We are absolutely concerned about the withdrawal of Western troops from the region, specifically Mali but… the Accra Initiative is a homegrown solution to our own problems," Kan-Dapaah said.
The president of the ECOWAS Commission, Gambian diplomat Omar Touray, rejected criticism from some quarters that the new force was unnecessary. "We need to tackle terrorism and violent extremism from multiple fronts and I don't see it as a replica of what we already have at ECOWAS," he told Semafor.

Kent's view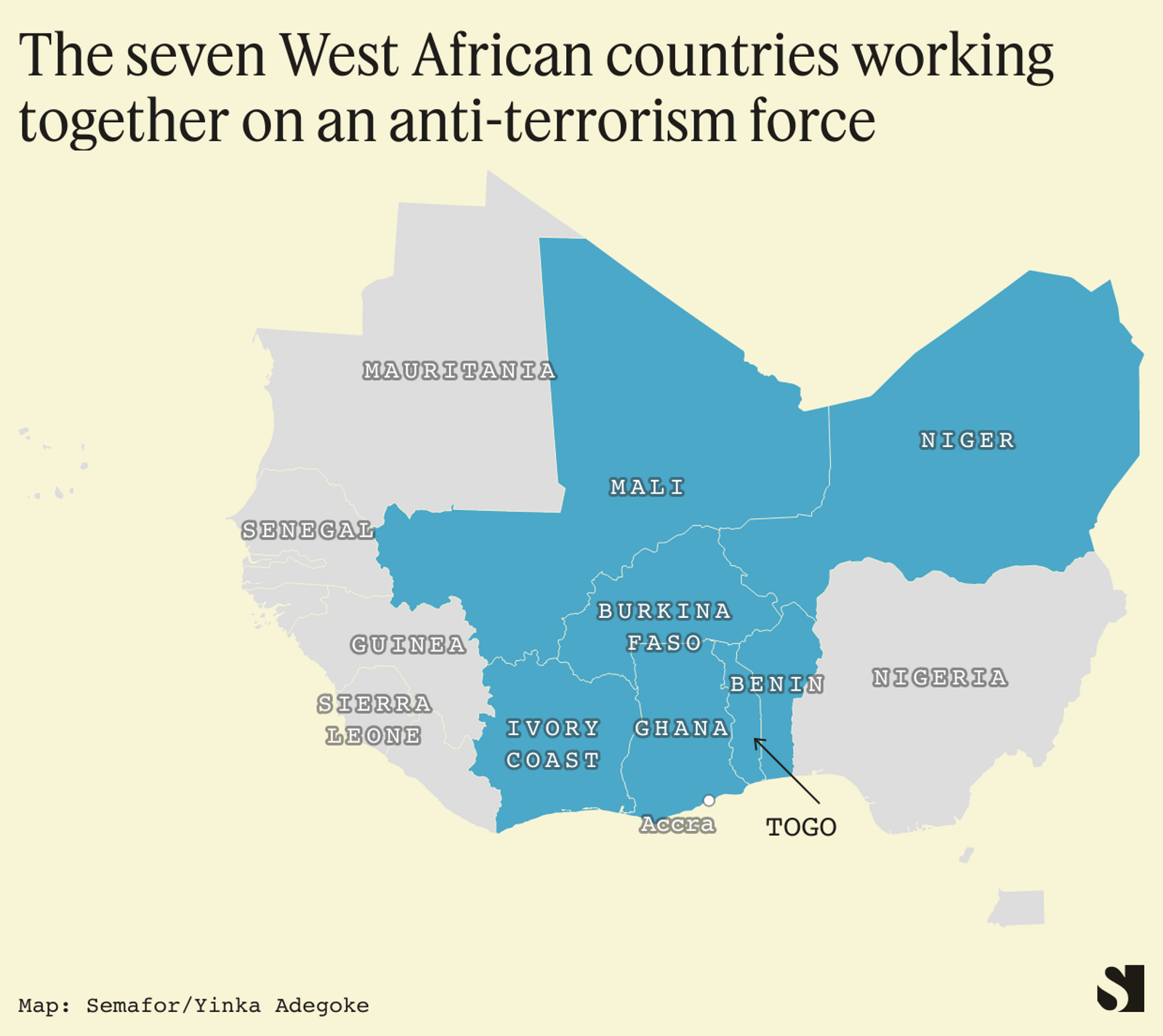 The porous borders between West African countries have increased fears that instability in the Sahel could move further south to more densely populated urban areas on the sub-region's coast.
A lot needs to be done when it comes to curb violent extremism in the region, and the response from the region's leaders has so far been mostly ineffective.
For countries to work together effectively, political leaders must take basic steps to improve security, beginning with the strengthening of border controls. Security staff must be better paid to disincentivize bribe-taking in exchange for foregoing vital checks. Without tighter controls, we won't be able to stop the free movement of militants.

Room for Disagreement
There is some skepticism about about the prospect of a new anti-jihadist force in West Africa, particularly given that it would not include Nigeria. Cheta Nwanze, partner at Lagos-based risk consultancy SBM Intelligence, said input from Nigeria's 223,000-strong armed forces which has experience of battling jihadist groups Boko Haram and Islamic State West Africa Province would be needed to make a regional security force viable. He also questioned whether the UK, which took part in the talks, would contribute anything beyond words of encouragement.
"The Ghanaian military is made up of around 16,000 personnel. There are bandit groups in Nigeria that have more than that, so unless the Brits are willing to commit to it in terms of personnel, not just lofty words, we're all just wasting time," he said.
Nwanze added that regional bloc ECOWAS had "proven to be toothless" and while the EU would make "sweet noises" about support, this was meaningless in the absence of France after it decided to pull its troops out of the region.

The View From London
Britain's Armed Forces Minister James Heappey said climate change, global economic insecurity, and the rising cost of living are creating conditions within which violent extremism is spreading rapidly across Africa.
Addressing delegates at the recent conference in Accra, he said the U.K. wanted to show solidarity with Africans. "This is a regional problem that you have here in West Africa and it's right that you seek to provide solutions," he said. "But, given that the instability and security here so profoundly have a consequence to us in Europe, it's also right that we stand ready to assist you."

Notable
France's president, Emmanuel Macron, has accused Russia of stoking anti-French sentiments in West Africa through the deployment of Wagner Group fighters and the Kremlin's propaganda machine.