All the ways soccer players and fans are protesting at the Qatar World Cup

The News
The men's World Cup soccer teams and fans are finding unique ways to speak out about human rights issues both in the host nation of Qatar — which is under scrutiny for its human rights record and anti-LGBTQ laws — and around the world.
FIFA recently clamped down on symbols of protest, threatening team captains with yellow cards if they wore the 'OneLove' armbands in support of LGBTQ rights.
Here are some of the ways in which players and fans are protesting against discrimination and inequality both on and off the field.

The View From Germany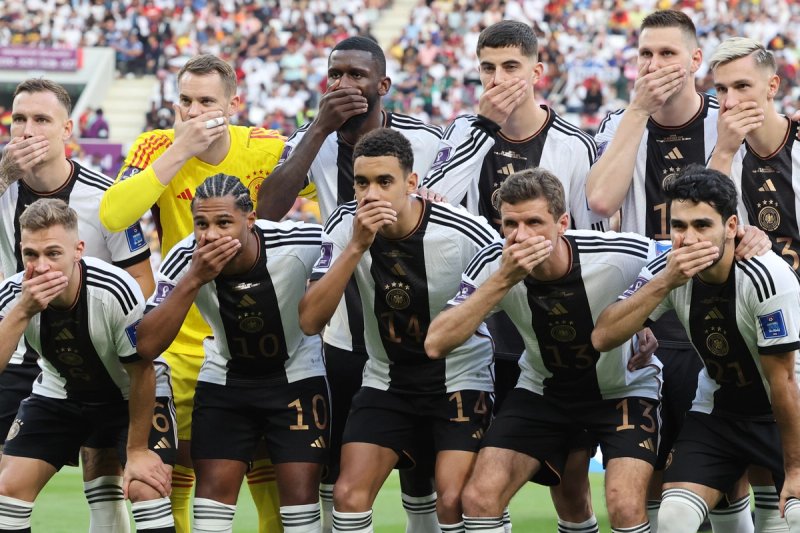 In a pregame team photograph on Wednesday, players from Germany covered their mouths in protest of FIFA's ban on the 'OneLove' armbands.
"It wasn't about making a political statement — human rights are non-negotiable," the German team said on Twitter. "Denying us the armband is the same as denying us a voice."
The team also flew into Doha on a Lufthansa flight that had the words "Diversity Wins" plastered across its exterior.

The View From Iran
Iran's soccer team did not sing the country's national anthem before their opening match against England on Monday, in an apparent show of solidarity with protesters back home.
Iranian soccer fans in the stadium also protested by waving the Persian flag instead of the Iranian flag, and booing the national anthem.
During a match press conference, Iran's team captain, Ehsan Hajsafi, paid tribute to families who have lost loved ones during the regime's crackdown on protesters, saying, "We are here but it does not mean that we should not be their voice, or we must not respect them."

The View From Denmark
The Danish national team's new jersey design was toned down as a "protest against Qatar and its human right record," the designer Hummel Sport said.
"We don't wish to be visible during a tournament that has cost thousands of people their lives," the company said, referring to the deaths of migrant workers in Qatar.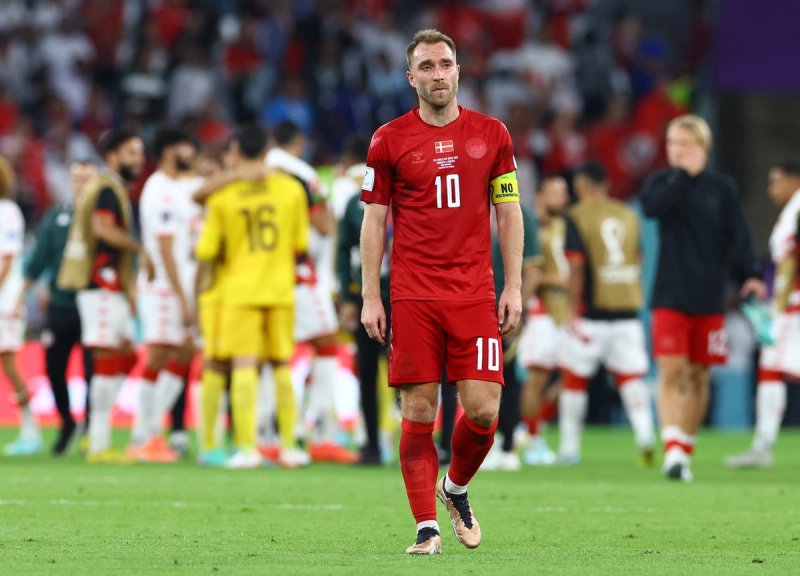 Hummel's statement sparked accusations of "performative marketing," with critics claiming that the jerseys, by extension, profit the World Cup because Hummel was partnering with a participating team.

The View From England
England's team took a knee to protest racism and inequality before their opening game against Iran.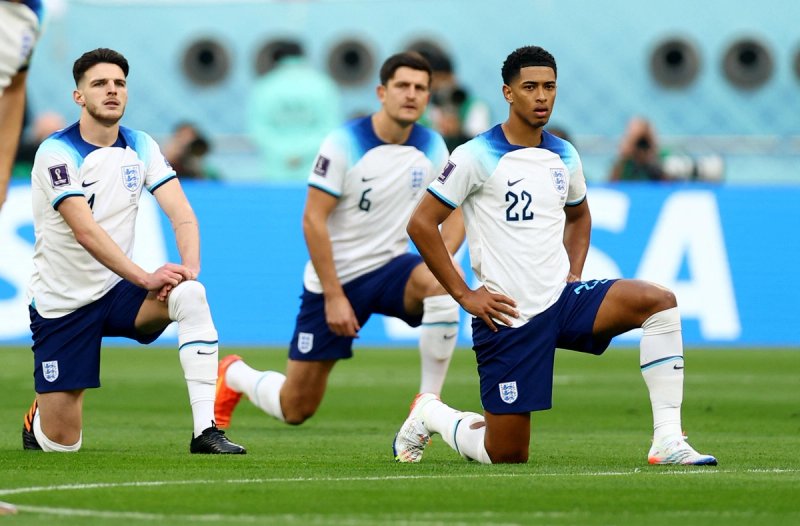 England was among several European nations that decided against wearing the 'OneLove' armband after FIFA's threats.

The View From the sidelines
The BBC chose not to broadcast the opening ceremony of the World Cup, instead airing a segment criticizing the Qatari government for the treatment of migrant workers and its history of criminalizing homosexuality, along with highlighting corruption at FIFA.
Alex Scott, BBC's sports presenter and former England women's captain, wore a OneLove armband while covering her country's first match against Iran.
Denmark's former prime minister, Helle Thorning-Schmidt, wore the rainbow armband to support LGBTQ rights while watching her country's match against Tunisia on Tuesday.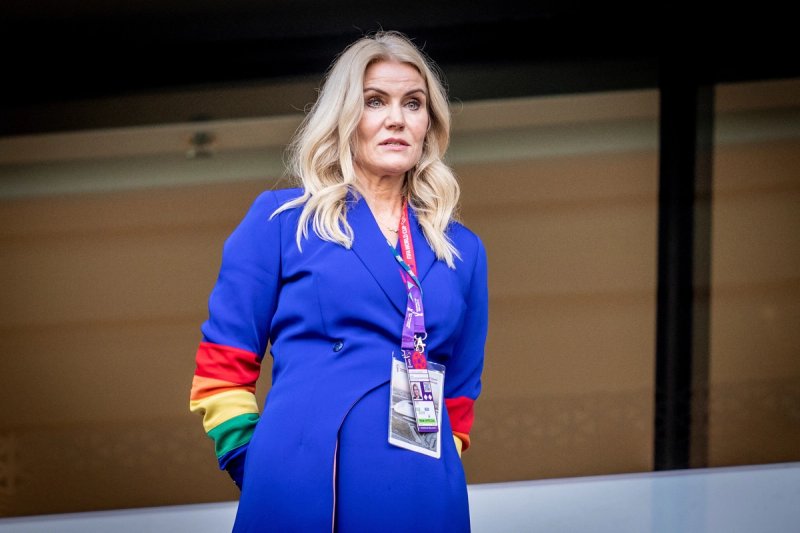 Room for Disagreement
In a nearly hour-long speech, FIFA's president Gianni Infantino defended Qatar and slammed the West for hypocrisy.
"I am European. For what we have been doing for 3,000 years around the world, we should be apologizing for the next 3,000 years before giving moral lessons," he said.
In an opinion piece, MSNBC host Ayman Mohyeldin who has lived in Qatar, questioned whether the debate was "truly about migrant workers' rights and human rights, or is it that European countries and Western pundits, who view themselves as the traditional gatekeepers of global soccer, can't stomach the idea that an Arab Middle Eastern country will host such a venerable event?"
An article in The Economist argued that Western criticism of the host country fails to distinguish between "repugnant regimes" and "merely flawed ones," citing Russia and China's hosting of major sporting events such as the previous World Cup and the Winter Olympics.

Quoteworthy
It's the most controversial World Cup in history and a ball hasn't even been kicked.
— Gary Lineker, host of BBC One's World Cup coverage