Stocks jump in Argentina after radical libertarian Milei's election win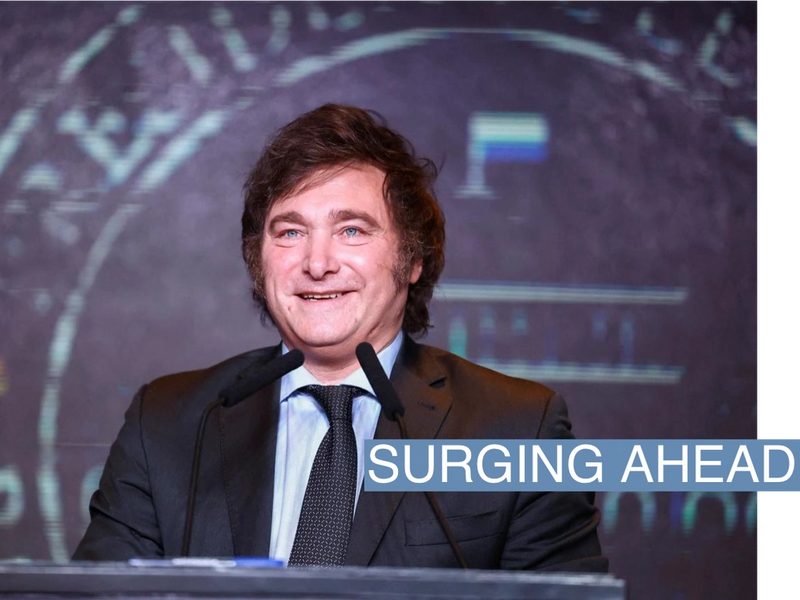 Stocks surged in Argentina after Javier Milei, a radical libertarian economist, won the country's presidential election.
Investors responded positively to his bold pledges to reshape the country's long beleaguered economy while questions remained over his frequently controversial campaign for reform.
The country's markets are seeing an early surge, a trend that often follows election wins by free-market candidates, analysts told MarketWatch. It's not clear yet whether the pattern will hold, and investors are unsure of Milei's ability to actually implement the radical policy changes he campaigned on, such as replacing the peso with the dollar. But some are optimistic: "If Milei manages to get some traction with the monumental changes he is proposing, the upside potential for the Argentine economy is very difficult to overestimate," said Scott Grannis, former chief economist of Western Asset Management.
Milei is entering his presidency without a majority in Argentina's Congress — his La Libertad Avanza party secured just 39 of 257 seats in the October election — and fared even worse in the senate. Milei is also a relative newcomer to politics, joining Argentina's Congress just two years ago, the Financial Times noted. The result is a government that will struggle to implement its platform: "Everything points to this being the roughest [presidential] transition in at least a decade," Fabio Rodríguez, associate director at the Buenos Aires-based M&R Asociados consultancy, told the paper. "There are many, many problems, and all of them are urgent."
The goal after Milei's December inauguration will be to avoid a default on Argentina's loans, Martin Mühleisen, a nonresident senior fellow at the GeoEconomics Center, said. Milei "might just be the type of shock that finally gets Argentina out of its decades-long economic misery," he said, but it's possible that his attempt will go south. Dollarizing the economy comes with significant risks, and would be deflationary, "meaning that unemployment and poverty rates could skyrocket, throwing Argentina into a disorderly tailspin and, possibly, leading to mass protest and civil unrest."