Nov 21, 2022, 6:11pm EST
North America
US President Joe Biden turned 80. Here's how old other world leaders are
Karina Tsui is a Breaking News reporter at Semafor. You can reach her at ktsui@semafor.com. Sign up for Flagship, our daily newsletter that distills what's happening in the world into a concise, insightful morning read.

The News
Joe Biden turned 80 on Sunday, making him the U.S.'s oldest president and the first octogenarian in the Oval Office.
Data shows that other leaders of the Group of 20 countries — which include most of the world's largest economies — are around two decades younger than Biden, averaging at about 64 years.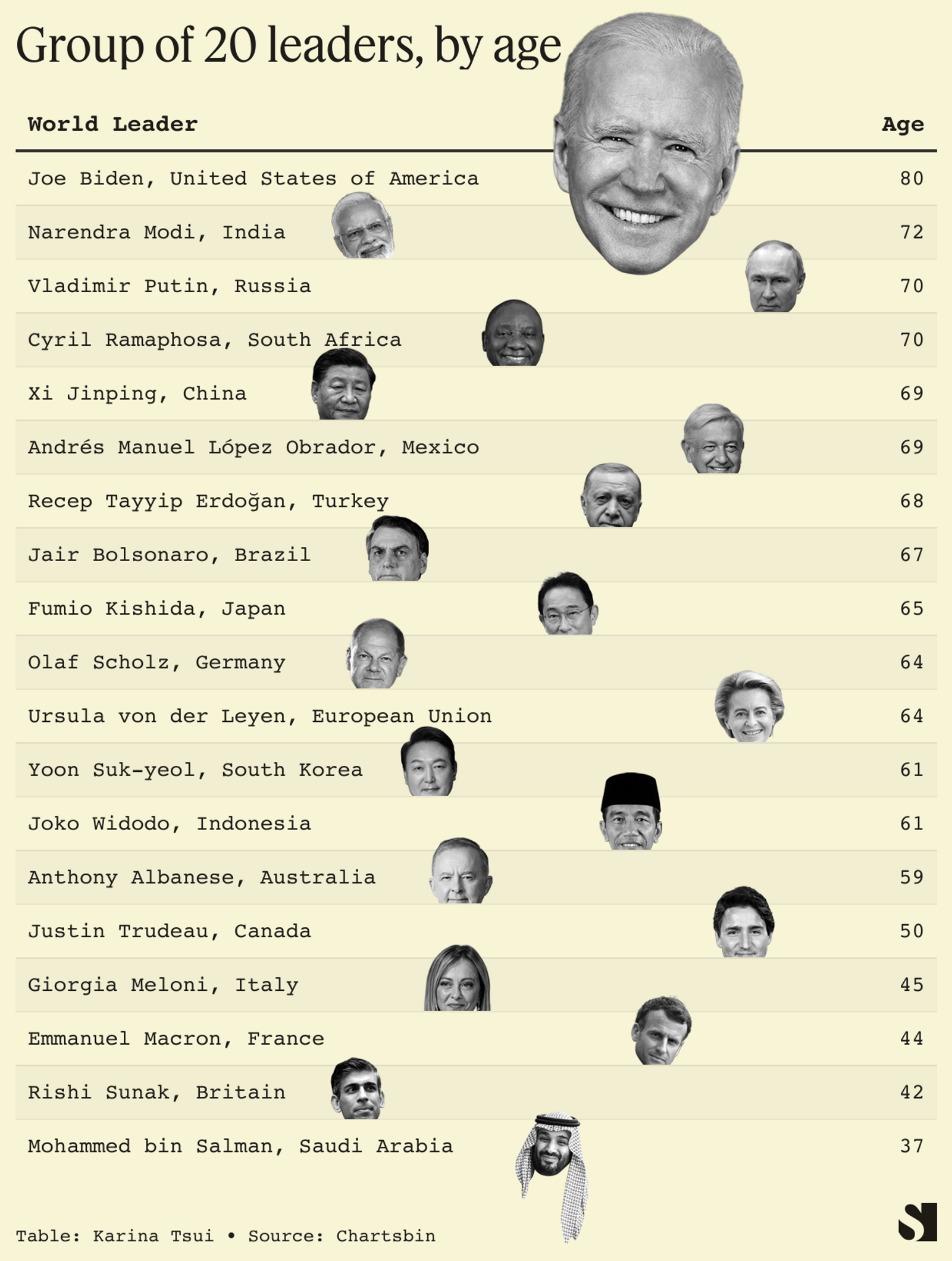 Apart from Biden, India's Narendra Modi, Russia's Vladimir Putin, and China's Xi Jinping are among the G20's oldest leaders, while the youngest is Mohammed bin Salman, the crown prince of Saudi Arabia.

Step Back
American voters are concerned about the ages of the two most likely 2024 presidential contenders — Biden and former president Donald Trump, who is 76.
A Reuters poll showed that while 71% of Democrats believe that Biden is "mentally sharp and capable of dealing with challenges," 46% felt he may not be up to the challenge of running in 2024. If Biden were to run for reelection and win, he would be 86 by the end of his second term. And 26% of Republicans believed that Trump may not be up to challenge of running in 2024 because of his age.
Around 86% of Americans said that the U.S. president should not be older than 75.

Notable
Though "Biden is older than Velcro," he is not the oldest world leader today, according to Slate. Both Pope Francis and the King of Norway Harold V are 85. Up until her death in September, Queen Elizabeth II was considered the oldest leader in the world at 96.
The New York Times spoke with medical experts who said that although Americans in their eighties are more susceptible to life threatening diseases, Biden — who exercises five times a week — may see some brain functions improve –– a phenomenon experts call the "neuroplasticity of aging."