Updated Nov 22, 2022, 10:40am EST
politics
Donald Trump's third party threat looms over 2024
Shelby is a Political Reporter for Semafor, joining us from the Daily Caller. Morgan is a Political and National Security Reporter for Semafor, joining us from The Hill. Sign up for the daily Principals newsletter to get our insider's guide to American power.

The News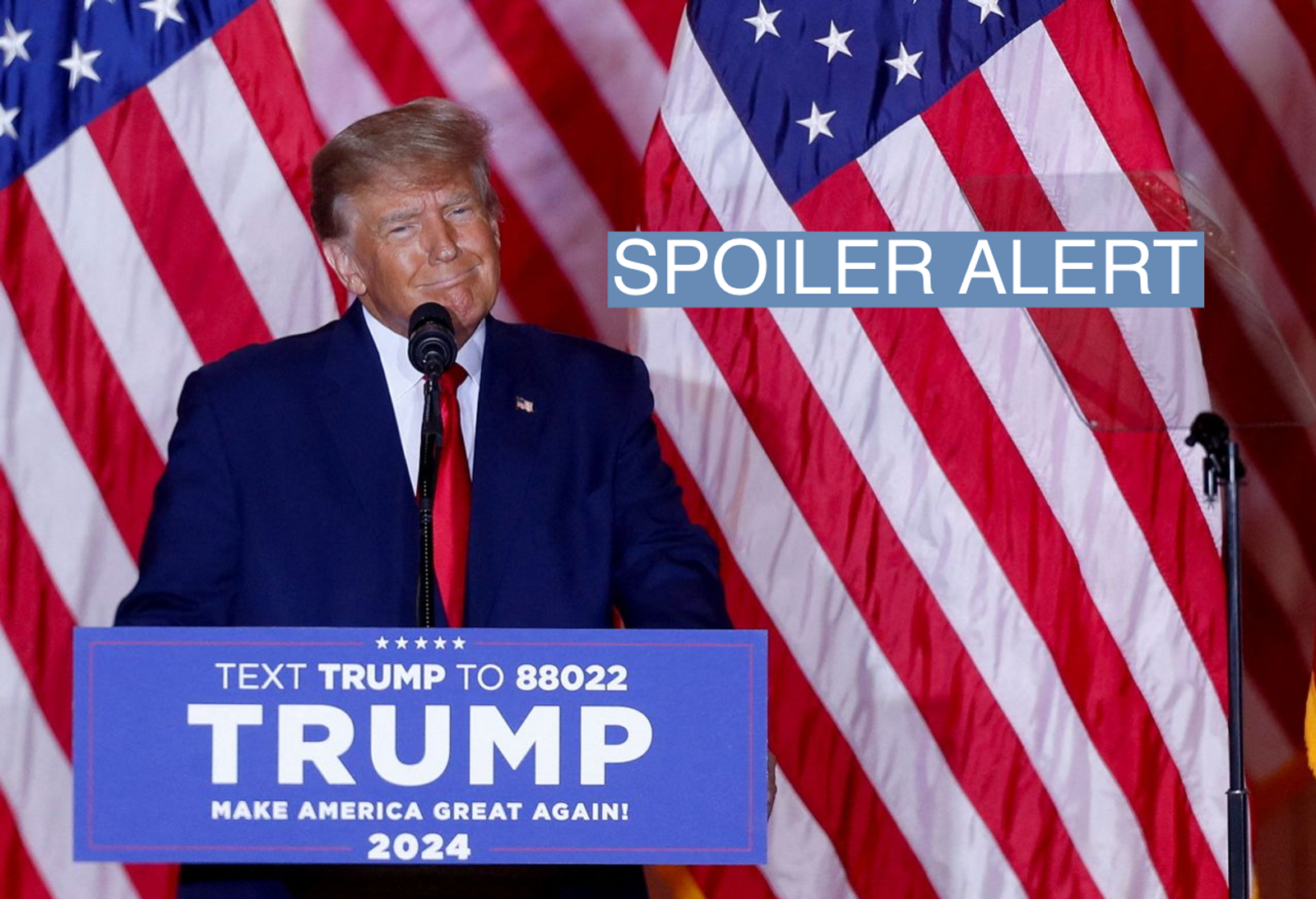 Republicans who have spent the last two years wondering what happens if Donald Trump wins the 2024 nomination suddenly have another question on their mind as he begins to look more vulnerable: What happens if he loses?
Trump's loose attachments to the Republican Party are already raising speculation about a potential third party move, or other steps to undermine the eventual nominee, that could be devastating to a GOP ticket.
"The threat is simple: Unless the rest of the party goes along with him, he will burn the whole house down by leading 'his people' out of the GOP," Trump's former Attorney General William Barr warned in a New York Post op-ed on Tuesday.
And on Sunday, ABC's Jon Karl asked former Speaker of the House Paul Ryan about Republican fears that Trump "marches across the street and declares he's an independent candidate" if he doesn't win the nomination. Ryan predicted Trump "would not want to be blamed" for handing Democrats a win.
It's not an idea that's easy to dismiss. Trump first explored a run for president as a Reform Party candidate in 2000, and has teased a return to his independent roots when he feels threatened by Republican leaders. During the 2016 cycle, he repeatedly refused to rule out a run outside the GOP if he lost the primaries, even saying it gave him "a lot of leverage" in his first debate.
"In 2015, Donald wasn't initially being taken seriously by the GOP as a potential candidate," Michael Cohen, Trump's former attorney and now a critic, told Semafor. "His threat to run as a third party candidate was to ensure people knew of his intent and that he would have no problem with destroying the party if they stood in his way."
Michael Short, who worked at the Republican National Committee at the time, likened it to a "hostage situation."
After January 6th Trump reportedly told RNC Chair Ronna McDaniel that he would leave the GOP to start a new party just as Republican leaders were weighing whether to convict him in his impeachment trial (both Trump and McDaniel denied the claim). Two weeks after the Senate acquitted him, he announced "We are not starting new parties" in a speech at CPAC.
While two sources close to Trump quickly dismissed speculation about a potential third party run — one person in Trump world said there was "quite literally nothing to" the claim while a source close to the former president's campaign called it "an absurd idea" — one Trump administration veteran wouldn't entirely rule it out.
"I don't see that happening right now," the former official told Semafor. "But Trump was so successful in part because he ran against the elite and out of touch political establishment on both sides, so I'd say it's not totally out of the realm of possibility."

Morgan and Shelby's View
Mounting a competitive third party or independent bid would be challenging for Trump, who has already declared his candidacy as a Republican.
Roger Stone, who ran Trump's 2000 effort, noted the Reform Party at the time had larger infrastructure, extensive ballot access, and matching public funds after two runs by Ross Perot. Getting on the ballot now would be more expensive and logistically complicated and could run into "sore loser" laws. It would also "guarantee the election of a Democrat."
The speculation is also premature, since there's a very strong chance Trump simply wins the nomination again. Or, as Stone put it: "Maybe Ron DeSantis should think about running as an independent."
Reed Galen, co-founder of the Lincoln Project, a group first founded to oppose Trump's reelection run, was similarly doubtful Trump would be willing to address the "money and organization" needed to make an independent run. He said his group had actively considered the scenario, however.
"Could I see him doing it? Sure … but the bottom line is, if he is not the nominee, he will do whatever it is he thinks he needs to, to make sure that the eventual Republican nominee loses," Galen said.
Tim Miller, another Trump critic who served as communications director for Jeb Bush's campaign, said Republicans should take the threat less seriously than they did in 2016, because Trump's legacy is more closely tied to the party now and "accommodating him has been a disaster by every conceivable measure" already.
"Is he really going to end this run with a third place presidential blowout? I don't think so," he said.

Room for Disagreement
Even if Trump doesn't leave the party, some Republicans argue he could do just as much damage by refusing to endorse the nominee if it's someone other than himself, or by discouraging people from voting based on false claims of fraud.
"I don't know if he's gonna be the nominee, but if he's not the nominee, I don't see him saying, 'Oh, well, I didn't win, but I'm gonna just get behind all these great candidates.' He's likely to be disruptive," Larry Hogan, the Republican governor of Maryland, told Semafor.
Former RNC communications director Doug Heye told Semafor that Republicans should be concerned about a battered Trump dragging down the entire party, pointing out that it's difficult to picture him "on a stage supporting a nominee that isn't him."
Some Republicans blamed their losses in the Georgia runoffs in 2021 on Trump's insistence the election was stolen, which they say convinced a crucial slice of supporters that their vote would not count and that their state's Republican leaders could not be trusted.
"We know he's not a gracious loser. We know that he doesn't forget and holds grudges," Brendan Buck, a former spokesman for Paul Ryan, said.