Sports media organizations are doubling down on betting
Max's stories appear in Semafor's Sunday evening media newsletter where we explore the news behind the news. Sign up here.

THE NEWS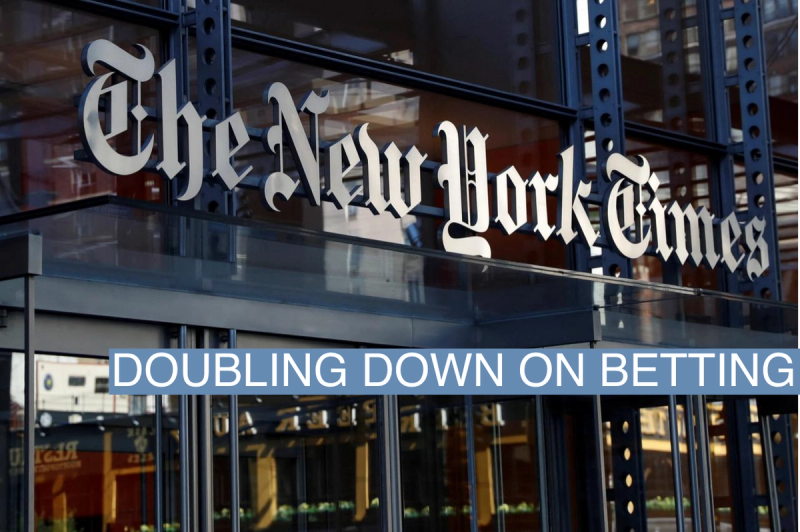 For many years, the New York Times Ethical Journalism handbook prohibited gambling on sports with only three exceptions: Journalists were permitted "occasional recreational wagering on horse racing or dog racing or jai alai."
But by the time some of the Times's most accomplished investigators slipped away from the dog track this Sunday to publish a trio of blockbusters on the growth of sports gambling in the United States, things had changed. In June, the paper changed its editorial guidelines around gambling for the first time in nearly two decades, saying they "may place occasional recreational wagers on sports they do not cover, in line with the laws where they live."
It was a compromise that came as the Times attempted to rein in sports gambling by staff at the Athletic, which the paper acquired earlier this year, and which until recently allowed its writers to gamble on sports they write about.
The Times's policy shifted tracked the substance of Sunday's investigations. One detailed the industry's massive and successful lobbying campaign. Another focused on campuses. The third described the journey of Barstool Sports founder Dave Portnoy from "degenerate gambler" to gambling pitchman as "one of the most vivid manifestations of the frenzy.
At the Times, the internal debate has centered on the Athletic. Several journalists and podcasters at the sports-focused publication had been open about wagering on sports that they write about. Writers for the site's NBA, NFL, and MLS sections all have discussed wagering on sports they write about, as have hosts of the Athletic's Nets podcast, who bet on the team. Another writer for the site's NFL fantasy section, John Lagheeza, has a side hustle on Patreon where he offers sports betting and advice.
Senior college football writer Ari Wasserman has repeatedly said he placed wagers on various college football games over the past 18 months. And while in the past Wasserman has been a voter for the Heisman Trophy, he mentioned on the the Athletic's Andy Staples Show that he bet on Anthony Richardson to win the prestigious college football award.
The Times has worked to curtail some betting by the sports site's staff. The paper confirmed that in June, the company informed staff that they were allowed to gamble on sports that they do not cover. A Times spokesperson said that staffers who work on the betting vertical desk like Wasserman "need to understand the ins and outs of sports wagering to remain experts in the field" and are allowed to wager on sports.
Others who placed wagers before the policies were implemented get a pass: The spokesperson added that sports betting taken before the rules were laid out "would not be in violation of our standards."

Max's view
But the tensions inside the Times also reflect a broad shift in sports media, and the Times's own gamble that the Athletic can swim against a powerful industry tide and live mostly on subscriptions and advertising at a moment when gambling dollars are raining down on its competitors.
Some of the origins of sports media are in the print publications unapologetically devoted to horseracing, and newspapers long carried the betting lines on games. But a series of 20th Century scandals involving rigged games — the 1919 Chicago White Socks were perhaps the most iconic — helped give birth to a white glove sports media and professional leagues that kept their distance from the practice, as well as to regulations that confined legal gambling to Las Vegas, Atlantic City, and a handful of other places. In media, figures like the oddsmaker Jimmy the Greek, a fixture on CBS's Sunday NFL broadcasts, was a vestige of a more colorful past.
But the rise of fantasy sports, right at the edge of gambling, and of the industry giants FanDuel and DraftKings began to change that. And a 2018 decision by the Supreme Court that paved the way for states to legalize sports betting triggered a mad scramble to find new consumers on the internet.
Since then, sports gambling has already grown into a huge business for the advertising world: Research firm MediaRadar said the gambling industry spent almost half a billion dollars on advertising between November 2020 and November 2021, and major gambling companies are showing few signs of slowing down.
Many online gambling companies have launched their own shows around sports commentary. Former ESPN president John Skipper's company Meadowlark has partnered with DraftKings on several sports podcasts, including a $50 million three year deal to distribute the "Dan Le Batard Show with Stugotz."  FanDuel TV, which launched this year, scooped up The Ringer's Bill Simmons and PMI's Pat McAfee.
News media companies have almost all tried to get a piece of the action. In 2020, Turner announced partnerships to collect referral fees from DraftKings and FanDuel in exchange for integrating betting information on TNT, which has rights to some NBA games, and Bleacher Report. FanDuel also has a deal with The Ringer, which is allowing the company to license the site's content. Authentic Brands Group, which owns Sports Illustrated, announced a partnership last year with 888 Holdings to create a sportsbook, part of the legacy magazine's push into online gaming. Yahoo Sports is partnered with MGM on a gambling sportsbook, while ESPN has partnerships with DraftKings and Ceasars in what it describes as "co-exclusive link integrations" across ESPN's website and broadcast.
Even as a Times property, the Athletic has continued its partnership with BetMGM, which provides betting odds in the Athletic's content and products.
No media company is more fully committed to the gambling industry than Barstool, whose CEO, Erika Nardini said a growing part of the business is driving its audience toward Barstool's branded sportsbook, which is operated by Penn Gaming, and physically getting people into casinos with live Barstool events.
"We're the funnel," she said. "It's the affinity and the connection with our audience and the Barstool Sports brand that aids in driving the conversion."
Barstool, she argued, is particularly well-positioned since its bloggers, podcasters, and personalities are fans with little contact with teams, not sports insiders.
"I think companies like ESPN, the New York Times and others who feel that they have some banner to uphold with regard to what their editorial covers and don't cover — they're having a struggle with sports betting," she said. "It's a sin business, it used to be illegal. There's no higher purpose."

Notable
For the most part, state gambling regulators have not clamped down on the Barstool/Penn relationship, despite Portnoy's history of massive gambling debts. Gambling regulators in almost every state where Barstool Sportsbook operates have bought Penn's argument that Portnoy does not need a gaming license because he is not involved in running the actual betting operation.
Many media company betting partners like FanDuel and DraftKings have faced increasing complaints from customers who have had trouble withdrawing funds from the betting platforms. The Better Business Bureau gave FanDuel an A minus rating and DraftKings a B minus. BetMGM, the Athletic's partner, received an F.