Right-wing outsider Javier Milei wins Argentina's presidential race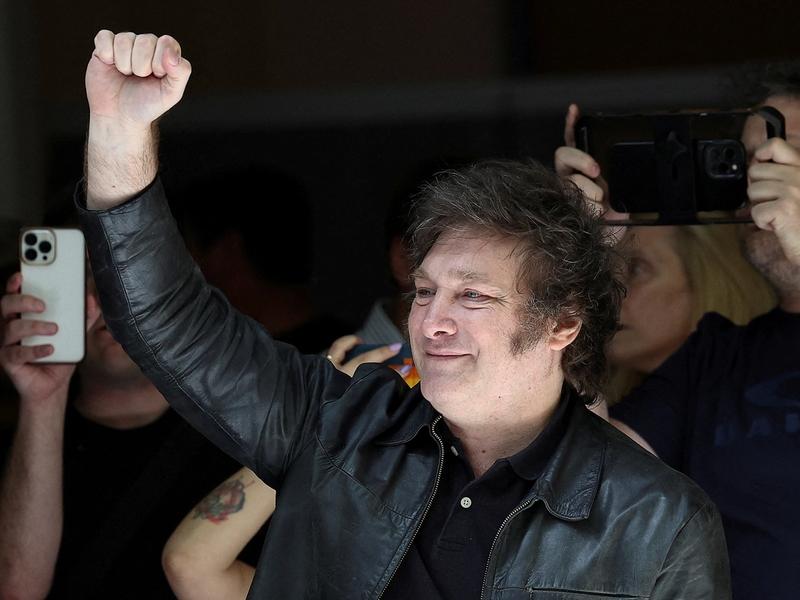 Javier Milei, the self-described libertarian and political outsider who has been described as Argentina's "Donald Trump," has won the country's presidential race.
Milei had won 56% of the votes after more than 80% of the votes had been counted on Sunday, with his rival, current finance minister and moderate Peronist Sergio Massa, getting 44%. Massa conceded in Buenos Aires and said he called Milei to congratulate him, Bloomberg reports.
The tense election surfaced deep political divisions between Argentine voters who are facing record-shattering inflation and crippling debt, with Milei proposing radical, bottom-up reform as a last-ditch effort to save the country.
Milei, who was originally considered the frontrunner, came in a shocking second place to Massa in the first round of voting in October. But he soon rebounded and the election was neck-to-neck just days before the runoff.
Argentina's 35 million voters had to choose between two radically different economic survival plans: Massa's gradual approach of increasing price controls, decreasing taxes, and stimulating small and medium-sized businesses with loans versus Milei's revisionist vows to ditch the peso for the U.S. dollar and gut key institutions like the country's central bank.
But beyond economic philosophies, Argentine voters had to choose between wildly different personas to represent their country on the world stage. Massa was framed as a career politician who had meticulously chosen his political alliances to slowly climb the ladder, while Milei became internationally infamous for his political stunts, often wielding a chainsaw at rallies and making his five cloned mastiff dogs symbols of his libertarian ideals.
The trajectory of Milei's presidency remains "a huge question mark," writes columnist Pablo Mendelevich for Argentina's La Nación newspaper. With not a single provincial governor who is a member of Milei's party — and his political coalition remaining the minority in the national legislature — there is no political precedent of what his libertarian proposals will look like, nor can Milei's administration truly guarantee they will be able to deliver his reforms, Mendelevich opines. Moreover, despite many international commentators warning that Milei is a threat to democracy, Mendelevich reminds readers that this is only the second time in Argentine history that a candidate has received such notoriety abroad: the last time being the immensely popular — and democratically-elected — Juan Perón, who the U.S. government and its allies worked to overthrow in a military coup which ultimately saw Argentina spiral into years of a brutal dictatorship. It is perhaps why, Mendelevich argues, that Milei quoted Perón in his victory speech despite them sharing vastly different political philosophies: "Within the law there is everything, outside of the law there is nothing."
Former President Mauricio Macri is essentially Milei's "godfather" after throwing his support behind him, writes journalist Werner Pertot for the left-leaning Página 12 newspaper, raising suspicion that Macri could ultimately become the counterweight to Milei's far-right ideology. It is not far-fetched for Macri to believe "that Milei owes him the election," Pertot writes, and it is likely that many of the cabinet members will likely have strong ties to Macri. But Macri also benefits from Milei's election because his administration is more likely than not to drop several criminal investigations against the former president, including charges of alleged illegal surveillance of prominent critics, Pertot writes.
Milei's ascent is in large part due to a devotion of young, male voters, journalist Victor Swezey writes for Al Jazeera. That's in stark contrast to other right-wing figures in the Americas, like former U.S. President Donald Trump and former Brazilian President Jair Bolsonaro, who consistently struggled to gain support among younger voters. While some of Milei's supporters — dubbed "mileistas" — also identify as libertarians, many others were simply captivated by Milei's savvy rhetoric on TV and YouTube during his time as an academic, and they believe that his radical reforms truly are the last option to save Argentina from total economic disaster. Despite Milei's conservative policies on things like LGBTQ+ rights and abortion, Argentina's economic prospects are so dire and corruption so pervasive that young voters "see someone who's fighting against the system and a rebel" in Milei, one Rice University academic told Al Jazeera.