China's Xi and Japan's Kishida meet after a tense year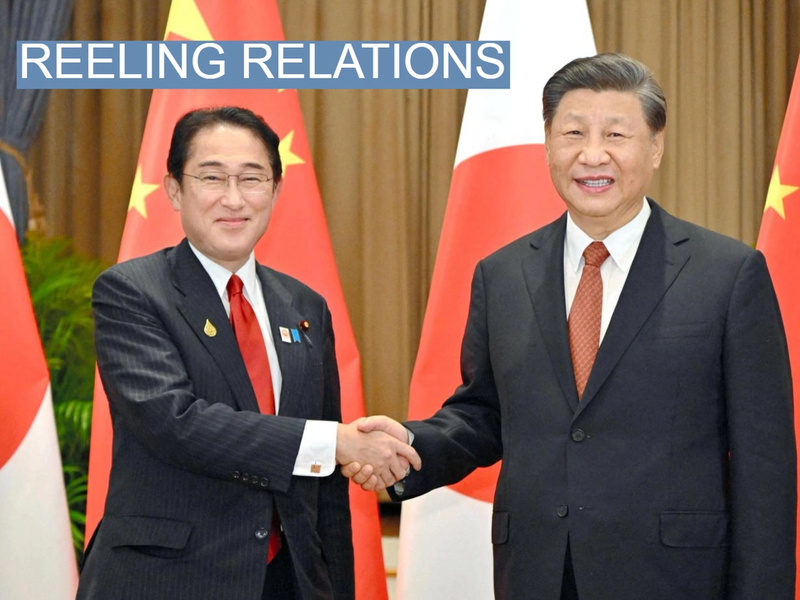 Chinese President Xi Jinping and Japanese Prime Minister Fumio Kishida reaffirmed a "strategic relationship" between Beijing and Tokyo on Thursday, marking the first time in a year the two leaders have met face-to-face.
Asia's two largest economies should "focus on common interests" and reaffirm a "strategic relationship of mutual benefit and give it new meaning," Xi told Kishida.
They discussed initiatives aimed at fixing increasingly sour relations between the two countries that have developed in recent months, particularly after Chinese missiles appeared to land in Japan's exclusive economic zone in the East China Sea and the jailing of a Japanese businessman arrested for alleged spying in China.
The meeting between Xi and Kishida is a "half-step forward," but it will not resolve all tensions, Japanese financial newspaper The Nikkei's editorial team writes. The team opines that the most consequential issue is China's expansion across the East China Sea, which compromises Japan's national security, particularly as cross-strait tensions with Taiwan worsen. Japan must therefore focus on "confidence-building at the leadership level" so that Chinese leaders can trust Japan to promote greater economic ties, which in turn could incentivize China to respect maritime borders. Failing to do so will mean that any future dialogue between Beijing and Tokyo will be "nothing more than wishful thinking."
The leaders only agreed on vague promises over Japanese seafood imports to China, a key issue for Kishida who says that China's ban on Japanese seafood is considerably disrupting fishing markets. Beijing imposed the ban shortly after Japan said it would begin slowly releasing treated radioactive water from the Fukushima nuclear power plant disaster. Kishida wanted Xi to immediately lift the ban, but the two instead agreed to further "meetings and dialogue" that would include establishing a scientific panel. Despite neutral third-party experts emphasizing that the water would not negatively impact human health, Chinese state media has been pushing misinformation negating these claims, while also refusing Japan's offer to monitor the area for radioactivity levels. "Japan vigorously attempts to portray itself as a victim rather than a perpetrator," read one August article in Chinese state tabloid Global Times, as Japanese fishermen protested China's ban.
Unlike U.S-China relations, "there is less dialogue between politicians" when it comes to China-Japan relations, one Japanese academic told the Diplomat. That's largely because of Kishida's "pro-China" reputation in Japan, which ironically has restricted his administration from being proactive with China because of the intense public backlash Kishida faces when he attempts to be friendlier with Beijing, the academic argues. As such, Kishida now appears to be taking cues from U.S. President Joe Biden's cautious approach to improving ties with Xi. With Biden having made the first move with Xi at APEC, "Kishida can seek to match it by improving dialogue and communication mechanisms with China," the professor said.