The video
Chinese President Xi Jinping was caught on video accusing Canadian Prime Minister Justin Trudeau of "leaking" their private discussions to the media, telling him, "That is not how diplomacy works."
The brief, tense, and unscripted exchange between the two world leaders at the G20 summit in Bali was recorded by a Canadian cameraman on Wednesday, giving a rare, real-time glimpse into their fraught relationship.

know more
Xi and Trudeau had a meeting Tuesday after which Trudeau's office told Canadian outlet CBC that the two had discussed reports on China's interference in Canadian elections, among other issues.
This displeased Xi who told Trudeau off on Wednesday during an unplanned encounter caught in the one-minute long video.
"Everything we discussed has been leaked to the paper(s) –– that's not appropriate," Xi told Trudeau, through a translator. "That is not how diplomacy works," he added.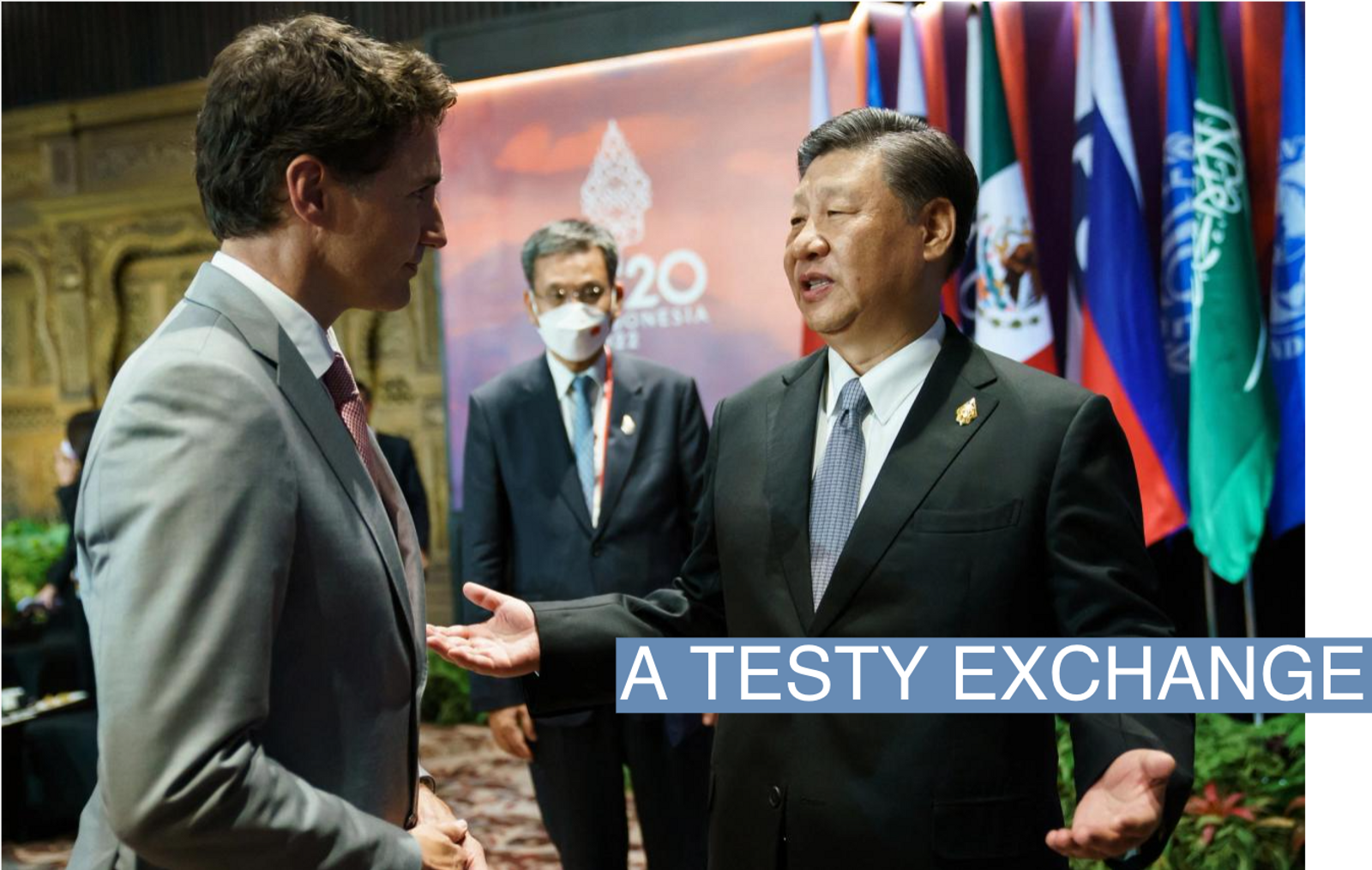 Xi said he required "sincerity" from Trudeau to continue to have productive discussions. "Otherwise it is hard to say what will happen," he said.
"In Canada, we believe in free and open and frank dialogue," Trudeau said, interrupting Xi's translator. "We will continue to look to work constructively together, but there will be things we will disagree on," he added.
"Let's establish the conditions first," Xi replied. Before the president's translator could relay his message in English, Xi briskly shook Trudeau's hand and walked away. The Canadian prime minister, who looked upset, walked towards the back of the room.
Canada's foreign ministry and the prime minister's office did not immediately respond to Semafor's request for comment.

The View From canada
Ottawa's relationship with Beijing deteriorated in late 2018, following the arrest of two Canadians in China, Michael Spavor and Michael Kovrig — in a move that was seen as retaliation for Canada's arrest of Meng Wanzhou, the chief financial officer of Chinese tech giant Huawei and also the founder's daughter. Meng was arrested on a provisional U.S. extradition request for fraud and conspiracy to commit fraud, among other charges.
Trudeau has taken a harder stance on China since being reelected as prime minister last year. He recently criticized the country for meddling in Canada's last election by secretly funding 11 candidates.

EXPERT VIEW
"It was like a superior speaking to somebody of a lower status," said Scott Simon, a senior fellow with the Macdonald-Laurier Institute and professor of social sciences at the University of Ottawa. "There's kind of a veiled threat there."
"What I see is a couple of leaders who don't necessarily have chemistry between them –– if not, none at all," said Kerry Brown, the director of the Lau China Institute at King's College. "It's quite a useful indication of interpersonal dynamics at this elite level."
"I think for someone like Xi, looking at democratically elected leaders is bewildering," Simon said. "Trudeau might be the son of a very good statesman, but nonetheless he was also a high school drama teacher –– I think that's rather perplexing for somebody from China."