How the Chinese media is covering the Xi-Biden talks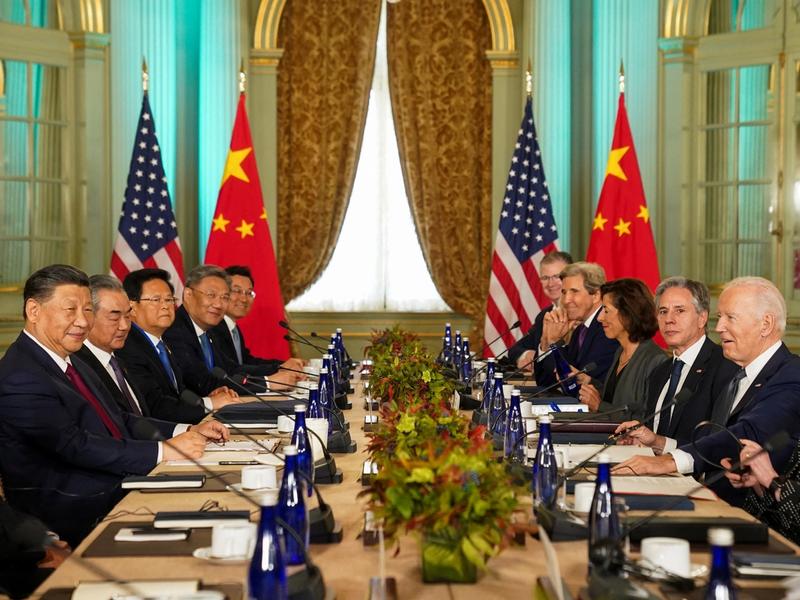 The high-stakes meeting between Chinese leader Xi Jinping and U.S. President Joe Biden at the APEC summit in San Francisco is dominating headlines in both countries.
Hailed as a much-needed stepping stone in fragile Sino-American relations, the bilateral talks are seen as crucial while China's economy stagnates and the U.S. remains heavily involved in two major wars. Chinese state media adopted a more friendly tone to the U.S. in its coverage, while Chinese social media users focused on a somewhat different aspect.
Chinese state media has toned down its criticism of the U.S. ahead of the summit. News agency Xinhua published a five-part series on "Getting China-U.S. Relations Back on Track," and interviewees in other state media articles have promoted foreign policy that the Biden administration hopes to gain from talks with Xi. "China should further demonstrate to the U.S. and the international community that it is a proactive and responsible major country in the international endeavor against drug abuse," one academic told a Shanghai newspaper, referring to the White House's demand for China to stop contributing to the fentanyl trade. This messaging is likely meant to signal to U.S. companies that they shouldn't be worried about U.S.-China relations, Titus Chen of Taiwan's National Sun Yat-sen University told the New York Times. "It is mainly designed for signaling, in the hope that recipients will get the signal and implement the proper response, which is investment, or resumption of exchanges," Chen said.
On Chinese social media, however, users remained obsessed with crime and homelessness in the U.S., with homelessness showing up as the number one result on Weibo after searching for "San Francisco" shortly before the Xi-Biden meeting. One Weibo user known for his anti-U.S. views shared a video that appeared to show homeless people sleeping on the streets of the city before APEC and then police clearing encampments and cleaners picking up trash. "I have never seen the U.S. so efficient at something," the user said in the video. "It's like you're having a party behind your parents' back and then crazily cleaning up right before they return home." Hu Xijin, the former editor-in-chief of state tabloid The Global Times said, "Why doesn't the US put up some money to resettle these homeless people?