Israel and Hamas reportedly near deal to free dozens of hostages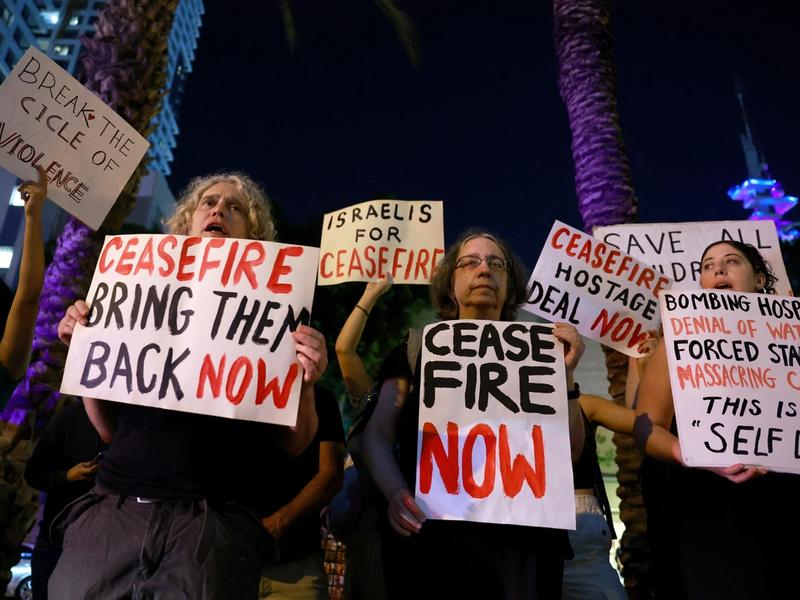 Israel and Hamas may be nearing an agreement that would see hostages freed in exchange for a temporary ceasefire.
Hamas told Qatari officials, who are mediating hostage negotiations, that they were prepared to release up to 70 women and children in exchange for a five-day ceasefire, Reuters reported. An Israeli official told the Washington Post that a deal was close, and could be announced in a matter of days.
The possible deal comes as the Israel Defense Forces said that it had taken control of the Hamas parliament and other institutions in Gaza City.
Calls have being growing around the world for a ceasefire agreement and a plan to return hostages home, amid the war's increasing humanitarian toll. In London, hundreds of thousands of people marched near Westminster to demand a ceasefire agreement, and in Israel, thousands demonstrated across the country to demand the government prioritize the return of the more than 200 hostages taken during Hamas's Oct. 7 attack. Publicly, the Israeli government has rejected calls for a ceasefire, instead agreeing to a U.S.-brokered daily four-hour pause in hostilities. Prime Minister Benjamin Netanyahu has rejected a multi-day ceasefire.
A siege on Gaza's Al-Shifa hospital has sparked condemnation from U.S. President Joe Biden, who said that the medical facility "must be protected." Israel claims that Hamas is operating out of a tunnel beneath the hospital, but Hamas has denied the allegation. Netanyahu has "given no public indication" of how he will eradicate Hamas — the main goal of the war — if its leaders are in fact sheltering among civilians, Ian Parmeter, a
research scholar at the Australian National University's Centre for Arab and Islamic Studies, wrote in The Conversation. The result is a growing disconnect between Israel and the U.S., Parmeter notes, especially as Netanyahu faces a myriad of issues in the eventual aftermath of the conflict, including how to address a possible power vacuum in the Gaza Strip. "Biden and Netanyahu are thus on a collision course."
Some U.S. State Department employees have circulated memos breaking with the Biden administration's approach to the war. At least three internal cables have been shared on the "dissent channel," an internal service established to allow diplomats to anonymously raise issues about Washington's policies, Reuters reported. In a letter to staff, Secretary of State Antony Blinken acknowledged the dissent, writing, "I also know that some people in the Department may disagree with approaches we are taking or have views on what we can do better." However, officials told Reuters said the growing dissent amongst staffers is unlikely to alter the trajectory of Biden's foreign policy.