The News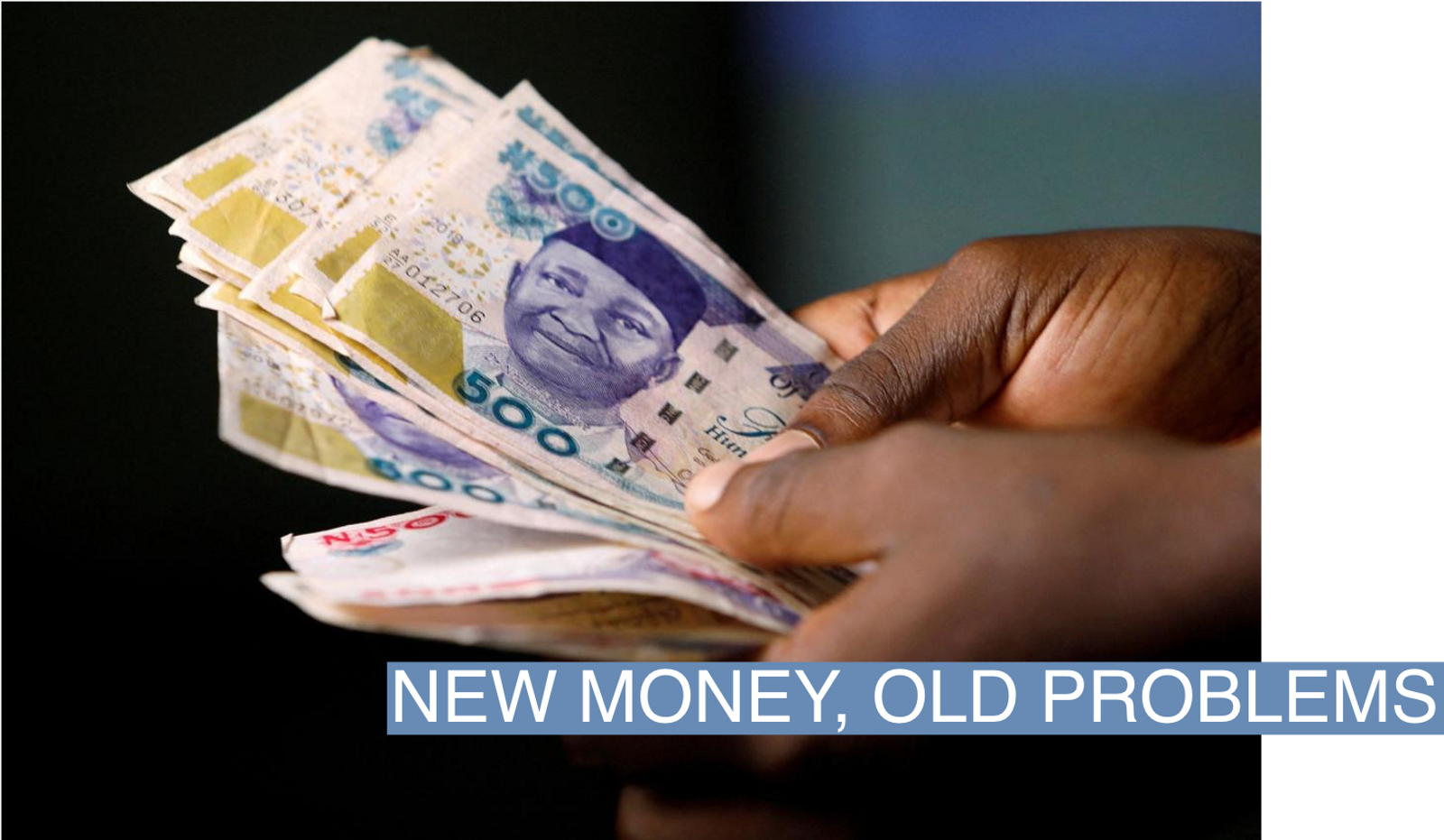 Nigerian politicians face a race to amass new bank notes that could play a crucial role in the country's upcoming elections.
The Central Bank of Nigeria announced last month that it will issue new notes to control money supply and tackle inflation. Cash still dominates transactions in Nigeria, with the informal sector accounting for around 60% of the local economy.
But the move to unveil redesigned naira notes just over a month before the presidential and parliamentary elections on Feb. 25 could also limit the ability of some politicians to use cash to pay for votes. And it may hand an advantage to politicians with access to the new notes, several analysts and political insiders told Semafor.
Since the Oct. 26 announcement, the black-market value of the naira has dropped from around 750 naira to the dollar to as low as 875 naira. Many economic watchers told Semafor they believed the naira could fall as low as 1,000 naira to the dollar by year-end.
The CBN said the new notes will be circulated from Dec. 15, provided to banks on a "first come, first served basis." Old notes will no longer be legal tender after Jan. 31.
Kingsley Moghalu, a former deputy central bank governor who ran for president four years ago, said the change will be a "complicating factor" for many politicians. "If they had all those old notes that they've stocked, they would've just gone straight ahead to start spending it between now and February," he said. Instead, those who have hoarded large sums will now need to find ways to use their notes while they still have value and some potential recipients will not want to accept cash that will be worthless within weeks.
Politicians with access to the new notes will be able to pay more people for votes, according to economist Bismarck Rewane.
Rewane, chief executive of Lagos-based consultancy Financial Derivatives, said it would not be widely known if politicians had managed to stock up on new notes. He said that meant any candidate who secured more new notes than their opponents would have a huge advantage and "there's no way anyone could prove it."
Clement Nwankwo, a lawyer who heads a coalition of human rights groups and democracy advocates that monitored the last two presidential polls, said "there's no doubt that there are political reasons for this particular action."
A central bank spokesman did not respond to Semafor's requests for comment.
The bank has publicly stated that the change of notes aims to stop people hoarding cash, reduce the volume of money outside the banking system used for ransom payments, and take counterfeit notes out of circulation.
Nigeria's financial crimes agency has in recent years discovered large stashes of cash in private properties, forests, and burial grounds following tip-offs from whistleblowers. In the most high-profile case, $43 million in cash was seized in 2017 from an apartment in the affluent Ikoyi district of Lagos.

Alexis's view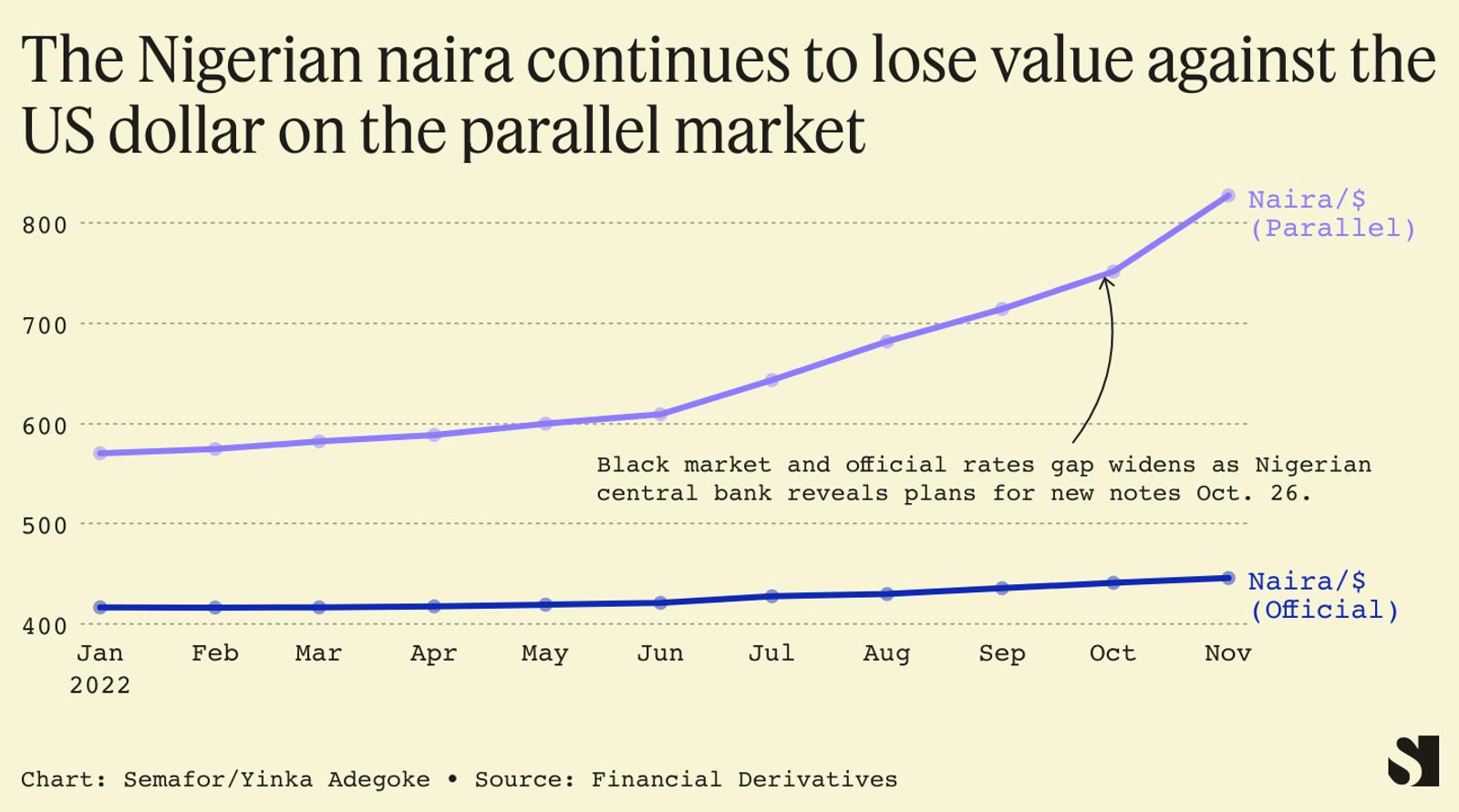 Bribing voters and accepting money in exchange for a vote are offenses punishable by up to a year in prison in Nigeria. Having reported on the last two Nigerian elections, criss-crossing the country ahead of both votes, I've become so accustomed to the practice that I have to remind myself that it is indeed illegal. And yet it's so common that it's spawned its own lexicon of phrases such as "stomach infrastructure" — the need for poor voters to benefit from payment.
Now that Nigerian elections are harder to rig, with the advent of biometric card technology to identify voters, politicians increasingly use local supporters to wield cash. That means the issuing of new notes will reduce the firepower of those who have hoarded cash and help those who can secure fresh notes.
The central bank's intervention has already had an impact on the value of the naira. Most Nigerians use the black market, where the currency is around 80% weaker against the dollar than the official FX rate. The naira's black market value dropped after the central bank announced the change because people rushed to use their soon-to-be defunct notes to mop up the increasingly scarce supply of dollars in circulation.
But much remains unclear. It isn't obvious which politicians will benefit from the issuing of new notes. And the strict line between the central bank and politics that exists in most countries isn't always clear in Nigeria, which adds to the confusion. Earlier this year the central bank governor, Godwin Emefiele, ran unsuccessfully to be the ruling party's presidential candidate.

Room for Disagreement
Idayat Hassan, director of the Abuja-based Centre for Democracy and Development think tank, said the cash redesign may not prevent payment for votes. "In previous elections we actually saw people do bank transfers. They didn't necessarily need to use cash," she said.
Hassan said the most notable consequence of the note redesign would be the inflationary effect, reflected through higher food prices. She added that the short timeframe for the change meant many Nigerians will fail to reach a bank in time to exchange their cash for new notes, meaning they stand to lose money.
"People are already groaning under the weight of this economy. It's going to make life even harder for the average Nigerian," said Hassan.

The View From Nairobi
Karuti Kanyinga, a University of Nairobi academic who co-authored a study on the financing of politics, said it's increasingly common for Kenyan voters to demand cash during electoral campaigns. "If you're a politician and you meet a crowd somewhere and you don't give them money, they'll scream at you because they see you as a source of finance for that particular day," said Kanyinga.
He said voters argue that elected officials are well-paid and rarely seen once they take office, which means the only contact comes on the campaign trail. But Kanyinga added that cash did not buy their allegiance. He said most voters interviewed for his study told him they took money from different campaign teams and voted for the candidate of their choice. The main benefit for political campaigners was that the cash gifts generate large crowds at rallies.

Notable
Peter Obi, the 'third party' candidate, initially surprised the two main parties by generating widespread popularity that was reflected in private polling. But Bola Tinubu and Atiku Abubakar, the candidates of the establishment parties, have begun flexing their financial muscles, according to the Africa Report. It raises the question of whether Obi will be able to remain a serious contender.