The Scoop
Members of former Trump aide Michael Flynn's family pocketed hundreds of thousands of dollars in leftover money from a legal defense fund that was set up for the retired general as he faced a federal investigation over the 2016 election, Flynn's sister testified in a defamation case involving CNN.
Flynn, Trump's former national security advisor, also sat for a sworn deposition in the case, in which his wife and sister-in-law are accusing CNN of defaming them by associating them with the QAnon conspiracy theory, newly filed documents show. Flynn's deposition is sealed.
In a filing made public Thursday, CNN asked a federal judge in Florida to dismiss the suit before going to trial. The motion argues the family was connected to QAnon, "exploited" Michael Flynn's ties to the movement, and fundraised off of its supporters.
Lori and Valerie Flynn's claims, filed in early 2022, are based on a 2021 CNN report that includes a two-second clip of Michael Flynn taking an "oath" associated with QAnon at a Fourth of July barbecue, while his family stands next to him with their right hands raised. Each demanded $100 million in damages.
The report mostly focused on a QAnon-related conference, not the Flynns, and the chyron that ran throughout the report stated: "CNN Goes Inside a Gathering of QAnon Followers." Lori and Valerie Flynn claim they were defamed by CNN for being shown in the package and are not in fact QAnon followers. Other Flynn family members, including his brother Jack and sister-in-law Leslie, have also sued CNN over the QAnon story. That case is still pending in federal court in New York.
CNN declined to comment. Jared Roberts, an attorney representing the Flynns, told Semafor on Monday that CNN "has resorted to inappropriate mischaracterization of deposition testimony and the facts. We do not intend to fight this case in the media and we will make our response according to the scheduling order of the court and in our opposition brief."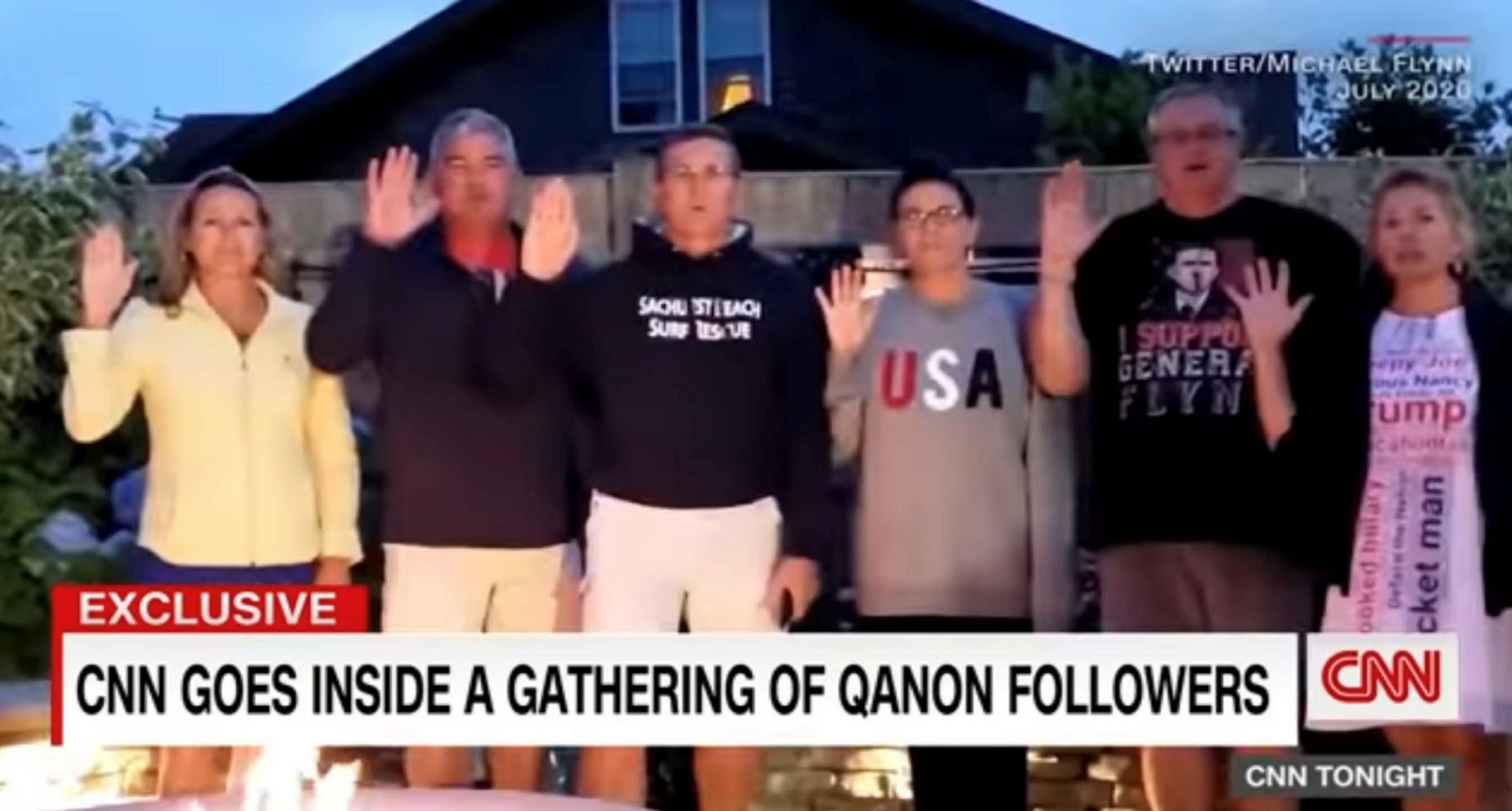 Know More
Michael Flynn, a key figure in the early days of the Trump presidency, served as national security advisor for 22 days. He resigned following reports that he had misled White House officials about conversations he had with Sergey Kislyak, the Russian ambassador to the United States.
He was central to the saga involving James Comey and the Robert Mueller investigation, and later pleaded guilty to lying to the FBI. The Department of Justice moved to dismiss the case years later, before Flynn was sentenced, and Trump pardoned him in 2020. Over the years Flynn has promoted several conspiracy theories about the 2020 election and COVID-19, and became increasingly associated with QAnon.
In 2020, the Flynns participated in the viral #TakeTheOath movement, in which supporters were urged to recite the federal oath of office followed by the phrase "Where We Go One, We Go All," a slogan associated with QAnon, per the filing. He tweeted the video of himself and his family taking the oath at the barbecue.
CNN's filing pointed out that its report on "QAnon followers" never names Lori or Valerie Flynn, and only briefly touches on Michael's Flynn's connection to the movement. The filing argues, though, that the family was still connected to QAnon because they "relentlessly fundraised … from the QAnon community" to support Flynn's legal defense fund from 2018 to 2021.
According to the motion, Flynn's sister Barbara Flynn Redgate, who was the trustee for the defense fund, testified that she "didn't mind taking money from people who [used QAnon] hashtags" as long as they were "directing [people] to the legal defense fund."
After paying Flynn's lawyers with the legal defense fund money, Barbara testified that she was paid about $265,000, and Michael Flynn was then paid "whatever was [leftover] in the account." She said that was more than $250,000 but less than $1 million.
CNN argued that Flynn's prosecution and pardon from Trump "galvanized support from QAnon followers, who acted like 'groupies'" toward him. The network's motion questions "whether the purpose of this lawsuit is to really vindicate an emotional harm or simply to 'get CNN.'"
Valerie Flynn's lawsuit, which was filed separately but eventually consolidated with Lori's, argues that CNN's conveyed the message that Valerie pledged her allegiance to QAnon, and says it links the Flynn family to a "violent extremist group."
"In early February 2021, this was a very damaging accusation. It was like calling someone a 'communist' in the 1950s or a Nazi sympathizer in the 1940s," the suit states.