The News
Pharmaceutical giant Eli Lilly's stock price plunged Friday following a fake tweet from a Twitter Blue-verified account that claimed the company would be making insulin free.
The tweet highlighted financial fallout for companies under Elon Musk's chaotic Twitter Blue rollout that spawned multiple imposter accounts. But more significantly, it sparked public anger over the high costs of insulin.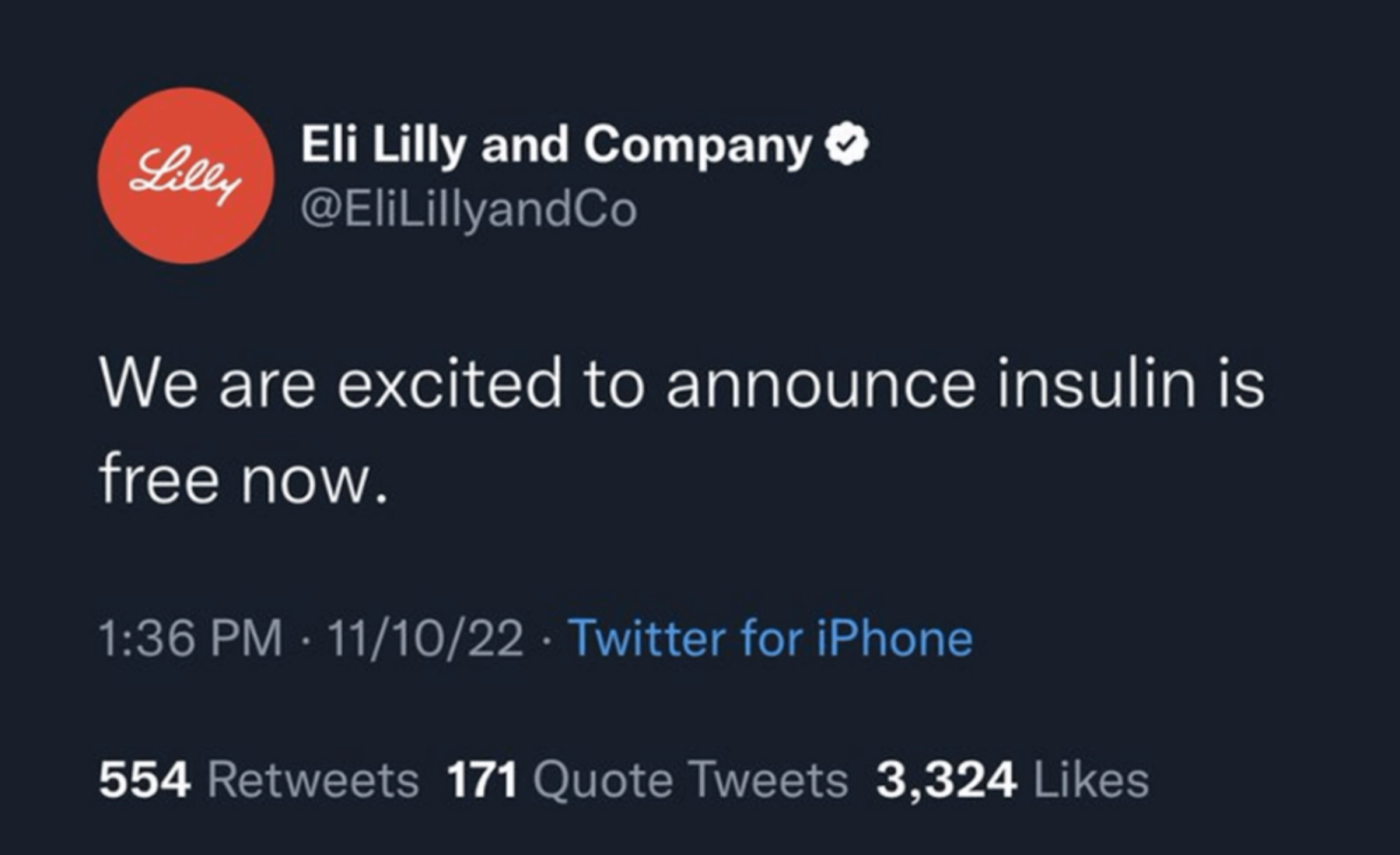 Know More
The fake tweet from the imposter account remained online for several hours on Thursday and was retweeted thousands of times before the account was unverified and its tweets became private.
The real Eli Lilly Twitter account tweeted an apology Thursday about the "misleading message" from the fake account, but on Friday, the company's stock plunged by more than 5%.
While it's unclear whether the fake tweet was the culprit behind the dive, it reignited public anger against pharmaceutical companies over the high cost of insulin. Eli Lilly's competitors also saw drops in their share prices with Denmark's Novo Nordisk's dropping by about 5.1% and France's Sanofi tumbling by about 4.5%.
Several people took to Twitter to slam Eli Lilly for insulin price gouging.
Sen. Bernie Sanders tweeted that instead of apologizing for the fake tweet, Eli Lilly should apologize for increasing the price of insulin over the past three decades.
"This is almost like a symbol of the mob in many ways: like the market realized that there are people who want to come out at Eli Lilly with pitchforks," Dr. Eric Feigl-Ding at the New England Complex Systems Institute told Semafor.
Eli Lilly declined to comment on whether its stock plunged because of the fake tweet.
"We are deeply committed to ensuring patients and customers receive accurate information about our medicines," the company said in a statement to Semafor. "In recent days, fake/parody Twitter accounts for Lilly have communicated false information and we're working to correct this situation."