The News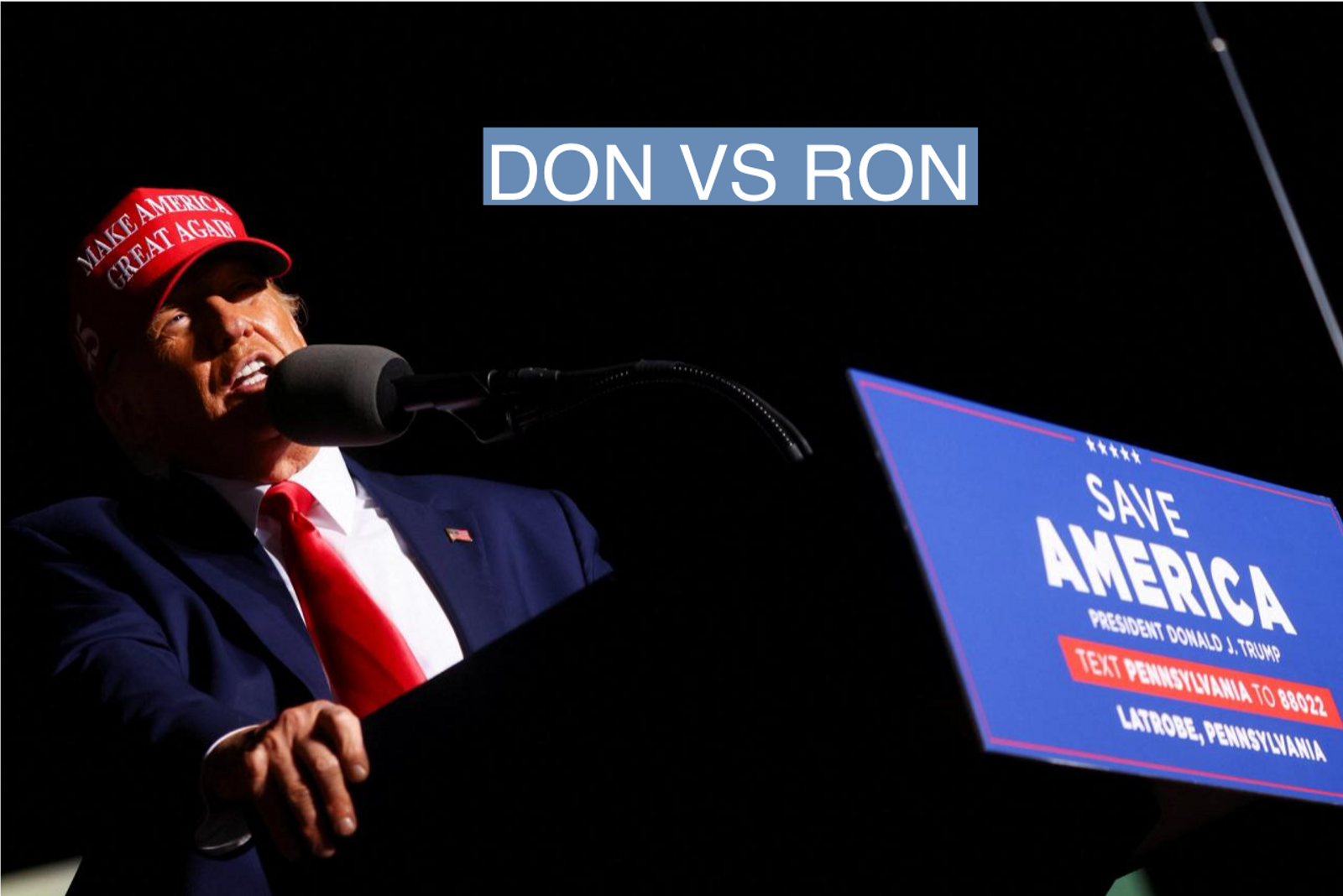 The 2024 cycle starts now, and Rupert Murdoch's right-wing media empire has picked a candidate early: newly re-elected Florida Governor Ron DeSantis.
Former President Donald Trump denounced DeSantis as an ungrateful hanger-on in a rambling series of posts on Truth Social Thursday night, and lashed out at Murdoch:
Truth'ed Trump:
"NewsCorp, which is Fox, the Wall Street Journal, and the no longer great New York Post (bring back Col!), is all in for Governor Ron DeSanctimonious, an average REPUBLICAN Governor with great Public Relations, who didn't have to close up his State, but did, unlike other Republican Governors, whose overall numbers for a Republican, were just average — middle of the pack — including COVID, and who has the advantage of SUNSHINE, where people from badly run States up North would go no matter who the Governor was, just like I did!"
DeSantis did not respond — he's dealing with a real-life hurricane, not a metaphorical one.
What was Trump so mad about? Well, the New York Post declared that DeSantis's win showed "he's the future of the GOP" on Wednesday, then published a scathing Thursday front page depicting Trump as Humpty Dumpty and referring to the former president as "Trumpty Dumpty."
The Wall Street Journal's editorial board, in a piece titled "Trump Is The Republican Party's Biggest Loser," wrote that "Mr. Trump has a perfect record of electoral defeat" and that "maybe the defeats are what the party needs to hear before 2024."
Even Fox News participated in the pile-on, rotating through a number of political pundits who praised DeSantis's successful campaign. Some of them openly criticized Trump, and the digital side of the media company published an op-ed by Liz Peek calling DeSantis "the new Republican Party leader" and Trump "the biggest loser" of the midterms.
"Trump is in the past," Fox Business' Stuart Varney declared Wednesday.
Murdoch companies were not alone in their criticism of the former president. Breitbart dipped its toe into the pro-DeSantis commentary with a piece by Ann Coulter titled "A Nation Rejoices! A Humiliating Defeat For Trump." The National Review's editor-in-chief Rich Lowry published an opinion piece in Politico on Thursday declaring Trump to be "a bust for Republicans." The Daily Wire, meanwhile, published several pieces honing in on the Florida governor's big night (and Trump's bad one), with headlines like "With Trump The Big Loser in '22 Midterms, DeSantis Now Frontrunner For '24."
Candace Owens also distanced herself from Trump with an opinion piece titled "My Opinion On Trump Is Changing." In it, the conservative commentator noted that she was one of Trump's "most vocal supporters all throughout his presidency," but suggested he's been "pushed" into "an angry space" and questioned whether he's "assessing things in a good way."
He wasn't entirely without defenders. British political activist Raheem Kassam argued on Substack that it's "nonsense" to blame Trump for Republicans' lackluster midterm performance and Rep. Matt Gaetz, R-Fla. published a piece in the Daily Caller declaring that "America needs Trump back in the White House."
But as commentators and hosts propped up DeSantis and blamed Trump for the party's midterm performance, people in Trump's orbit appeared uneasy. Former Trump White House Press Secretary Kayleigh McEnany and Jason Miller, who served as a senior advisor to Trump's 2020 re-election campaign, ultimately took to the airwaves on Wednesday to argue that the former president should hold off on announcing a 2024 bid — he's teased a special event on November 15 — because of the Georgia runoff.

Shelby's view
While much of the media is, rightfully, focused on the elite conservative shift against Trump in the days following the midterm election, the former president's source of power has always been his ardent rank-and-file supporters.
As Trump himself noted on Thursday, many of his most prominent allies as president — including top media figures, donors, and politicians — were vocal critics in 2016 and almost none of them endorsed his candidacy early on. Some even cast protest votes for third party candidates in the general election against Hillary Clinton. Only after he proved his hold on the Republican base at the ballot box and delivered conservative wins did they fall in line.
"This is just like 2015 and 2016, a Media Assault (Collusion!), when Fox News fought me to the end until I won, and then they couldn't have been nicer or more supportive," Trump said in a statement.
Murdoch-owned news outlets wrote similar op-eds after the 2020 election and January 6th, only to find Trump back in control of the party and playing kingmaker in midterm primaries. If Trump makes it through the latest storm with his base, it wouldn't be surprising to see right-wing media scale back the criticism.

Room for Disagreement
Some conservatives believe average Republicans are, in fact, tiring of Trump. "I think the voters are ready to move on from Trump," conservative radio host Erick Erickson tweeted. He pointed to a significant shift in how his listeners have responded to the midterm news. "On January 7, 2021, I did not get any calls from people who blamed Trump on my radio show," Erickson wrote. "On November 9, 2022, all I'm getting on my radio show are former Trump voters who want DeSantis."