The News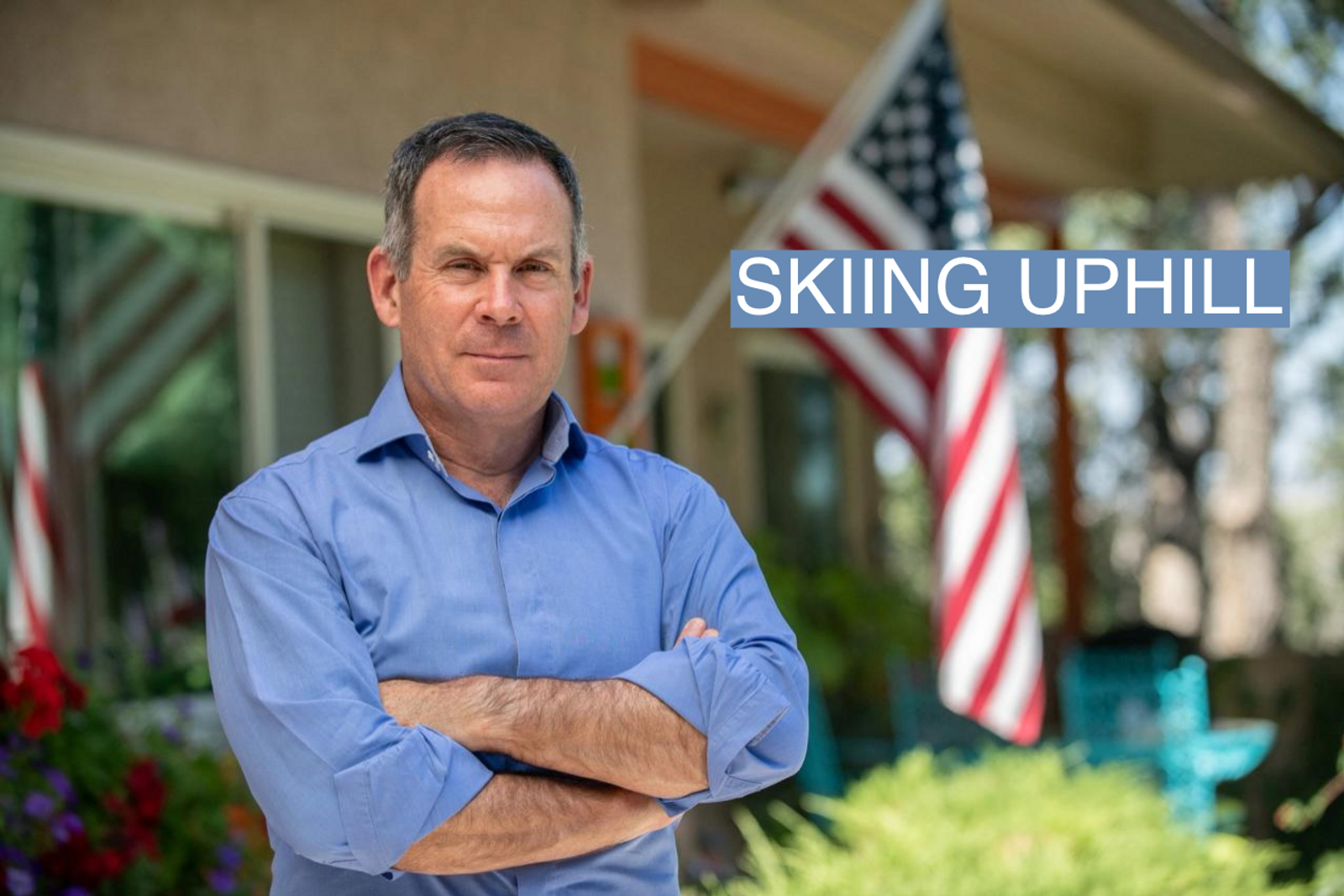 I met Adam Frisch in the Spring of 2022 and found him to be extremely gracious and yet determined. Sort of a really nice but unstoppable honey badger. He told me he was planning to run in the Democratic primary and, if successful, wanted to challenge and beat one of the House's most flamboyant MAGA idols, Rep. Lauren Boebert, whom he thought was achieving nothing but embarrassment for her district.
He was a businessman, policy wonk, long distance skier, doing the kind of ski trekking where you have to go up the mountains as much as down them. He seems to care a great deal about good public policy and has Republican and Democrat friends who also care about policy and spend time talking about real issues with him in fancy haunts around Aspen.
I knew in my gut he would succeed in winning the primary and give her a very tough race, but almost no one else in the political world gave him any attention or support — though he did get an endorsement from Andrew Yang's Forward Party. It's a great story of what it takes to overcome inertia.
With 99% of the vote counted, Frisch leads Boebert by 64 votes. Under Colorado law, that's less than a 0.5% difference given the total vote counts and thus there will be a recount if it holds.
Here is my exchange with Frisch, edited for length and clarity, on why and how he took on an incumbent that few saw as beatable.
STEVE CLEMONS:  So unpack it for us. How did you do this? This was a race that I knew from knowing you was going to be hot, but most other people said there weren't going to be any surprises there.
ADAM FRISCH:  After nine months, people are starting to finally return my phone calls. So I think you and I met up in the springtime this year. A year ago, Rep. Boebert made some comments. Don't ask me what the exact words were but they were not helpful and they were disrespectful. And she's said a lot worse. And I'm just thinking, "Oh my goodness. Not good."
And at that time, I'm thinking, let me pull up some numbers and see if there's any way she or others can lose.  And, you know, you have these five or six people in the Squad on the left, and you have eight or nine or ten on the right. And you put them all together, and I don't want to make any moral equivalency here, but there are 15 or so of those brand name loud ones on either side, and 14 of them have 65% to 80% wins in 2020 in the general election.
But Boebert was at 51%. I realized, oh my goodness, she won 51% to 46%. And if only 5% of the voters switched their vote in 2020, she would have lost. On top of that, she didn't even win her home county. Those who know her best don't care for her, and a lot more people know more now than they did in 2020 and not for good reason. And so that was one data point.
She would have had about 54% of the vote in 2020 if she had the district where we ran. The district went from R-5 to R-8 or R-9. Donald Trump in 2016 won these 27 counties by over 15 points. So what in the world was I doing?!
My math was, instead of needing 5%, we needed 10% of her prior voters. And I'm like, I bet you more than 10% of her prior voters are frustrated with her. I think 40% nationally of the Republican Party wants their party back.
I ran into this guy, Joel Searby from the Renew America Movement. I saw that he was launching a variety of anti-Trump Republican organizations. And then on November 30th of last year, the conservative newspaper Delta, which is the Western Slope, the heart of Trump country, wrote an anti-Boebert editorial along the lines of "we supported her at the start but she's been an embarrassment."
I started to see some tea leaves that maybe the Trumpism is starting to go down. But for better or worse, the only place in the entire country where there's any mathematical chance to see one of these extremists defeated is Colorado-3. And I knew that somehow there's a way to make this an emotional win for the country and send a message of enough of the hate, enough of the yelling and screaming.
And so I did some math. I am asking if someone can get 10% of her prior voters, can you get a little buffer, because she's probably going to get a bunch of undervoting. And I think the statistics will show that she accumulated a lot fewer votes than in her own district, than the local state House representative, or Joe O'Dea who ran a fairly good Senate race against Michael Bennett, but came up pretty short.
And I'm like, you're gonna need a moderate pragmatic Democrat. And if that person can get by the Democratic Party primary, which won't be easy — and it wasn't, I won by 290 votes out of 50,000.  The Democratic primary voters are not looking for a pro business, pro domestic energy. moderate person who wants to go join the Problem Solvers Caucus, which I talked about. I made it very clear in the primary. And they certainly didn't want it to be from a guy from the mountaintops. And they certainly didn't want a guy from Aspen. I had to own that. I appreciate a lot of people are not looking for a fairly successful, middle-aged, straight white guy to lead the Democratic party going forward.
And so I won in spite of all that.  I won because I worked very, very hard. I drove 10,000 miles. And I made a case — I said the district has 25% D, 31% R and 43% unaffiliateds. No matter what you want to do in the Democratic Party, there's not enough D's in the district to win. I just implore you to invest your vote in someone who can build a coalition. And I think I can build that coalition.
STEVE CLEMONS: You're sort of describing yourself as a kind of Joe Manchin of Colorado. Do you expect that to be welcomed by your fellow members in the Democratic caucus, or would they give you a tough time like they do him?
ADAM FRISCH: People are pushing me like, "I don't want you to be a Joe Manchin," or "Are you going to be like Joe Manchin?" but said derisively. But I'm like, listen, I'm going to be my own person, but I think we need to realize Colorado-3 are ranchers and farmers. It's 25% Dems. And we have a unique opportunity to get rid of an extremist and try to build a coalition.
And so I'm not going to attach myself to AOC, Nancy Pelosi, [Arizona Senator Kyrsten] Sinema, or Manchin. I am a Western Slope Democrat, who is going to be more conservative. And I tell people I lived in Boulder for four years, I lived on the Upper West Side for six years, I grew up in Minneapolis. I appreciate the more progressive liberal scene, but that's not going to fly here. And I convinced some, almost not enough, but enough people to kind of do that.
As a side note, when Joe Manchin — and I would say, correctly — pushed back against President Biden's comment [about coal] in California last week, I was having a 40 minute interview with a Republican organization that represents 22 counties in southern Colorado. And my first talk to them as an introductory podcast, they were blown away about my pro-domestic energy views that I've had for a long time. My belief is, as long as we are begging Saudi Arabia for help, we might want to have a different energy policy than if we're not begging Saudi Arabia for help.
So there's a lot of hard things about running. But one of the easy things to run for me was what I believed as a father, as a small business owner, and that is exactly what I laid out very clearly to the Democratic primary voter. They knew what my demographic is, but I made it very clear. I'm not the progressive in this race. I am a pro-business pro-domestic energy, Democrat that can build the coalition needed. And my mandate is to defeat Lauren Boebert. And I want to have those conversations.
A couple things that resonated with the non-D's. For 20 years, I would say that if there was a "get stuff done" party, I would be in that party, but that party is not doing very well right now. And our country is suffering for that. I think our district is especially suffering for that because of who our representative is.
Two, people want the circus to stop. That was probably the best five or six words that I used all the time. And again, it resonated with everybody on the right and the left and the center.
And then I have this buddy I went to middle school and high school with Dean Phillips, D-Minn. who is in the Congress, and he's in the Problem Solvers Caucus.  Dean used this term "Angertainment" about a year ago on some little newscast.
And I'm like, Oh, my goodness, that is exactly the best definition of where the sad part of our political parties are on either side — getting people angry, turning it into entertainment, generating money, generating media off of it. And our district is represented by the Queen of Angertainment, along with Marjorie Taylor Greene. When I talked about wanting this "angertainment industry" to stop, that resonated with a lot of people.
And so with all these messages, I wanted people to know who I was and that I was trying to get across that I'm a no-nonsense, get stuff done, pragmatic, moderate, accomplished, consensus builder. And I talked about the Problem Solvers Caucus 50 times a day. And I would say that about 80% of the people had no idea what I was talking about. But when I started talking about this caucus that has 29 D's and 29 R's, people got very, very excited.
This came off as pretty authentic because I believe in all this stuff. And again, I go back to, oh, my goodness, I wish there were other opportunities to see someone like Boebert defeated. But I think this is the only place in the entire country to see an emotional win.
So, I called the DCCC — they never called me back. But I reached out to everyone among the donors, and I called the politicos and elected officials and everyone's like, hey, great for you, but there's no chance in hell. They said in conversations that maybe in 2024 or 2026, you can make a goal of it. Get your name out there. And I'm like, Oh my goodness, I'm trying to focus on now because I think there's a huge opportunity. If you wait too long, her schtick will get baked into normalcy. And it won't be as shocking and God forbid her verbal actions become normal to a lot of people.
So we started down seven points in July. We should have started down about 10. But, I knew that she was going to have some negatives. And then we worked very, very, very hard. I think we ran one of the best campaigns in the entire country. Great team, and we stuck on message. And about a month ago, we had a good poll that showed us down 2 points within the margin of error. And when that came out, that generated a chunk of money, and some of our first media exposure where people started to say, oh, that's quite okay.
And you saw what happened last night. We know there was a message sent, and I spent a lot of time working on Republicans and Democrats. We launched the Republicans for Frisch website. We had some testimonials on there. We started to hear from people and things started to come together.