Hollywood's actors' strike ends as tentative deal reached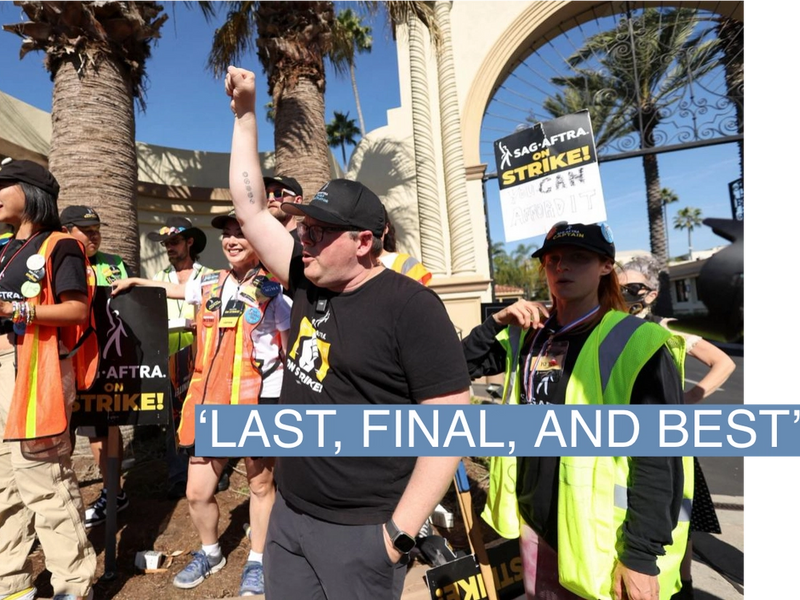 Hollywood's 118-day actors' strike is coming to an end, after SAG-AFTRA accepted a tentative deal Wednesday that will see restrictions placed on the use of artificial intelligence and historic pay increases for union members.
"We have arrived at a contract that will enable SAG-AFTRA members from every category to build sustainable careers," the union said in a statement. "Many thousands of performers now and into the future will benefit from this work."
The Alliance of Motion Picture and Television Producers, a coalition of Hollywood studios, presented its "last, final, and best" offer last week.
SAG-AFTRA members will vote to ratify the agreement on Friday.
The use of artificial intelligence by Hollywood studios was a major sticking point for the union, which rejected an offer last week that included a clause allowing studios to use AI scans of some actors even after their deaths, without permission from their estate or the union. The studios reportedly adjusted the language in the deal, and while the full details of the agreement Wednesday are still unclear, "it's hard to imagine the actors didn't get at least some of the AI protections they were seeking," WIRED notes.
Hollywood's strike summer, which saw SAG-AFTRA, the Writers Guild of America, and the Directors Guild of America all walking off the job, may have helped tipped the deal in the actors' union's favor. "SAG-AFTRA's strike, coming as it did amid an ongoing writers strike in July, gave the union an unusual amount of leverage early on in its talks with the AMPTP," The Hollywood Reporter notes. Pressures on the guild started to build as the action neared its 100-day mark, however: Some A-list actors started speaking to both the union and the studios in an attempt to push negotiations along.
The strike — Hollywood's longest-ever — has hindered studio earnings. Q3 earnings results published by Disney and Warner Bros. Discovery were mixed, and stocks for both companies briefly tumbled earlier this week. California's economy has taken a $6.5 billion hit from the labor action, and 45,000 entertainment jobs were lost over the nearly four-month work stoppage. One studio executive who spoke to Deadline said that the deal was the best they could pull together. "SAG-AFTRA has won," the executive told the outlet.