The News
LAGOS — The ongoing struggle by some African startups to sustain operations in the wake of tighter fundraising portends a wave of shutdowns that will accelerate over the coming year, investors, advisers and industry insiders say.
Nigerian genomics firm 54Gene, Kenyan logistics outfit Sendy, and South African transport data company WhereIsMyTransport are among the high profile African startups to close shop this year. Those three raised a combined total of more than $100 million from strategic investors like Google and Toyota, as well as early and growth stage venture capital and private equity firms. Each ran out of money and failed to raise more.
Some startups have shuttered or are struggling because of alleged mismanagement rather than fundraising problems. Dash, a Ghanaian fintech whose founder reportedly diverted millions of dollars from the business, closed in October. Given the startup raised over $86 million in the last five years, the episode has raised calls for more rigorous due diligence and steady oversight.
But those concerns are being superseded by the more immediate challenge of dwindling cash at a number of startups, prompting pre-mortems where closure seems inevitable.
"The biggest risk we have right now is the failure of good companies because they can't attract the right kind of capital," said Gbenga Ajayi, a partner at QED Investors which has three startups in its Africa portfolio. "That's a sad reality and I think a lot more companies will fail in Africa because of that, relative to the rest of the world," he added.
Know More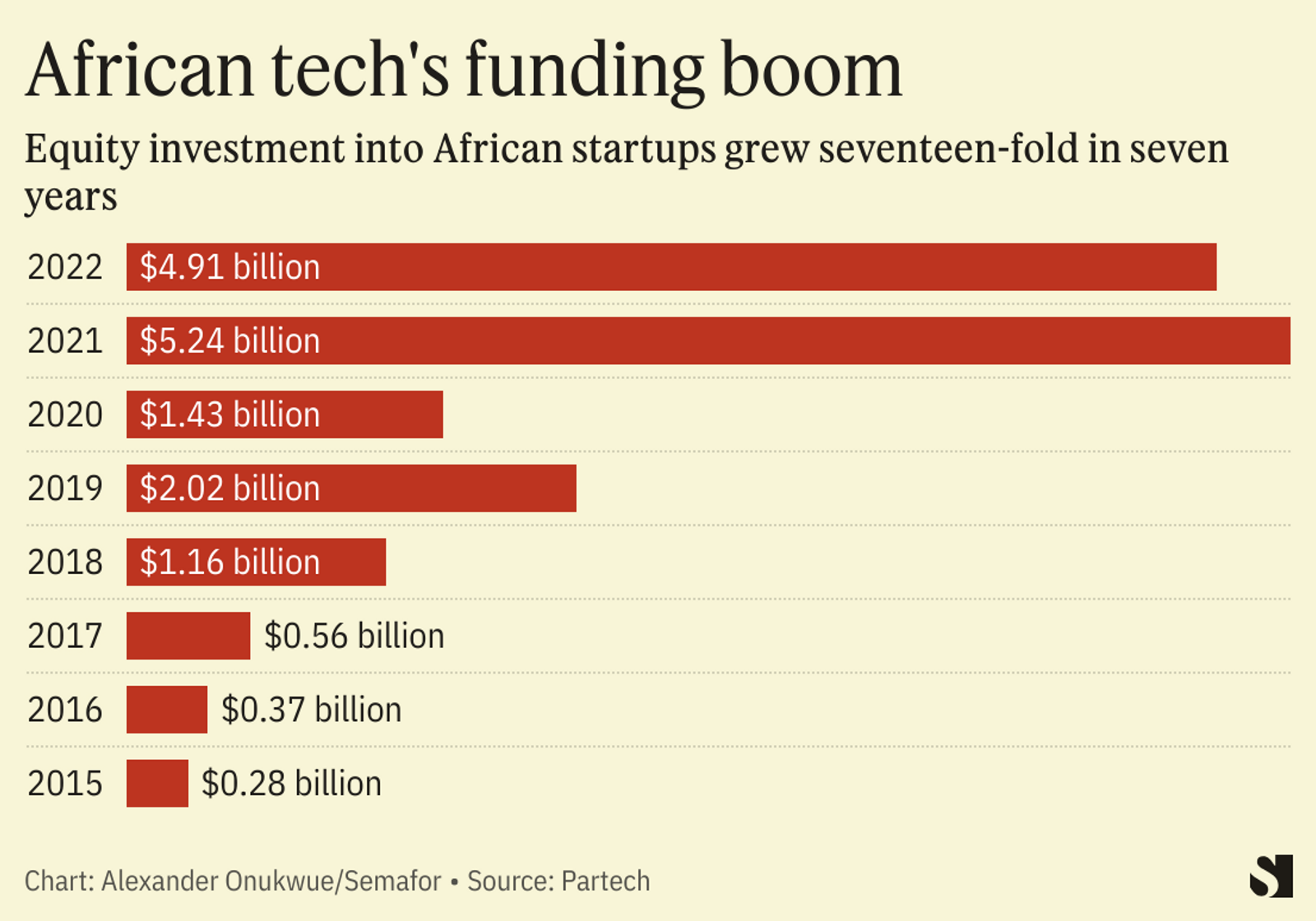 Equity investment into African startups reached a peak of $5.2 billion in 2021, a year that saw at least 10 deals of $100 million or more into startups like Flutterwave, Chipper Cash, and TymeBank.
But a 6% dip last year marked the beginning of a funding crunch that has continued into 2023. Rising interest rates have made African startups, especially those in the early stage, a less attractive asset class for institutional money and smaller investors alike, said Vishal Agarwal, a Nairobi-based investor in African startups and former partner at PwC. Investors are now being "discerning, selective and stingy" with capital towards Africa, he said.

Alexander's view
African investors and operators are mostly taking an optimistic view of the startup shutdowns so far, reassuring themselves that some failure is an inevitable feature of any industry built on venture capital. But there's an effort to take a close look at the various causes of failure such as an egregious case of fraud and mismanagement versus struggling against tough macroeconomic conditions, or simply poor execution.
"If you've been around for a number of years and are still trying to raise money without much of a path to profitability, obviously investors will start losing faith at some point," said Hannah Subayi, a Dakar-based partner at Launch Africa Ventures.
Failing to anticipate low cash reserves appears to be a pressing issue. Lexi Novitske, general partner Norrsken22, said "a lot of founders" are still burning cash as though they expect their existing investors to automatically provide money whenever it is needed. Her guidance is that "we're not at the worst point of this capital winter and they should plan to have 24 months of runway. Yet some think we're being overly conservative." Founded by two Swedish entrepreneurs last year Norrsken22 raised $205 million for its debut Africa investment fund this month.
A subtext of the alarm concerns what it means for Africa's nascent tech ecosystem that a wave of shutdowns is preceding notable exits for investors. The majority of venture funds invested in the continent's startups have been from international investors. With the possible exception of development finance institutions that are more patient on recouping returns, investment managers expect most global money sources to retreat from Africa during a shutdown wave.
"I think where we'll get punished more is if we don't have winners," Ajayi, of QED, said. Speculation about the ecosystem's health is premature because there haven't been enough failures to make an assessment, but "the adverse effect of not having winners is far greater than the effect of losers losing," he said.

Room for Disagreement
Maya Horgan Famodu, managing partner at Ingressive Capital, says startup shutdowns are pains of an infant ecosystem on a long journey and there is "absolutely still money coming into Africa" for good companies.
She cautioned that the tough conditions being experienced will show the true character of founders and investors "and will have lasting impact on their future endeavors and the ecosystem as a whole." Investors are providing startups guidance on cash management, founder mental health and personal financial health, she said. Ingressive invested in 54Gene, and Float, a startup whose founder is alleged to have mismanaged customer funds.

The View From Nairobi
June Odongo, founder of Kenyan logistics company Senga Technologies, said a combination of bad companies and bad investors is partly to blame for the downturn, exacerbated by the effects of inflation and weakening local currencies.
"A lot of people had VCs who were pushing them to grow fast but when the market turned the VCs suddenly are like you need to be profitable," Odongo said. She sees those as bad investors who, rather than wanting to build stable companies, were focused on growing and selling their stakes "on the next higher valuation, without caring about fundamentals." She suspects a number of founders willingly played the game along with VCs, doing well for themselves "while the people around them are screwed."
— Martin Siele reported from Nairobi

Notable
Nigerian video streaming company IrokoTV has all but given up on doing business in Africa following $30 million of investment between 2015 and 2020 that has not borne fruit, its chief executive Jason Njoku said in a blog. Njoku said the business had to double its prices "to improve chances of successful profits and sustainability."