The Scoop
FTX plunged deeper into chaos Wednesday when rival crypto exchange Binance, after seeing the depths of FTX's financial problems, backed out on a plan to buy it.
"The issues are beyond our control or ability to help," a spokesman for Binance said, citing unspecified problems it had uncovered in its examination of FTX's books and news reports about "mishandled customer funds and alleged US agency investigations." The Wall Street Journal first reported Binance's intention to back out on a deal that was hastily announced on Tuesday as FTX's problems worsened and would have combined two of the biggest exchanges for digital assets.
One challenge: Most of FTX's legal and compliance staff quit Tuesday evening, people familiar with the matter told Semafor, leaving few executives who could answer questions that now loom large over the firm.
The problems for FTX began on Sunday, when Binance said it would offload hundreds of millions of dollars of FTT, a token FTX created that gives holders a discount on its trading fees. That forced the exchange to sell the assets backing that token to meet redemptions, creating a classic bank-like run that spurred a liquidity crunch at FTX.
Semafor reported yesterday that FTX sought a bailout of more than $1 billion from Silicon Valley and Wall Street billionaires hours before it announced it secured emergency financing from Binance.
Meanwhile, the websites of FTX, FTX Ventures and Alameda Research, the crypto trading fund founded by FTX CEO Sam Bankman-Fried, were offline or displaying errors as of Wednesday. The site for FTX.US, a separate entity for U.S. users, remains functional.
The CEO of Alameda research and a spokesman for FTX didn't immediately return requests for comment. Bankman-Fried is an investor in Semafor.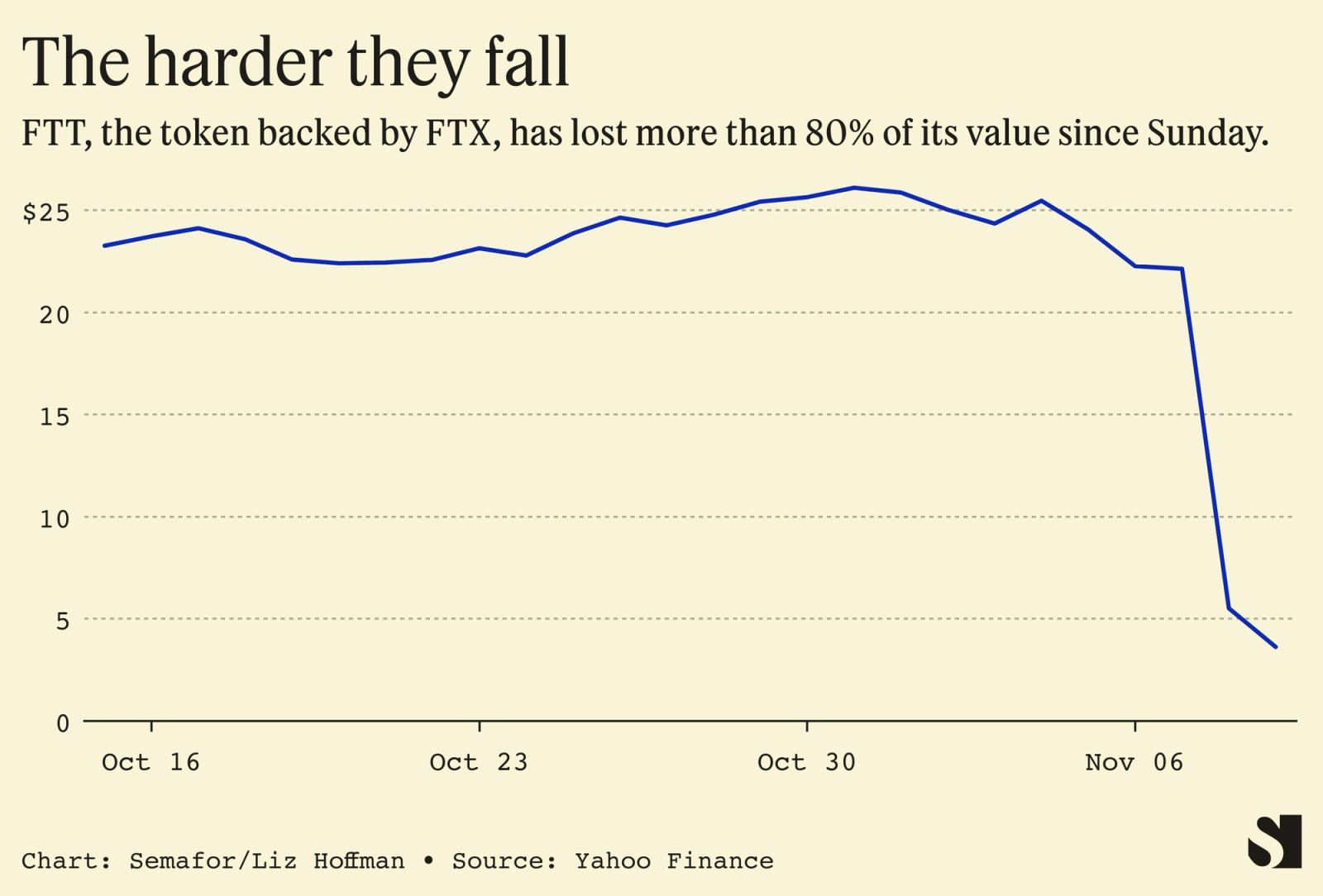 Bradley's view
The smart money looks really dumb right now.
In September, an article on Sequoia Capital's website said that Bankman-Fried was playing League of Legends on his computer during a Zoom pitch to the venture capital firm's partners.
But they loved him so much that they — and other Silicon Valley stalwarts like Paradigm — pumped hundreds of millions of dollars into his enterprise, which now appears to be worth pennies on the dollar (in a best-case scenario).
"The success of FTX seems like a foregone conclusion" is how one of many fawning sentences started in the Sequoia story.
Michelle Bailhe Fradin, a Sequoia partner considered to know FTX the best of anyone at the organization, said it was possible he'd be the world's first trillionaire. According to Bloomberg, he is no longer a billionaire after yesterday.
With all the hype generated in the past three years by crypto, no one has seen their profile — and bank account — soar as quickly as Bankman-Fried. It makes his crash landing that much more painful.

Notable
The U.S. Securities and Exchange Commission and Commodity Futures Trading Commission are investigating FTX, according to Bloomberg. The SEC reportedly began scrutinizing the crypto exchange months ago.

Contact
Want to pass along a tip or feedback? Write to us at lhoffman@semafor.com, bsaacks@semafor.com and lmatsakis@semafor.com.