Top US diplomats tour Asia to reassure allies as two wars rage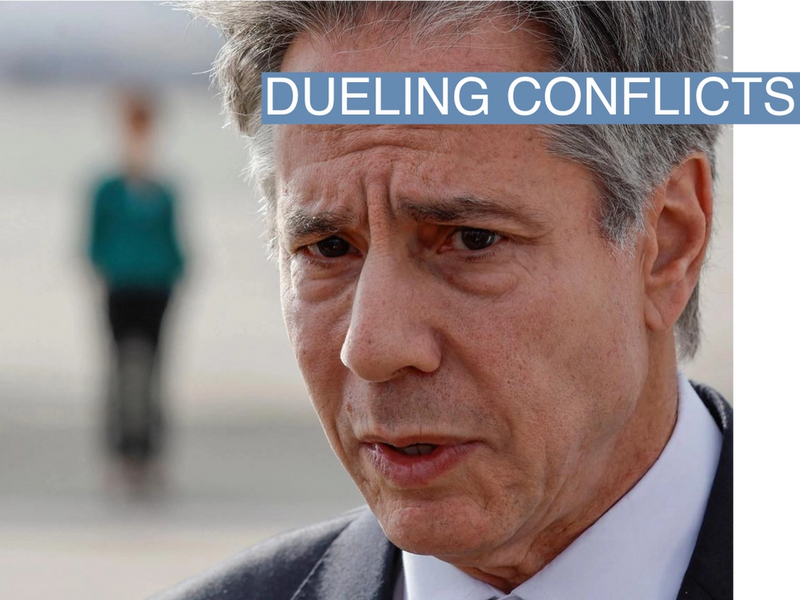 U.S. Secretary of State Antony Blinken and Defense Secretary Lloyd Austin are crisscrossing Asia this week to reassure allies that Washington can uphold regional security despite funding two separate wars.
Blinken is currently in Japan for the G7 summit, where leaders are discussing the Israel-Hamas war as well as Russia's war in Ukraine, and will later travel to Seoul to discuss growing concerns over North Korea. On Friday, Austin will join Blinken for defense talks in New Delhi.
The U.S. has been strengthening its ties with allies in the Indo-Pacific, particularly the Philippines, which faces a growing threat from China over disputes in the South China Sea. As Beijing's presence in the region grows, Washington has asked its allies "to bear more geopolitical weight," columnist James Crabtree writes in Foreign Policy. "The United States needs stronger alliances precisely because it can no longer manage the many global problems it faces alone," Crabtree notes. This causes two major issues for the U.S., he argues: Vulnerable allies like the Philippines need more assurance that Washington will not be overstretched by dueling conflicts, while the U.S.'s adversaries may try to test the limits of Washington's alliances.
Stretched between supplying arms to both Ukraine and Israel, Washington is failing to convince its allies that it can also handle security in Asia. Meanwhile, the U.S. is becoming isolated in its unwavering support for Israel, analysts from The Asia Group recently noted. Brunei, Indonesia, Malaysia, and Pakistan are all seeing rising anti-U.S. sentiment, which "risks undermining" their aerospace defense and other cooperation with the U.S., they said.
Concern is rising that the U.S. will be pulled into a regional conflict with China, in addition to the wars in Ukraine and Israel. Washington needs to be steadfast in its opposition to Beijing, Joseph Bosco, former China country director for the U.S. secretary of defense, writes in The Hill. "To avoid the need to choose among competing security commitments in Europe, the Mideast and the Indo-Pacific, America must not only deter Chinese aggression against Taiwan with strategic clarity," he notes, but also "help Ukraine expedite the defeat of Russia's aggression with timely delivery of the powerful weapons Kyiv seeks to do the job."