The unpredictability of Israel's warfare in Hamas' tunnels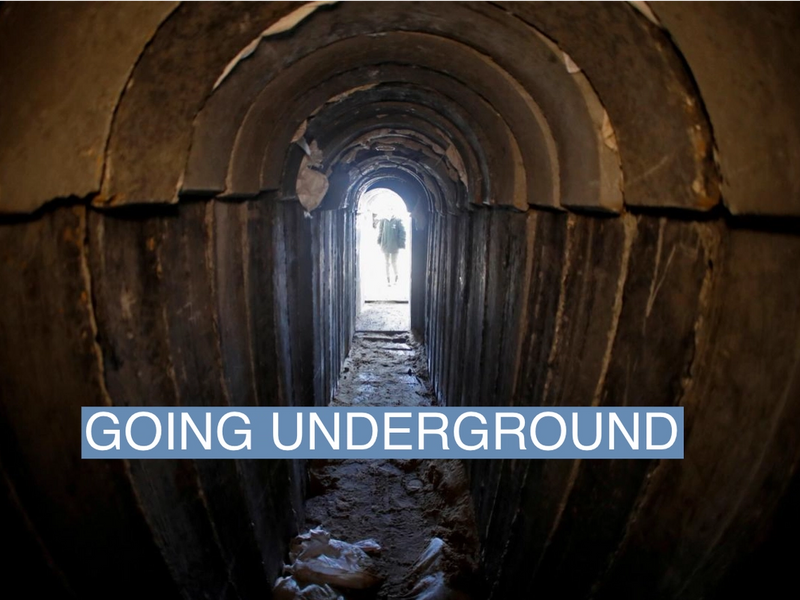 Israel is reportedly on the verge of an operation aimed at dismantling Hamas's vast network of tunnels under Gaza that could involve direct combat within the tunnels.
Analysts say targeting the tunnels is the only surefire way for Israel to achieve its goal of neutralizing the military capabilities of Hamas, but comes with enormous risk for Israeli forces, hostages, and civilians in Gaza.
The tunnel system, which is colloquially referred to as the "Gaza metro," is believed to be more than 100 miles long, and many of the passageways are more than 100 feet underground.
The tunnel system is "Hamas' single most important asset," PBS NewsHour reported, allowing the group to transport fighters and weapons freely underground. It also gives Hamas a tactical advantage as Israeli forces continue its operation in Gaza, by allowing Hamas to launch ambushes above ground. Sources from Hamas and militant group Islamic Jihad told Reuters that the tunnels allow them to, for example, fire a missile from one tunnel shaft and then disappear, "only to appear at another tunnel entrance and attack again."
Taking down the tunnel system could require Israel to engage in close-combat fighting underground, an especially risky tactic. Speaking to Intelligencer, a Marine Corps captain and expert in tunnel warfare compared it to fighting underwater: Radios and night-vision equipment likely won't work; soldiers will have to carry different weapons and gear to fit in the small spaces; and oxygen may be limited. It also involves a style of dangerous combat that most soldiers aren't used to. And Israel may not understand the full scale and layout of the tunnel system. Everything the IDF knows about the tunnels "doesn't scratch the surface of the scope and sophistication of the project," Haaretz writes.
The mission is also complicated by the fact that the tunnels are located under dense civilian areas, and that Hamas is likely holding Israeli hostages in the tunnels. "All of this makes it harder for Israel to randomly bomb, seal off or attack stretches of the network," Wilson Center CEO Mark Green wrote Tuesday. The U.S. has urged Israel to use smaller bombs to collapse the tunnel network and reduce civilian casualties, The New York Times reported, and sources familiar with the discussions between the two countries said that sending commando units underground "would be a suicide mission."