Brussels endorses EU membership talks with Ukraine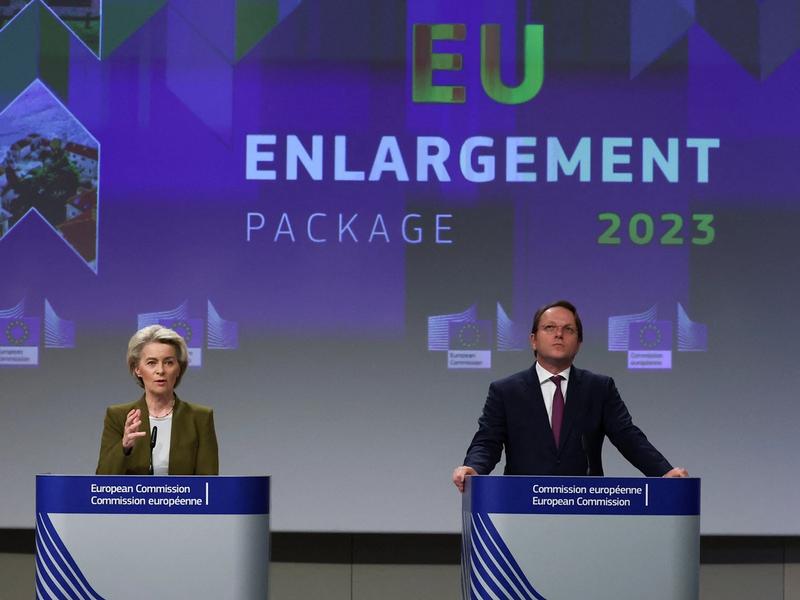 Talks to add Ukraine and Moldova to the European Union should move forward, Brussels announced Wednesday.
Ukraine has completed four of seven required conditions to open negotiations to join the bloc. "In light of the results achieved by Ukraine and Moldova, and of the ongoing reform efforts, the Commission has recommended that the Council opens accession negotiations with both countries," the European Commission said.
Ukrainian President Volodymyr Zelenskyy called the decision "historic."
Ukraine still has work to do to if it wants to meet the criteria for talks. A specific issue for EU leadership is the country's deep-rooted issues with corruption — and Kyiv will need to make significant inroads if it hopes to join the bloc. Some European leaders reportedly still need some convincing that Ukraine can make the necessary changes. The Wall Street Journal reports that central to Europe's concerns are questions on whether the country can "overhaul its governance and political culture to rein in the power of big tycoons and eradicate endemic corruption that has impeded economic growth and social cohesion."
What Ukraine's membership in the EU would actually look like could take years to become clear. If it joined today, the nation would be the fifth-largest by population, and also the poorest, the Financial Times noted. Some EU diplomats have privately questioned whether the bloc would still be able to function if it grows, the Times reported. "Persisting with unanimous decision-making on foreign or taxation policy would become more difficult in an expanded EU, given the possibility that a single state can wield its veto and block any proposal it dislikes," the outlet reports.
The EU will need to reform its way of operating — including potentially curbing the veto power of member states — if it is going to absorb Ukraine, Ilke Toygür and Max Bergmann of the Center for Strategic and International Studies write in Foreign Policy. If the EU is serious about Ukrainian admission, then those changes should already be materializing, they argue. But "Ukraine could be the catalyst to jump-start a new wave of enlargement," they write. "The prospect of its membership requires reform, which in turn would remove many of the obstacles that have similarly held up the accession of Western Balkan countries."