Netanyahu says Israel will oversee Gaza's security indefinitely after war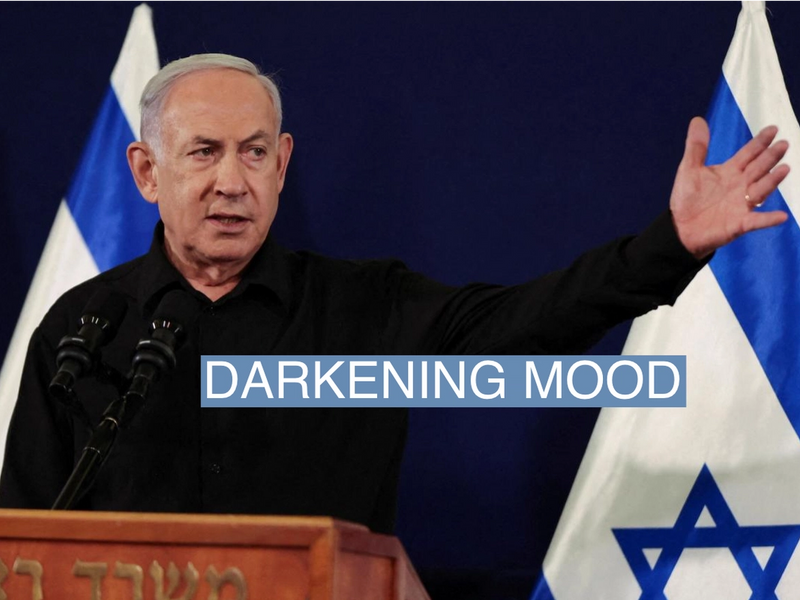 Israeli Prime Minister Benjamin Netanyahu said his country will oversee security in Gaza for "an indefinite period" after its war with Hamas as he ruled out a ceasefire.
Netanyahu made the comments during an interview with ABC News, saying that the Israel Defense Forces will take "overall security responsibility" in the Palestinian enclave amid growing questions over the future of the Strip a month into the war.
Netanyahu also rejected calls for a ceasefire without the release of all the hostages taken by Hamas on Oct. 7, while voicing some support for "tactical pauses" in fighting.
More than 10,000 people in Gaza have been killed, according to the enclave's Hamas-led health services, following the attack by the militant group that left 1,400 dead in Israel.
U.S. President Joe Biden does not have as much leverage over his strongest ally in the Middle East as might be expected, The New York Times noted, as Netanyahu rejected calls for a humanitarian pause in the fighting as made by the U.S. among others. The same is true in Ukraine: "Mr. Biden's influence over how his allies prosecute those wars seems far more constrained than expected, given his central role as the supplier of arms and intelligence."
Biden has tried to straddle the line between emphasizing Israel's right to self-defense and warning the nation against going too far with its siege on Gaza. As the war progresses and the humanitarian losses grow, some Democrats are breaking rank with the president — including former President Barack Obama. "If you want to solve the problem, then you have to take in the whole truth. And you then have to admit nobody's hands are clean. That all of us are complicit to some degree," Obama told the podcast Pod Save America. Western nations have largely aligned themselves with Israel, but some are reassessing: On Monday, Belgian Prime Minister Alexander De Croo said that Israel's bombardment of Gaza, which has included two strikes on refugee camps, was "no longer proportional."
The Israel-Hamas war has increased the likelihood of other world events, including a Donald Trump victory in the upcoming presidential elections in the United States, argues Financial Times columnist Gideon Rachman. The month-long conflict, together with other developments such as the grim prospects for the war in Ukraine, fears of Chinese aggression towards Taiwan, and worries over a second Trump term "feed on one another," Rachman says: "It is simple realism to understand that the strongest trends in world affairs are malign and gathering momentum."