The Scoop
A Turkish company whose floating power ships switched off the electricity supply to two of Africa's poorest cities in recent months says it is in talks with six more countries to expand across the continent. But critics argue it only provides a short term solution to chronic underinvestment.
Karpowership, which operates floating power plants, supplies electricity to eight African countries including Ghana, Senegal, Mozambique, and Côte d'Ivoire. The company has in recent months cut off electricity in Freetown and Bissau, the capitals of Sierra Leone and Guinea Bissau, after authorities failed to pay bills reportedly totalling $40 million and $15 million respectively.
The company's chief commercial officer, Zeynep Harezi, told Semafor Africa the company is in talks with a number of African countries as part of its expansion plans. "We are in constant communication with Tanzania, Kenya, Gabon, Democratic Republic of Congo, Cameroon, [and] Liberia," Harezi said. She added that the company expects to begin operating in South Africa in the second half of next year after winning a tender to generate 1,200 megawatts — about 2% of the country's energy supply. Only "'ticking the box' activities" remain before completing the process to operate in South Africa, said Harezi.
Harezi said the company's ships, which use natural gas to generate electricity which is then sent to the grid, offered a "permanent solution" to power problems in many African countries because they were "cleaner" than other fossil fuel energy sources. "The floating power plant ship has a psychological barrier around this being a permanent solution" because it is not on land, she said.
Know More
Sub-Saharan Africa has the lowest access to electricity in the world. Around half a billion people lack access to electricity. The failure to develop and maintain the infrastructure needed to provide reliable power has stymied the economic development of countries across the continent, including its biggest economies — Nigeria and South Africa.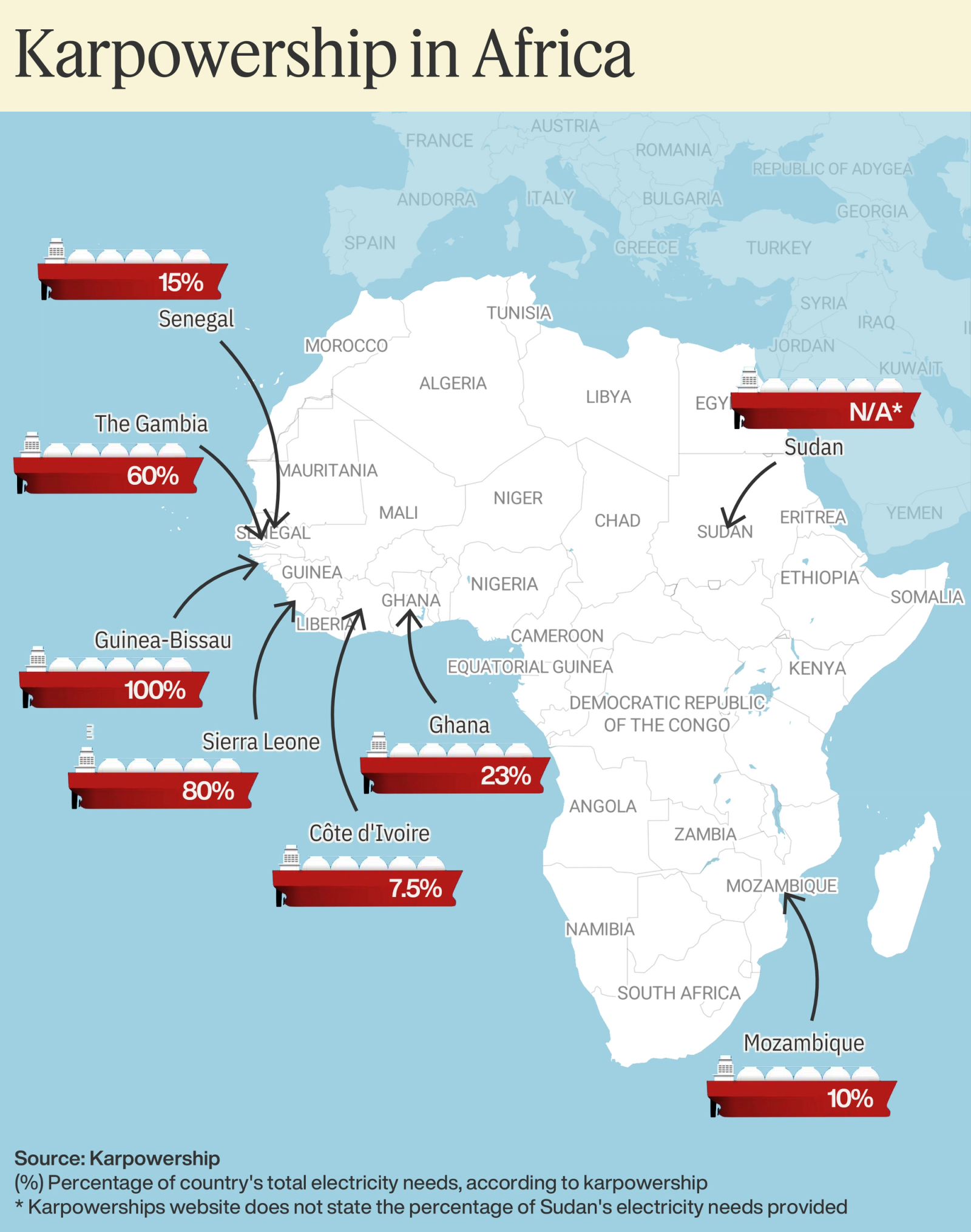 Harezi said Karpowership was not put off by the failure of Sierra Leone and Guinea Bissau to pay their bills promptly and had restored power in both countries. She said the company had renegotiated its contracts with the two countries as part of an agreement under which it would supply them with less electricity, therefore incurring a lower cost.

Alexis's view
The impact of a private company being able to shut down the power in an African city should not be underestimated. In Guinea Bissau's capital, the BBC reported that some public hospitals used generators to carry out surgery but lacked running water because there wasn't enough electricity. The country's reliance on power ships is emblematic of a broader failure in many African countries to develop or maintain power facilities.
It's clear that some African governments have for years indulged in short term thinking, rather than the long-term capital investment that is vital for developing a country. Several energy industry insiders said power ships were only appropriate for temporary use in disasters. Reliable power is a key ingredient for economic growth. "Karpowerships and other "emergency suppliers" are a necessary evil because of chronic underinvestment in energy infrastructure," Bright Simmons, research lead at Imani Centre for Policy in Ghana, told Semafor Africa.
The business model behind floating power ships depends on the short term planning of poor countries. Karpowership typically doesn't provide long term infrastructure development or a cleaner energy solution than solar, wind and hydroelectric power. It's also easy for ships to turn off the electricity and sail away if a country struggles to pay.
Governments pay a premium for the convenience of a quick solution that's unencumbered by the time lag of several years involved in building a power plant on land. "When you pay emergency prices the cost is always higher and it's never the best long term version of what you need," Todd Moss, who heads global power think-tank Energy for Growth Hub, told me.
Africa clearly plays a key role in Karpowerhip's long term strategy. "The African growth opportunity is immense," Harezi said in our interview. The company sees a huge market on the continent, where young populations look set to drive an increased demand for power in the coming decade at a pace not seen elsewhere in the world. That, combined with the failure of many countries to develop sustainable solutions for energy generation, transmission and distribution, explain why the company is in talks to expand its client list.
In the short term, cash-strapped African countries will struggle to pay their power ship bills. That's because weakening currencies and relatively high wholesale gas prices will make it tough to pay for an approach that treats supplying electricity like a constant emergency. It makes more sense in the long run for governments to invest heavily in renewable energy sources such as hydroelectricity and solar energy.

Room for Disagreement
Fola Fagbule, deputy director and head of financial advisory services at Africa Finance Corporation, a multilateral lender focused on infrastructure projects on the continent, disagreed with the suggestion that Karpowership's approach offers a permanent solution to power problems.
"The use of power ships can't be a long term solution," he said. "A long term solution would have a price that declines over time because more competitive sources of power are being introduced into the grid."

The View From South Africa
South Africa's department of forestries, fisheries and environment late last month granted Karpowership environmental authorization for a 450-megawatt gas-fired floating power station in the northeastern port of Richards Bay, marking a crucial step since its applications have faced legal challenges from conservationists.
But the company's plans to operate in South Africa, as part of a government strategy to ease rolling blackouts imposed by struggling power utility Eskom, have been met by opposition. "South Africa should be looking at local solutions like wind and solar, opening up the transmission grid, and investing in renewables," Kevin Mileham, energy spokesperson for the opposition Democratic Alliance, told Semafor Africa.
— Reporting by Sam Mkokeli in Johannesburg

Notable
Solar mini-grids are a cheap and effective way to increase electricity access, according to the World Bank. Husk Power Systems, a clean-energy company, last month announced plans to launch 500 solar mini-grids in Nigeria over the next five years after raising $103 million in equity and debt.