Israeli army splits Gaza in two as US struggles to contain a spiraling conflict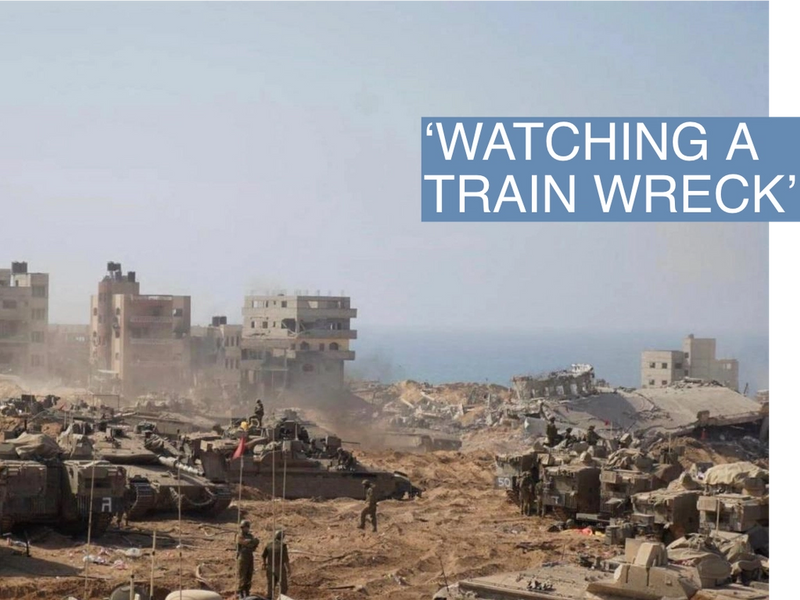 Israel claimed it had surrounded Gaza City, effectively splitting the Gaza Strip — an enclave home to more than two million Palestinians — in two.
Israel's escalation of the war comes as U.S. Secretary of State Antony Blinken visits several Middle Eastern nations in a bid to dial down tensions. Earlier in Israel he urged the leadership to take a humanitarian pause from its near-constant siege on Gaza since Hamas' Oct. 7 attack.
Blinken's dash across the Middle East has done little to assuage fears that the crisis could spiral into a widespread regional war. Israel, his first stop, has so far rebuffed a call for pauses in the fighting to allow for the release of hostages and the transfer of humanitarian aid. Blinken's other stops have included the occupied West Bank, Jordan, Iraq, and Turkey. But right now, "no one seems to be buying what Mr Blinken is selling," wrote Anthony Zurcher, the BBC's North America correspondent, "in part because both the Israelis and the Arab nations are dealing with their own domestic pressures pulling the two sides apart."
The U.S. has viewed Israel's attack on Gaza as too severe, but has made few inroads in convincing its ally to scale down its offensive, The Washington Post reported. A person familiar with the Biden administration told the paper that the U.S. is "watching a train wreck, and they can't do anything about it, and the trains are speeding up."
One far-right member of Israel's Knesset suggested dropping a nuclear bomb on Gaza, Israeli outlet Haaretz reported Sunday. The Jerusalem Affairs and Heritage Minister Amichai Eliyahu told a radio program that dropping a nuclear weapon on the Strip was "an option," and said that there are "no non-combatants in Gaza." Nearly half of Gaza's 2.3 million population are children under the age of 18. Israeli Prime Minister Benjamin Netanyahu has distanced himself from the comments, saying that they are "divorced from reality," and suspended Eliyahu from government meetings. Others in the Knesset have called on Netanayahu to fire Eliyahu.