The Scoop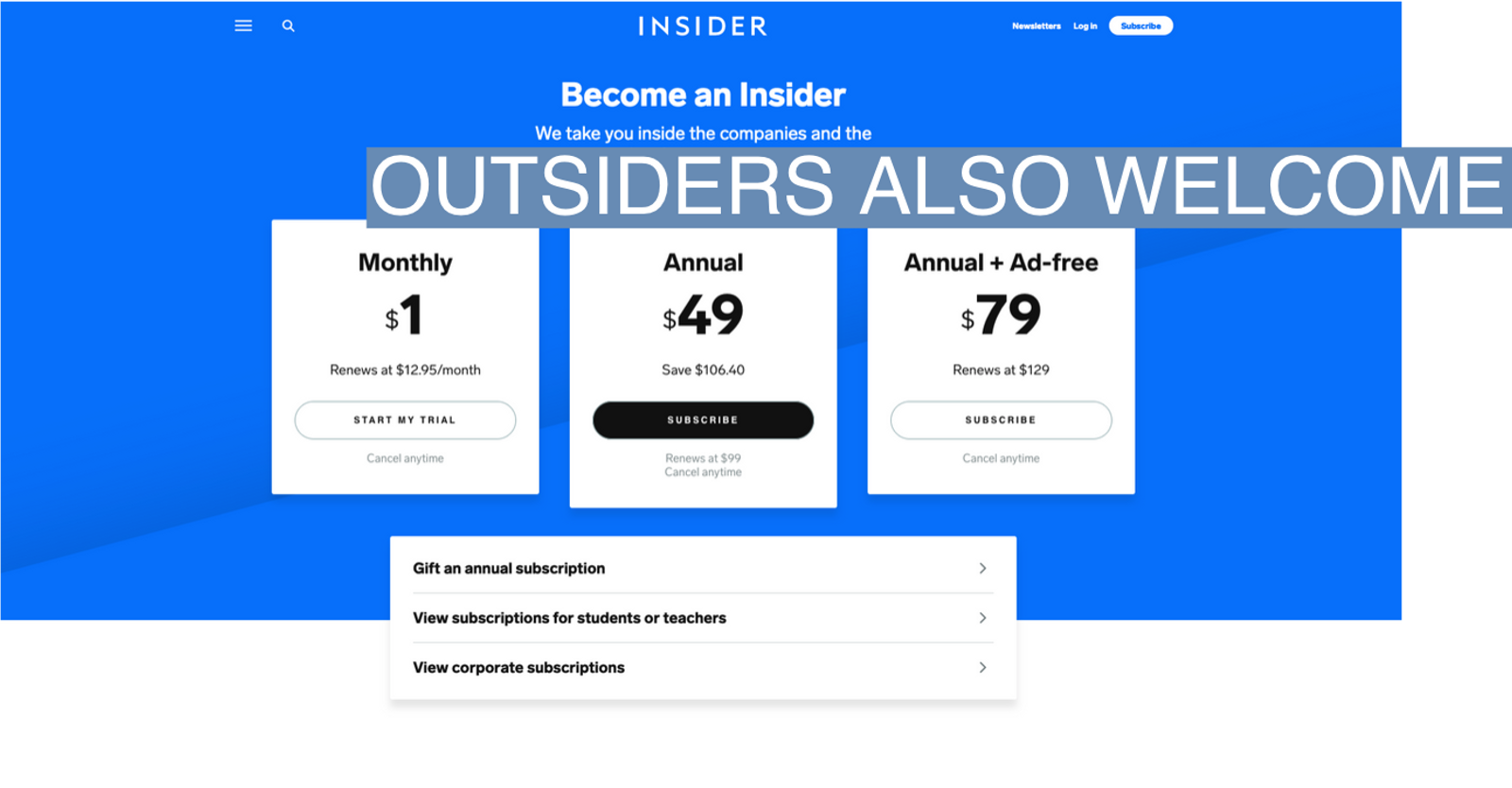 Digital news outlet Insider is rolling out a major newsroom reorganization, removing much of its paywall in a strategic shift away from a subscription model that just a few years ago was seen as the company's future.
In a memo on Tuesday, editor in chief Nich Carlson told staff that Insider had "made the business decision to move about half of the journalists on our subscription team in front of the paywall."
"Ultimately, our adjustments just haven't been big or fast enough and we are not getting enough new subscriptions per journalist behind the paywall," he said "And, frankly, the current economic picture — and budgeting season – has been a good catalyst prompting us to move faster."
Insider began rolling out the changes this week, alerting some mid-level editors and reporters that they were being reassigned to different teams.
But it has been quietly tinkering for a while, shifting some of the stories from its bulked-up DC operation from behind the paywall back to free-to-read over the last few months.

Max's view
Many Insider readers who haven't ponied up for a subscription will likely be thrilled by Tuesday's news. More free articles!
Up until a few years ago, this was Insider's business model. Like other digital media organizations, Insider was chasing Facebook traffic, with reporters cranking out multiple posts a day to maximize traffic.
But the shift represents almost a complete 360 for a digital media organization which invested aggressively in its subscription business, but now seems to be returning to traffic-chasing.
In a brief phone call, Carlson said Insider wasn't completely abandoning its subscription business and returning to the old model. But he acknowledged that the attempt to compete with trade publications for tiny micro-scoops was not driving subscriptions.
"Our original idea was to build out something like a bundle of trade publications. Now we're focusing more on juicy, detailed, reported stories about big names across business and beyond plus helpful stories for investors, entrepreneurs, and people seeking alternative career paths," he said. "We're doubling down on that, and plan to build up around it."
Insider is just the latest publication to realize there's a limit to a subscription model, which just a few years ago was seen as a potential saving strategy for some digital and print publishers struggling to stay afloat. The Washington Post has fewer digital subscriptions than it had during the late days of the Trump administration. And other outlets like the New York Times have sought to expand their businesses through acquisitions.
And while Carlson said in a memo that there would be no layoffs, the company certainly knows that reassigning staff could prompt many to leave. Multiple Insider employees told Semafor that the reassignments and shifts in responsibilities could lead them to seek other jobs.