Venezuela's election crisis takes another turn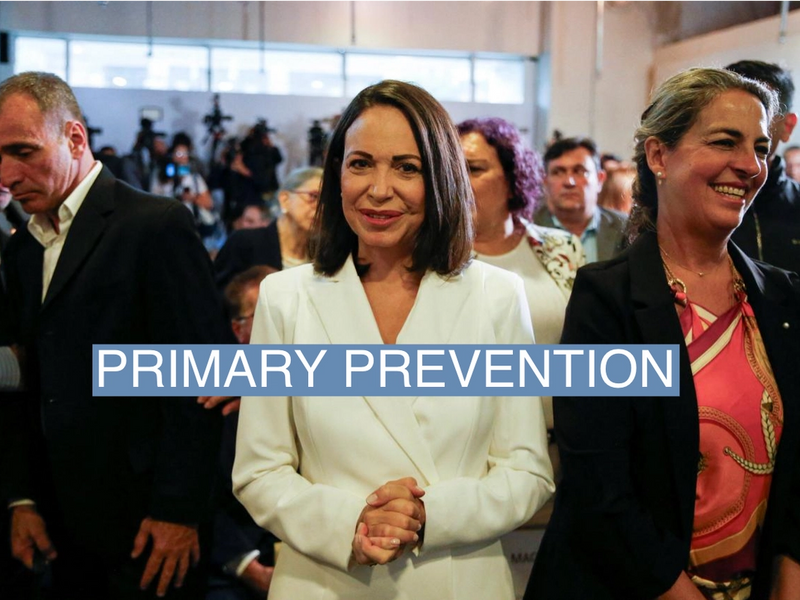 Venezuela's top court Monday suspended the results of the opposition party's presidential primary, calling into question whether the country would be able to hold democratic elections next year.
Opposition politician María Corina Machado, long an adversary of President Nicolás Maduro's government, won her party's primary with 93% of the vote, but has been barred from running in an election until 2030.
The move could potentially prompt the U.S. to reinstate sanctions that it had rolled back in exchange for Caracas restoring democratic norms and lifting bans on some opposition candidates.
President Nicolás Maduro controls every branch of the Venezuelan government, including the electoral commission. As a result, any electoral reform would have to go through him, Guillermo Zubillaga, senior director of public policy programs at AS/COA, wrote earlier this year in Americas Quarterly. For 2024 to have free and fair elections, work was needed in 2023 to set the stage, Zubillaga wrote — but those efforts were "far off, even as the country's crisis persists unabated." Meanwhile, the opposition has been caught up in deep party divisions. "Absent serious progress in the near term, Venezuela's upcoming electoral process will lack credibility, not only for international observers, but for Venezuelan voters," he noted.
Political activists are hopeful that Maduro's long reign over Venezuela could end with the next election. The running narrative among voters is that Maduro will win again, social activist Roberto Patiño writes in The New York Times, but "I have seen and experienced how flawed that perspective is," he argues. Conditions in the country — a collapsed economy, rising poverty, and the exodus of millions of Venezuelans — have meant that many voters cannot stomach supporting Maduro again. "As with other authoritarians in the world, their biggest selling point is to claim that they have the people's support. But the truth is that their base continues to shrink dramatically," Patiño writes.
Despite optimism from activists, there is evidence that the 2024 elections will not be free or fair. An August report from International Crisis Group found that talks between Maduro's government and the opposition had stalled, while some opposition candidates are banned from running. An election carried out "on the government's terms would leave Venezuela's crisis unresolved," the report notes. Meanwhile, Human Rights Watch said earlier this year that a move by the National Assembly to appoint new members to the National Electoral Council — almost all of whom are loyal to Maduro — "threatens an already unfair system."