Chinese embassy in France compares Gaza with Xinjiang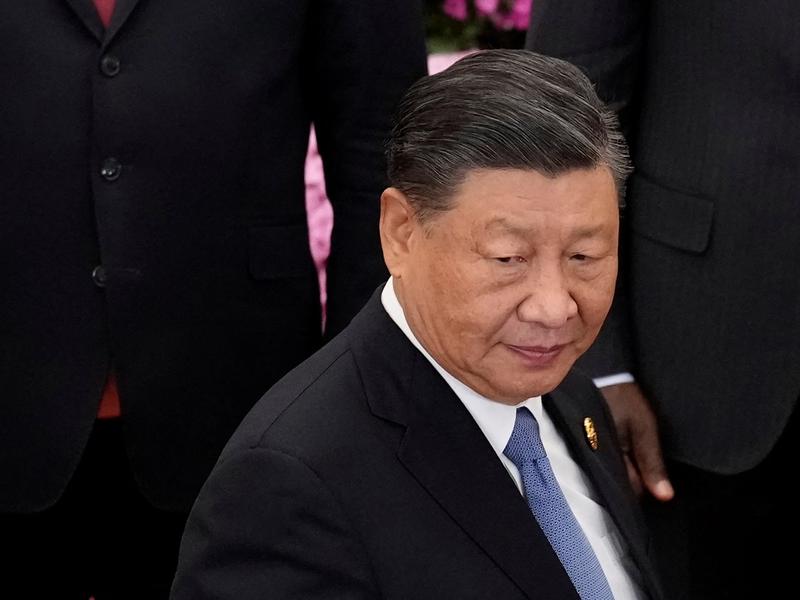 Some Chinese political pundits and diplomatic officials are drawing comparisons between Gaza and Xinjiang in what appears to be an attempt to suggest that while Beijing's policy in Xinjiang has brought prosperity to its predominantly Muslim population of Uyghurs, the West and Israel's policies in Gaza have wrought destruction.
The Chinese Embassy in France on Monday posted a photo comparison on X showing a devastated Gaza versus a highly-developed Xinjiang, writing "Untitled." The photo went viral among China and Palestine watchers who criticized Beijing for attempting to whitewash what many have described as a cultural genocide of Xinjiang's Uyghur community. China's director of cultural affairs in Pakistan also shared, and then later deleted, the same post, Newsweek reported.
Hu Xijin, the former editor-in-chief of state tabloid the Global Times, posted on Weibo that Beijing does not currently have a violent conflict with Uyghurs because "the Chinese regime did not engage in a bloodbath-style retaliation" after the 2014 terrorist attacks in Xinjiang.
China has so far refused to condemn Hamas' Oct. 7 attack on Israel and has criticized Israel's military campaign in Gaza as "collective punishment."
The international community needs to "look at the irony" when China condemns Israeli collective punishment in Gaza, Rayhan Asat, a Uyghur human rights attorney, told the China Project. In some ways, China's crackdown on Uyghurs is more pervasive than the situation in Gaza, Asat argues. Although there is no Hamas-like militant group in Xinjiang that has pushed for extensive violence against China, Beijing "collectively punished and continues to punish the entire population in the Uyghur region" through methods like mass imprisonment and forced sterilization, she says. Asat warns that the West's strong support of Israel is making way for China to be taken as a more serious peace broker in the Middle East, a role "that it is not entitled to nor qualified to play" given its treatment of Uyghurs.
While the Middle East has criticized Israel's actions in Gaza, the war hasn't dented China's autocratic reputation in the region because Middle Eastern leaders "appreciate that China does not lecture them about human rights," the Economist writes. Instead, its rulers have endorsed China's "legitimate" actions in Xinjiang, which have reportedly included destroying mosques, jailing imams, and sending millions of Muslims to "re-education camps." China has framed these actions as a way to counter "political Islam" which appeases many Middle Eastern countries. Also, given the Arab-Turkish rivalry, many countries aren't keen to denounce China's treatment of Uyghurs because they're Turkic, the Economist argues.
Antisemitism is spreading on Chinese social media as Beijing implicitly throws support behind Palestine. A state broadcaster recently hosted a Weibo discussion stating that Jewish people controlled a disproportionate amount of U.S. wealth. While it is difficult to determine whether there is a coordinated campaign of antisemitism sanctioned by the central government, one Israel-China relations analyst told the New York Times that China could be perpetuating the narrative to further strengthen ties with Arab countries and distract from Xinjiang. "If China felt that it was dangerous and problematic to allow antisemitic comments to flourish, the censors would stop it," the analyst said.