The News
Russia launched a fresh barrage of airstrikes on Ukrainian energy facilities on Monday, leaving most of the capital without water and power.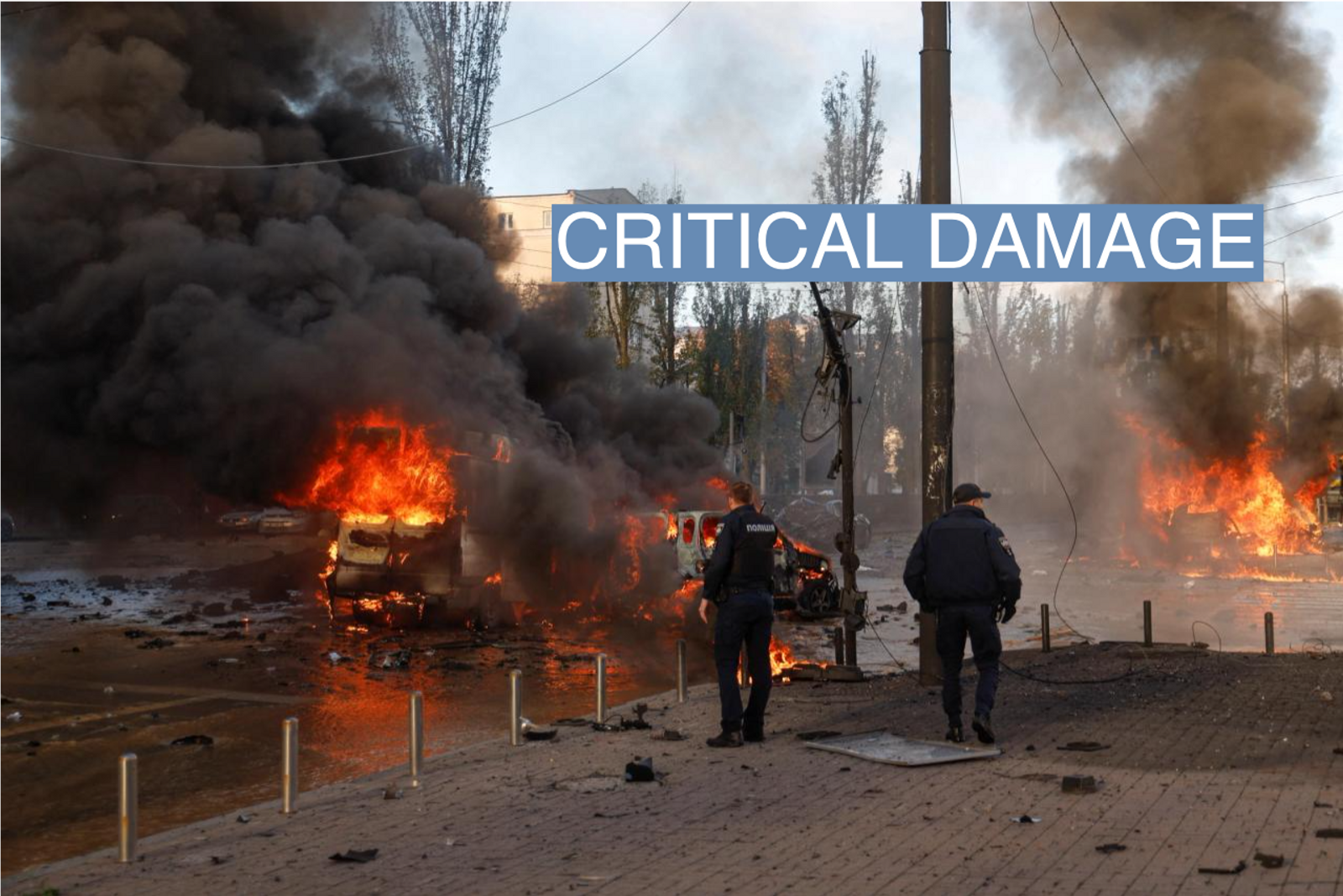 Know More
Ukrainian Prime Minister Denys Shmyhal said the attacks targeted 10 regions and damaged 18 mostly energy-linked facilities, according to Reuters. In the capital Kyiv 80% of people in the city were left without water supplies, as local officials warned of long-term power and water outages.
The strikes came after Moscow accused Ukraine of being behind a drone attack on its Black Sea fleet in the annexed Crimea over the weekend. Ukraine has denied responsibility, claiming that Russia mishandled its own weapons.
Ukraine's air force said it shot down 44 of more than 50 cruise missiles that were launched by Russia on Monday. Debris from one of the intercepted missiles landed in the bordering northern Moldovan village of Naslavcea, shattering windows of several houses, Ukraine's Foreign Minister Nicu Popescu said on Twitter.
"The appalling strikes on critical infrastructure reverberate beyond Ukraine's borders and pose a direct threat to Moldova's energy — and human — security," Popescu wrote, condemning Russia's attack.
Over the weekend Moscow announced that it was pulling out of a U.N.-brokered deal to allow the safe export of grain from Ukraine, saying that the country could "no longer guarantee the safety of civilian dry cargo ships participating in the Black Sea Grain Initiative."
Taking to Twitter, Anton Gerashchenko, an adviser to Ukraine's Interior Ministry, likened the Monday strikes to "genocide."
"Russian strikes on Ukrainian energy infrastructure are terrorism and an attempt to freeze millions of civilians," he wrote. "They want to leave people with no light, water and sewage — in winter, in the cold."
Earlier this month, Ukraine's national energy company warned that residents should charge up devices in anticipation of Russian strikes targeting energy facilities. Russia has so far damaged roughly 40% of Ukraine's energy infrastructure, according to Amnesty International.

The View From Turkey
Turkey's President Tayyip Erdogan said that his country will continue to pursue grain sea exports, even if Russia "behaves hesitantly."
"Our effort to deliver this wheat to countries facing the threat of starvation is evident," he said, adding that pursuing the U.N.-brokered grain deal is crucial to relieving the global food crisis.
Echoing the president's remarks, Turkey's defense minister Hulusi Akar said that the suspension of the U.N. grains deal would not benefit any of the parties involved, adding that he will hold a phone call with his Russian counterpart Sergei Shoigu later on Monday.