The News
A Latin America watcher's satirical map that breaks down each government's political leaning while giving a tongue-in-cheek look at the state of Latin American affairs — has gone viral in the wake of Lula da Silva's presidential win in Brazil.
The map was retweeted nearly 9,000 times, including by the former President of Mexico, and has more than 39,000 likes as of Monday.

Know More
After Brazil's nationalist president Jair Bolsonaro lost the election to leftist challenger, Lula, Latin American watchers were quick to share an updated map of each country's current political orientation in the region.
But some observers pointed out that simply using the blanket term "left-wing" cannot encapsulate nuances in the rhetoric and policy of Latin American leaders.
So James Bosworth — better known as "Boz" on his Latin American Substack blog — decided to give Twitter the map they all wanted.
In his map, some countries like Brazil and Colombia were still labeled as "left," while distinguishing them from leftist dictatorships like Venezuela and Cuba.
Boz labeled other "left" countries like Mexico as "annoyingly conservative." And Chile was designated as "Left; also a Taylor Swift fan" — a reference to President Gabriel Boric's well-known love for the U.S. pop singer. (Boric subsequently followed Boz on Twitter.)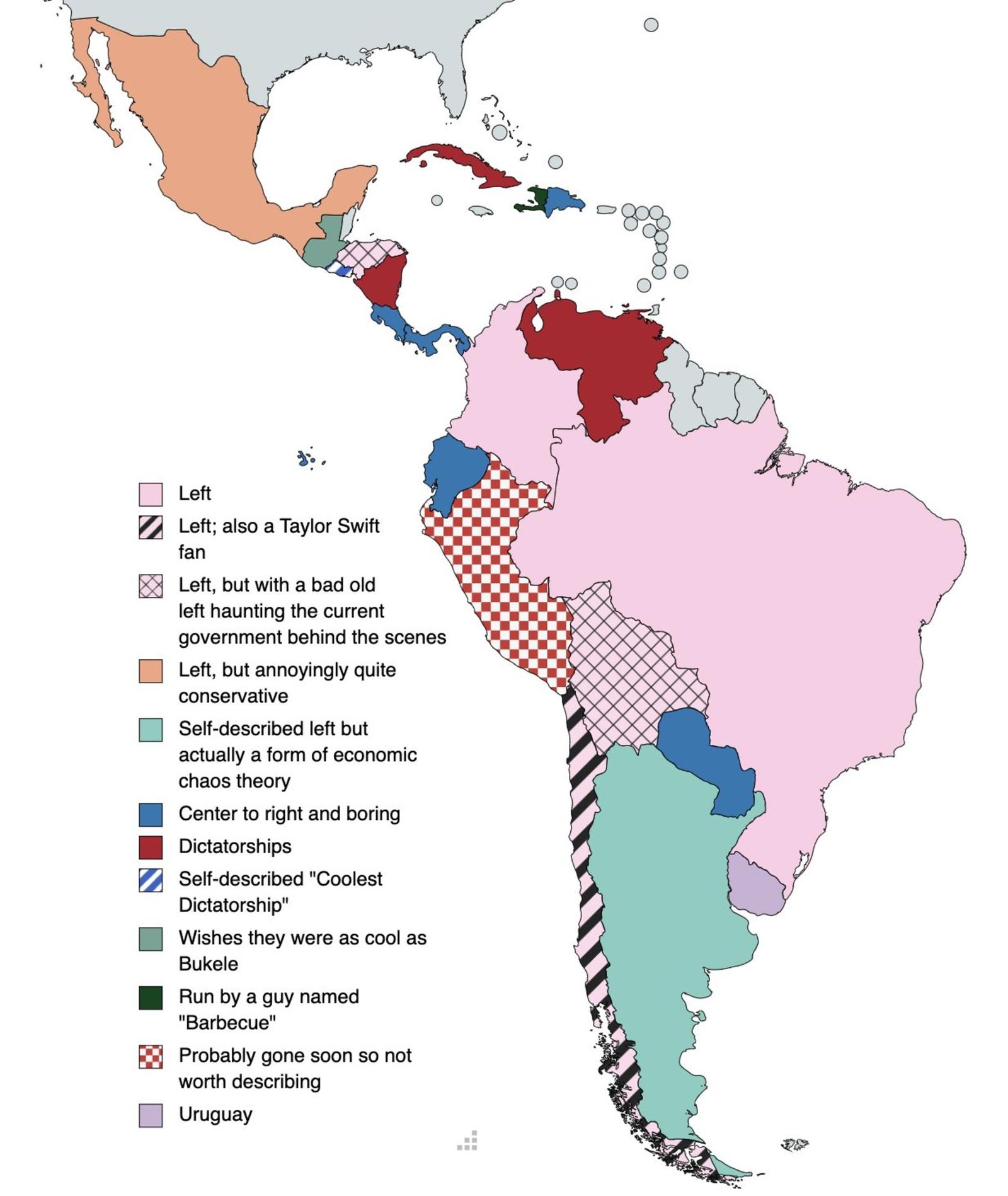 Boz told Semafor that he made the map in about 10 minutes at 5 a.m. local time on Monday, and he was surprised at just how much Twitter appreciated the joke.
"It wasn't meant to be taken seriously, though there are definitely hints of hard truths throughout," he said. "If I had known [it would go viral], I probably would have thought harder about the wording...how I colored the various countries."
Other noteworthy labels: Argentina is a "self-described left" country but in reality "a form of chaos theory." And Peru's government — which has been unstable in recent weeks — will "probably [be] gone soon so not worth describing," according to Boz's map.
Boz did not forget about Latin America's right-wing governments, though the majority of them were labeled as "center to right and boring." The blogger did give a special shoutout to El Salvador with the label "self-described 'coolest dictatorship,'" a term President Nayib Bukele has used to describe himself.
Boz said that the reaction from most users has been positive, though he has gotten pushback from supporters of the authoritarian regimes, telling Semafor that "satire is a dangerous weapon against them."
He wasn't sure whether he would try and include funny content in his future blog posts.
"I don't know if I'll do more or less comedy, but definitely more maps," he said. "People like maps."