The News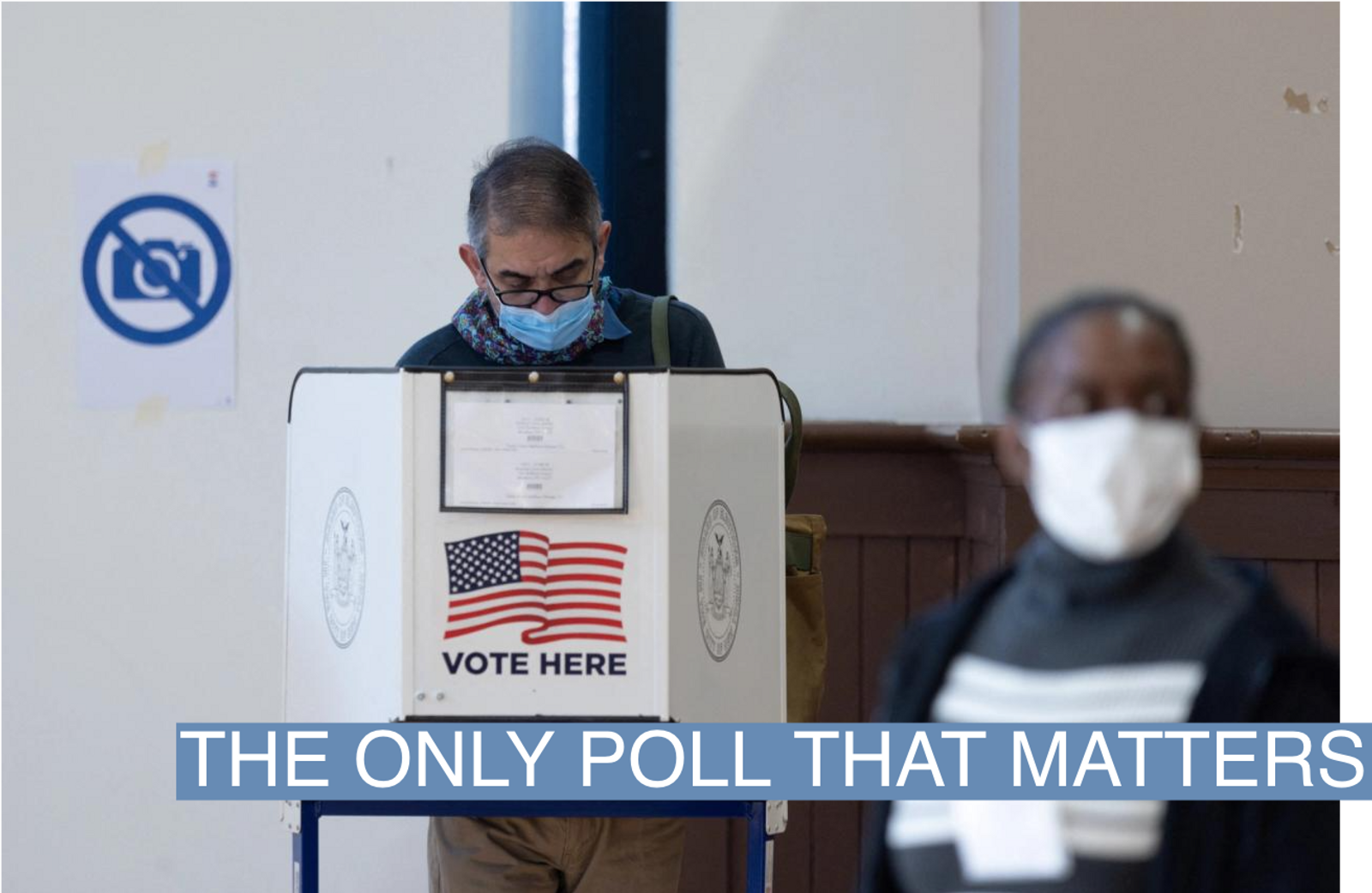 The midterm campaign is basically cooked at this point, meaning there's only one thing left to do: Argue over the polls.
Democrats are publicly questioning the narrative of a "red wave," pointing to an influx of polls sponsored by Republicans or allied groups in critical races across the country.
Simon Rosenberg, a Democratic strategist, said he recently analyzed public polls in eight battlegrounds that found Republican polls dominating surveys from the month of October. He argued it was evidence of an apparent effort to "game the poll averages" in order to demoralize Democrats and create headlines about struggling candidates.
"It's just this tidal wave of Republican surveys that have driven this narrative that is perhaps not a reality," argued Tom Bonier, CEO of the Democratic data firm TargetSmart.
Polls from media outlets have been fewer and far between, but some have suggested a tighter race in the House and Senate. It's at least possible, Democrats hope, that the universe the electorate is living in is closer to those than the averages in places like RealClearPolitics and FiveThirtyEight.
Republicans, who are feeling confident about their election prospects, dismiss claims of an effort to skew the polling averages as typical partisan denial ahead of expected election losses. "A red wave is coming, and it's up to Democrats to begin accepting that reality now or act shocked on election day when they lose," one Republican campaign official said.
Partisan pollsters also have their own incentive to get things right or risk burning their reputation for accuracy. Robert Cahaly, founder of the Trafalgar Group, insisted that anyone who believes he would slant a poll "doesn't understand just how competitive I am."

Morgan's view
Historic trends combined with voter angst about the economy and inflation suggest that Democrats are in for a difficult election contest. Most Democrats I speak to acknowledge at least that the party is likely to lose the majority in the House of Representatives.
Still, Rosenberg has a point about an influx of polling from Republican firms. Nate Cohn, analyst for the New York Times, wrote this week that "most of the polling over the last few weeks is coming from partisan outfits — usually Republican — or auto-dial firms," that often use less reliable methods and sometimes produce unusual results.
The New York Times/Siena College poll released yesterday has GOP Georgia Senate candidate Herschel Walker capturing 6 percent of the Black vote in Georgia; a Rasmussen poll conducted last week has him capturing 25 percent of the Black vote, for instance. CNN has also found more encouraging results for Democrats in key Senate races.
But Democrats could release their own internal polls to push back against what they view as a faulty GOP narrative. And while the Senate still looks competitive by every measure, they're not acting at all like a party that's seeing better results in their House numbers.
House Majority PAC, the top outside group backing Democratic candidates, made an ad buy on Monday in NY-25, a Biden +20 district, according to Politico, the latest sign of a deteriorating situation in the state for Democrats. Democratic groups have also taken out ads to defend DCCC chair Sean Patrick Maloney's district. While there are some hints Democrats are running stronger in redder states, it's not an encouraging sign one week out before an election.
Some left-leaning pollsters have also offered grim signs for Democrats. The progressive outfit Data for Progress found Sen. Mark Kelly, D-Ariz., and his GOP opponent Blake Masters tied last week, for instance.

Room for Disagreement
All of this comes with an important caveat: polling is hardly a perfect tool to determine the outcome of an election, especially in close races. Past misses in 2016 and 2020 where polls underestimated Donald Trump voters have led to widespread skepticism of horserace surveys in general. Democrats similarly point to recent special elections and an abortion referendum in Kansas this year where they outperformed expectations. While signs point to a bumpy night for Democrats, outside analysts are also emphasizing the unusually high degree of uncertainty this cycle.