Updated Oct 28, 2022, 4:38pm EDT
Africa
South Africa's president fumed that the US issued a terror alert without discussion
Sign up for Flagship, our daily newsletter that distills what's happening in the world into a concise, insightful morning read.

The News
South African President Cyril Ramaphosa slammed the U.S. Embassy for issuing a warning of a possible terror attack in a wealthy neighborhood of Johannesburg, without discussing it with his government first.
The U.S. decision to issue the terror alert earlier this week, prompted debate on social media, with some South Africans criticizing their government for not taking the warnings seriously.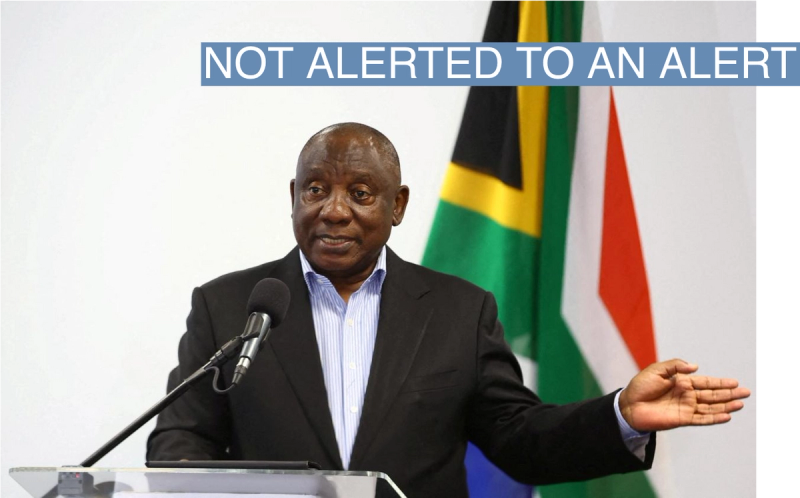 Know More
On Wednesday the U.S. Embassy in South Africa warned that terrorists may be planning an attack "targeting large gatherings of people" in Sandton, a wealthy suburb of Johannesburg that is sometimes dubbed "Africa's richest square mile."
The alert warned embassy staff to avoid crowds and other large public gatherings during the weekend of Oct 29-30, but said there was no information on the timing, method, or target of the potential attack.
Ramaphosa criticized the decision saying, "It was quite unfortunate that the U.S. government issued that type of warning without having had a deep-dive type of discussion with us. It is unfortunate that another government should issue such a threat as to send panic among our people."
The president's remarks were followed by a notice from the government saying: "Should the need arise; the South African government will be the first to inform the public about any imminent threat."
Some people on Twitter agreed with Ramaphosa, and felt that the U.S. was stirring panic with its terror warnings. One user suggested that the U.S. should focus on its own domestic terror threats, pointing to the frequency of mass shootings in the country.
Others criticized Ramaphosa for not taking the alert more seriously, echoing similar remarks made by Nigerians after the U.S. issued a terror warning about their capital city Abuja on Oct. 23.
"How many more South Africans must fall victims of mass killings, human trafficking etc," one user wrote.

The View From nigeria
After the U.S. Embassy sent an alert for "an elevated risk of terror attacks" in Abuja earlier this week, Nigeria's government also moved to reassure its citizens. Information Minister Lai Mohammed said, "As far as insecurity is concerned, the worst is over for Nigeria," adding that there was no need for panic.
However, Bulama Bukarti, a Nigerian lawyer based in London, accused the government of politicizing the issue, instead of taking the threats seriously. "We know that these terrorists have established presence around Abuja," Bukarti said in a Twitter thread. "They've attacked Abuja in the past and they'd love to it again. It's likely that they're planning attacks esp now elections are near. What will the govt lose if they said 'we will examine the evidence and act'?"