The News
The world's richest man now owns Twitter after months of trying very hard to back out of his own deal to buy the social media company. His first course of action was to fire several of the company's top executives, according to two people familiar to the matter who spoke to Semafor on the condition of anonymity.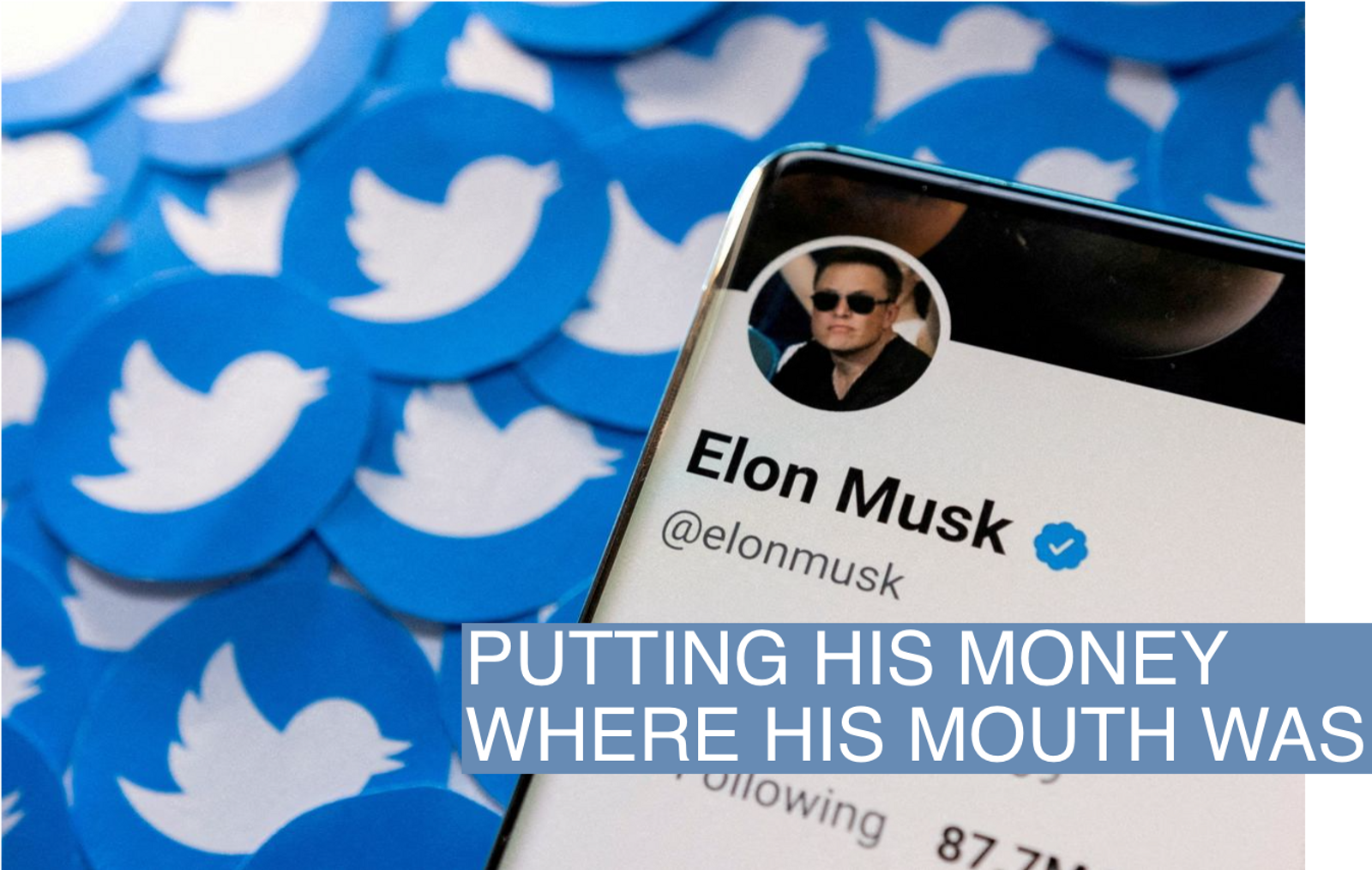 Know More
Musk purchased Twitter for $44 billion, ending a months-long legal saga rife with plot twists that one frustrated Twitter employee likened to the plot of "Succession."
Upon closing the deal Thursday night, Musk fired several of the company's top executives, including CEO Parag Agrawal, CFO Ned Segal, and Vijaya Gadde, head of legal policy, trust, and safety.
According to the Wall Street Journal, executives were escorted out of the company's San Francisco headquarters.
The Tesla CEO bought the company at $54.20 per share, which was his original asking price before Musk reneged on the deal following a July filing at the Security and Exchanges Commission. At that time, he complained about Twitter's lack of transparency about the number of bots on the platform — a claim later bolstered by a former Twitter employee-turned-whistleblower.
But industry observers speculated that Musk likely got cold feet and used the bots as pretext to back out after Tesla's stock price dropped following his decision to buy the social media site.
Speaking to BBC News in July, Tulane University law professor Ann Lipton said it "looked like his wealth was impacted when Tesla's stock price dropped as well."
Twitter sued Musk, claiming that his strategy to back out of the deal was "a model of bad faith." Hundreds of Musk's texts, released in court documents, reflected apparent buyer's remorse in light of the Ukraine war and the impending global economic crisis.
The legal wrangling went on for months, enriching both parties' lawyers by millions, as they prepared for the Oct. 17 trial. But on Oct. 3, Musk suddenly agreed to complete the purchase, likely because he knew he was going to lose in court, as Axios reported, and possibly wanted to skip testifying in an upcoming deposition.
Twitter and Musk had until Oct. 28 to reach a deal and avoid the trial.

Now What?
Musk has championed himself as a free speech advocate, vowing to reform Twitter's content moderation policies, which were used to take down tweets or ban users. He welcomed Kanye West back on Twitter recently, just hours before the rapper's account was locked for tweeting antisemitic comments.
Musk has also indicated that he could reverse the platform's long-standing ban of Donald Trump, saying he felt "permabans just fundamentally undermine trust in Twitter as a town square where everyone can voice their opinion." Trump was permanently banned for violating the company's "glorification of violence" policy after tweeting about the Jan. 6 Capitol riot.
But Musk dialed back some of his views in a tweet on Thursday. In a message to advertisers, he said that Twitter can't become a "free-for-all hellscape" with no consequences for what is said. Advertising is the platform's main source of revenue.
The jobs of thousands of Twitter staffers could also be on the line. An Oct. 20 report in The Washington Post found that Musk told prospective investors he plans to cut 75% of the social media site's 7,500-person workforce, leaving only around 2,000 employees. However, during a visit to Twitter's headquarters, Musk told staffers he does not plan to make such extensive cuts.