The News
An attempt by a Just Stop Oil activist to glue their own head to Johannes Vermeer's classic portrait, "Girl with a Pearl Earring," is the latest in a string of viral stunts by the U.K.-based environmental rights group.
The organization — whose goal is to end oil production and consumption — has been involved in several controversial and attention-grabbing protests in the U.K. and Europe.
Here's a roundup of their latest stunts.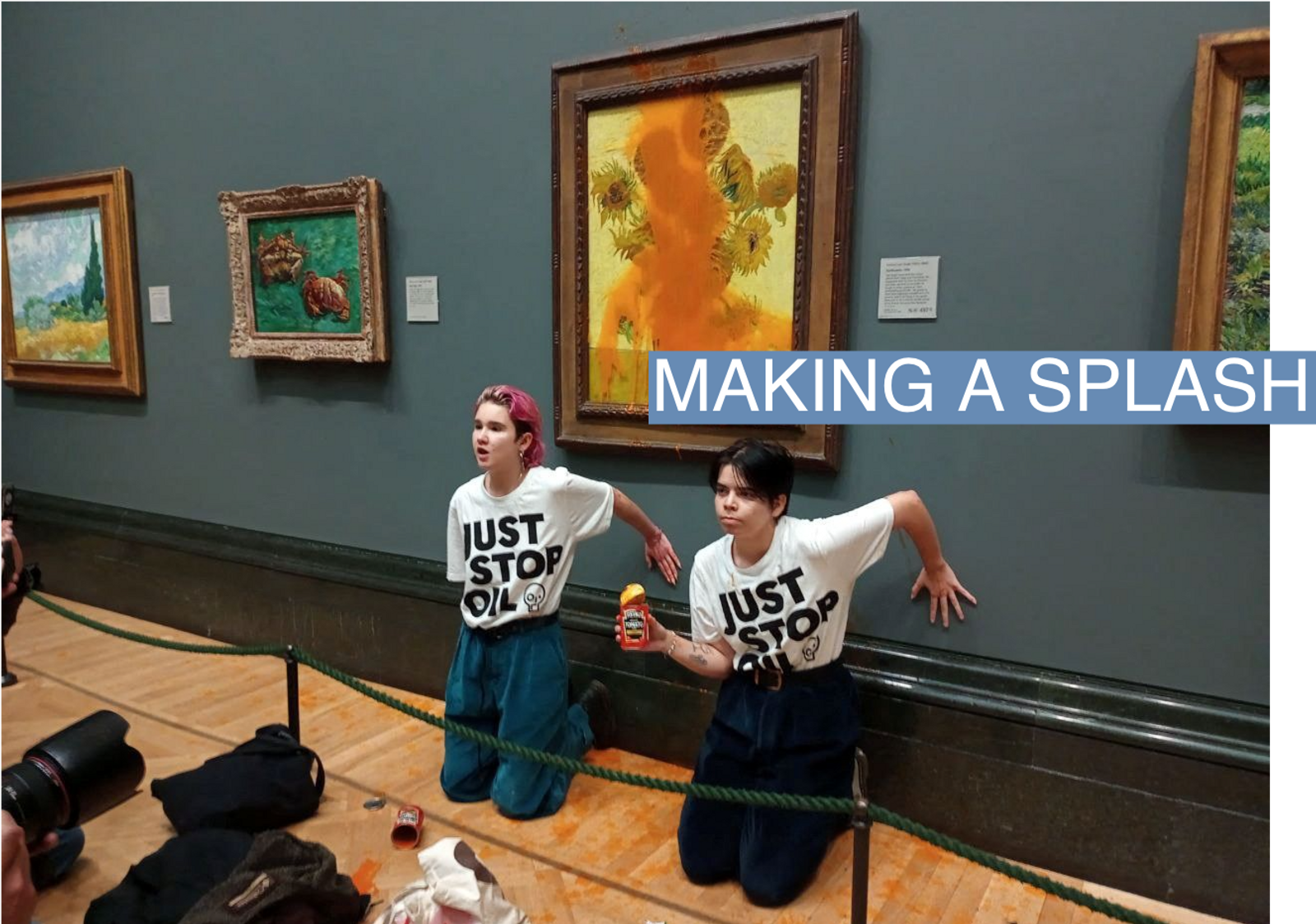 Know More
To date, none of the paintings targeted by the group have been directly harmed, though the frame of Van Gogh's "Sunflowers" did sustain minor damage.
Glued to their work
A Just Stop Oil activist attempted to glue his head to "Girl with a Pearl Earring" at The Hague's Mauritshuis museum Thursday, while a second demonstrator poured tomato soup over him.
The painting was behind glass and the museum said it was not damaged as a result of the stunt. Three people were arrested in connection with the protest.
Soup and "Sunflowers"
Two Just Stop Oil activists splashed tomato soup on Van Gogh's masterpiece — "Sunflowers" — at London's National Gallery on Oct. 14. The pair then glued their hands to the wall, as one shouted, "What is worth more, art or life?"
The duo were identified in The Guardian as Phoebe Plummer and Anna Holland. Both were arrested following the protest. The painting was unharmed but there was minor damage to the frame.
Monet and mashed potatoes
Inspired by Just Stop Oil's tomato-forward protest, climate change activists in Germany splashed liquified mashed potatoes on Claude Monet's "Grainstacks" on Oct. 23.
Two demonstrators with Letzte Generation, which translates to "last generation," glued their hands to the wall of Potsdam's Museum Barberini.
"We are in a climate catastrophe, and all you are afraid of is tomato soup or mashed potatoes on a painting," one protester said. "Grainstacks" was also behind protective glass.
Cake on the face of the monarchy
On Oct. 24, Just Stop Oil activists smashed a piece of cake into the wax figure of King Charles III on display at Madame Tussauds in London. Four people were arrested following the incident.
Quoteworthy
In a recent interview with Euronews, Just Stop Oil spokesperson Alex De Koning said, "We're peaceful protesters. We will cause disruption, we will attack paintings and art, but we're only doing this until the government make a meaningful statement about ending new fossil fuel assets in the UK. As soon as that happens, we're off and we move out of the way."