The News
Xi Jinping has been named general secretary of the Chinese Communist Party for at least another 5 years — cementing his legacy as the country's most powerful leader since Mao Zedong.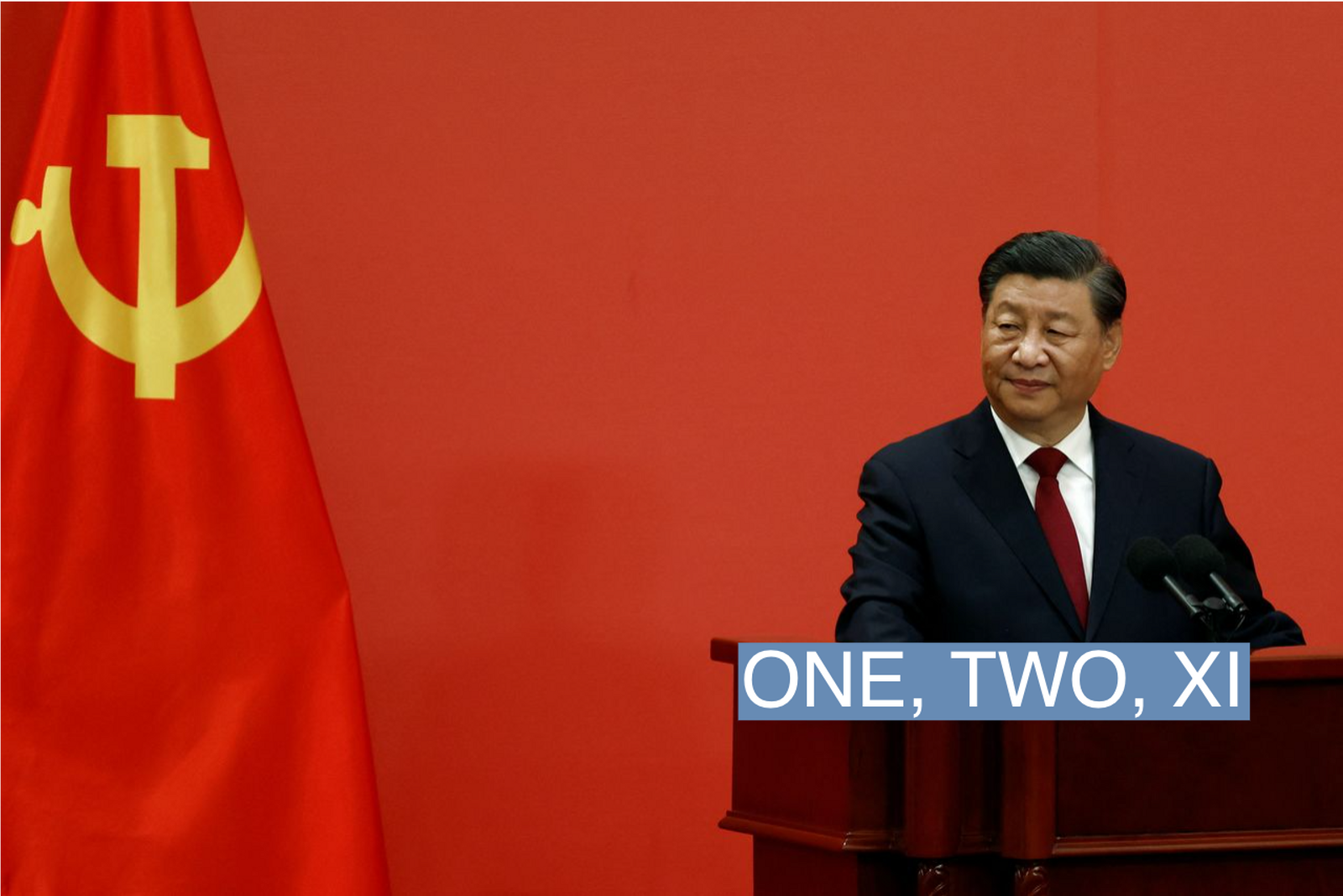 Know More
Xi's "coronation" is taking place in central Beijing at the 20th People's Party Congress. In his opening remarks to the congress last Sunday, he touted China's progress under his decade-long rule — shaking off concerns over the country's growing tensions with the U.S. and its slowing economy, spurred in part by Xi's isolationist "zero-COVID" policy.
Chinese leaders have previously only served two 5-year terms. But in 2018, changes were made to the country's constitution to allow Xi to effectively rule for life. He has also been bestowed with a series of honorifics and titles, and had his ideology enshrined in the party's constitution, moves that have centralized power to a degree unseen since Mao.
Among his many titles are some that are political, others more symbolic. Though he is China's president, for example, that role is ceremonial and Xi's true power derives from his role as the party's general secretary.
Discussions about succession, or what would happen if Xi were to suddenly die, were heavily censored on Chinese social media ahead of the high-profile gathering this month.
Xi's nearly two-hour speech last week struck a different tone to previous addresses, with a greater emphasis on security. Bloomberg noted, for example, that he used the word security more than economy in his remarks, the first time a Chinese leader has done so in that speech since the founding of the People's Republic of China in 1949.
Since Xi took office in 2012, he has launched an anti-corruption campaign targeting both officials and ordinary citizens. In a press conference ahead of the Party congress, officials declared that over 200,000 top leaders in China have been punished since Xi became general secretary.
Xi's time as party leader has also been marked by growing mass surveillance, increasing censorship, and a worsening track record of human rights' violations — including forcibly detaining millions of Uyghurs in Xinjiang and clamping down on Hong Kong's pro-democracy movement. U.S. officials have expressed rising concerns over a potential invasion of Taiwan on Xi's watch. He has also sought to exert China's influence abroad — especially across Africa and Southeast Asia, most notably through infrastructure projects such as the Belt and Road Initiative.

The View From the United States
According to data collected by the Pew Research Center, Americans don't regard Xi's reappointment as one of the most pressing issues when it comes to U.S.-China relations. Xi's aggressive approach to foreign policy is a larger threat in the minds of Americans. Pew's data shows that 57% of Americans see China's ties to Russia as a serious issue for the U.S. Though China has at times appeared to distance itself from the war in Ukraine, Xi still maintains a close relationship with Russian President Vladimir Putin.

Now What?
Xi will need to contend with China's faltering economy, and the country's growing isolation from the rest of the world as it continues its attempt to achieve "zero-COVID." The country clamped down even further on dissent both online and in person in the run-up to the Party congress, but a rare protest this month in Beijing, in which a banner carrying critical slogans was unfurled along an overpass, points to the growing frustration among ordinary Chinese of COVID restrictions.

Notable
In an issue brief for The Atlantic Council, senior fellow Michael Schuman writes, "Beijing has not held any serious dialogue with Taipei since the current Taiwanese President, Tsai Ing-wen, took office in 2016. Instead, Xi has chosen to increase diplomatic and military pressure on Taiwan in an attempt to prevent Tsai from extending her government's international stature and ties to other countries, especially the United States."
In a series of tweets, The Washington Post's Eva Dou shared a revealing essay written by a 36-year-old Xi around the time of the 1989 Tiananmen crackdown that mirrors his current worldview. At the time, he was the party chief of Ningde, a city in southeastern China, where large pro-democracy protests were taking place. In his essay, Xi argued that arts and literature were being politicized "to promote bourgeois liberalization," thereby necessitating the need for government censorship.

More Semafor