The News
China's leader Xi Jinping further consolidated his grip on China's Communist Party at the close of its five-yearly congress, ahead of the widely-expected announcement that he will be confirmed for a third term as the party's leader, and the country's president.
Here are three things to be know about how Saturday, the final day of the congress, unfolded.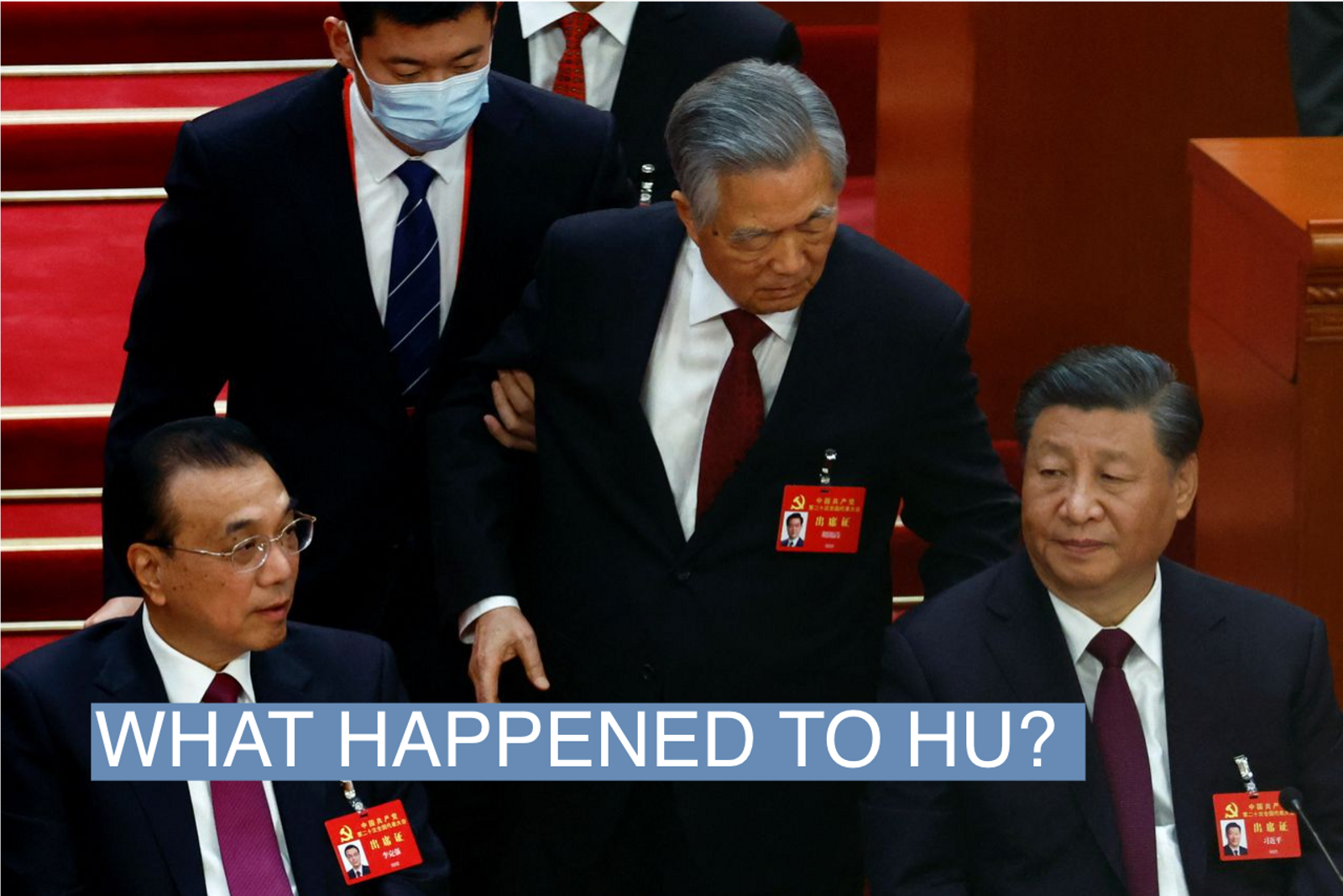 Know More
Xi enshrined as "core" of the Party
The congress approved amendments to the party's constitution, including a decision to enshrine Xi Jinping as "core of the party," formally securing his ideology as part of its governing charter, and foreshadowing the likely announcement on Sunday of his norm-breaking third term as general secretary. The changes to the charter were unanimously voted by over 2,000 party delegates in Beijing's Great Hall of The People.
"Dare to struggle, dare to win, bury your heads and work hard. Be determined to keep forging ahead," Xi said, in an address to party delegates.
Since he first became party general secretary in 2012, Xi has consolidated his power through a series of anticorruption campaigns to eliminate his opponents and stamp out those who disagreed with his party ideology. In 2018, Chinese authorities effectively eliminated existing term limits, effectively allowing him to lead for life.
Former leader Hu Jintao escorted out
In an unusual move during the highly choreographed meetings, Xi's predecessor as China's leader, Hu Jintao, was escorted out of the Great Hall in the middle of Saturday's closing ceremony.
Videos from inside the venue show two male staff members attempting to lift Hu from his seat. The former leader, who sat next to Xi, appeared reluctant to go, reaching for a piece of paper before he was stopped and ushered out of his seat. As he exited, Hu made a brief comment to Xi, who nodded in response.
Due to the opaque nature of the high-profile gathering, the reasons for Hu's departure remain unclear. Some analysts say that he may been asked to leave because of poor health, or because he tested positive for COVID-19. China continues to operate a stringent zero-COVID policy.
Following his exit, Chinese state media outlet Xinhua reported that Hu insisted on attending the Saturday closing session, despite "taking time to recuperate recently." Xinhua wrote on Twitter that "[Hu's] staff, for his health, accompanied him to a room next to the meeting venue for a rest. Now, he is much better."
But according to BBC's China correspondent Stephen McDonell, Hu's departure may "not have been an accident," and instead, symbolic of the change in times. "Hu Jintao represents a very different China to that of Xi Jinping," he wrote, in an analysis. "He ran a much more collective leadership and had to balance various factions represented on the Politburo Standing Committee. The Hu years were seen as a time of opening up to the outside world and increased tolerance of new ideas."
A new upper echelon
The party also appointed a new Central Committee — the largest of its decision making bodies, comprising 205 full members and 171 alternates. On Sunday, the Central Committee will vote on a smaller group of 25 who will make up the Politburo.
Two of the most prominent absentees from the new Central Committee include Premier Li Keqiang, whose stance on China's economic policy had reportedly been at odds with Xi, and Wang Yang, who had been touted to replace Li as premier.
From the Politburo, the party will name a Standing Committee, the smallest and most significant decision-making body of the Communist Party. Analysts say that the Standing Committee is likely to be stacked with Xi's allies. According to The Wall Street Journal, Shanghai party chief Li Qiang is the top contender to be premier, the position traditionally charged with managing China's economy.

More Semafor