Experts are worried that the Israel-Hamas war could tip into a multi-front conflict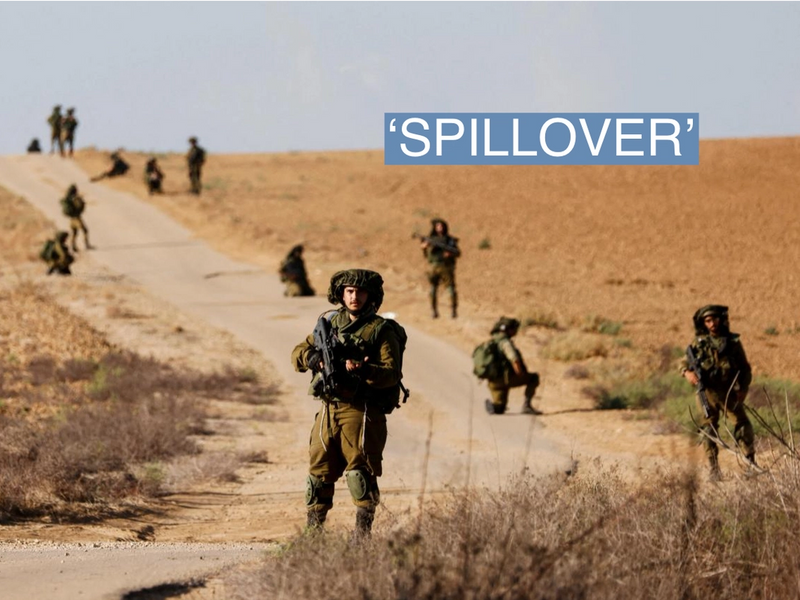 Fears over a wider regional conflict stemming from the Israel-Hamas war are growing, with Western leaders warning about the risk of a potential "spillover."
Israel has evacuated a town near its border with Lebanon as it trades fire with the Hezbollah militant group, which has suggested it might join the conflict if Israel tries to destroy Hamas. Meanwhile the U.S. said drones targeted its bases in Iraq and Syria, and one of its warships intercepted cruise missiles apparently launched at Israel by Houthi forces in Yemen.
On Thursday the U.S. issued a rare "Worldwide Caution" alert to Americans living abroad, warning of an increased potential for violence, terrorist attacks, and demonstrations against U.S. citizens.
The Israel-Hamas war is a geopolitical "game-changer," wrote Lucy Kurtzer-Ellenbogen, director of the Israel, The Palestinian Territories, and the Region program at the U.S. Institute of Peace. Regional relationships that have been forged in recent years are likely to fray, she noted, while progress on Arab-Israeli normalization will stall. "We cannot dismiss the prospect that the conflict could now metastasize throughout and beyond the immediate region, resulting in a multi-front war."
One expert warned that Hamas may have stronger capabilities than expected. The militant group is known to stockpile missiles, and it has developed new weapons including mines and roadside bombs. Drawing Israel into a protracted conflict may be a goal for Hamas, Fabian Hinz, a defense analyst at the International Institute for Strategic Studies, told The Washington Post: "The idea is to get to a higher level of escalation," he said, "and then pull the rabbit out of the hat."
This week's deadly Gaza hospital blast has potentially increased the likelihood of a regional fallout. Initially, the threat of a spillover was low, wrote Dalia Dassa Kaye in Foreign Affairs: Iran was likely eager to avoid conflict with the U.S., and neighboring states were keen to avoid the economic pressures of a war. But the "arguments favoring containment became much less intuitive" after the hospital explosion, she said, making "regional escalation more likely," noting also that "the risk of confrontation between Iran and Israel is particularly acute."