Biden to address Israel, Ukraine wars in rare Oval Office speech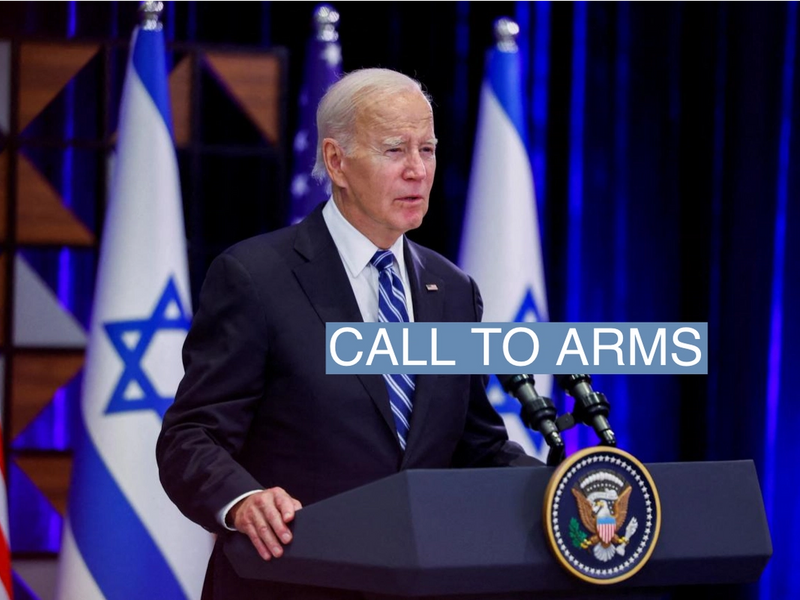 U.S. President Joe Biden will make a rare prime-time speech to the nation from the Oval Office on Thursday to shore up support for wartime funding of both Israel and Ukraine.
As Israel's war with Hamas nears its second week, and almost 20 months since Russia's full-scale invasion of Ukraine, Western nations are grappling with how to aid both conflicts.
In the coming days Biden is expected to request around $100 billion from Congress to provide funding for Ukraine, Israel, Taiwan, and to fortify the U.S.-Mexico border.
Washington will be able to support both Israel and Ukraine if funding is approved, U.S. Treasury Secretary Janet Yellen said. "America can certainly afford to stand with Israel and to support Israel's military needs and we also can and must support Ukraine in its struggle against Russia," Yellen told British outlet Sky News on Monday, adding that the U.S. economy is robust and can handle the pressure.
While the immediate impact of the Israel-Hamas war on Ukraine is unclear, prolonged fighting could mean trouble for Kyiv down the line, experts have said. Escalation into a large regional conflict might morph into resource constraints, Simon Schlegel, a senior analyst at the International Crisis Group, told Turkey's Anadolu Agency. "If it remains localized on the Gaza Strip, its effects will be only limited," he added. In the short term, Washington has the resources to support both countries, Schlegel said.
Top G7 diplomats have said that Western support for Israel has eroded attempts to increase support for Ukraine among Global South countries, the Financial Times reported. Washington's firm backing of Israel might be alienating some developing nations, with several countries in the Middle East feeling that the U.S. has rarely held Israel responsible for its actions. A diplomat told the outlet that future efforts to shore up support for Ukraine could falter: "All the work we have done with the Global South [over Ukraine] has been lost . . . Forget about rules, forget about world order. They won't ever listen to us again."