The News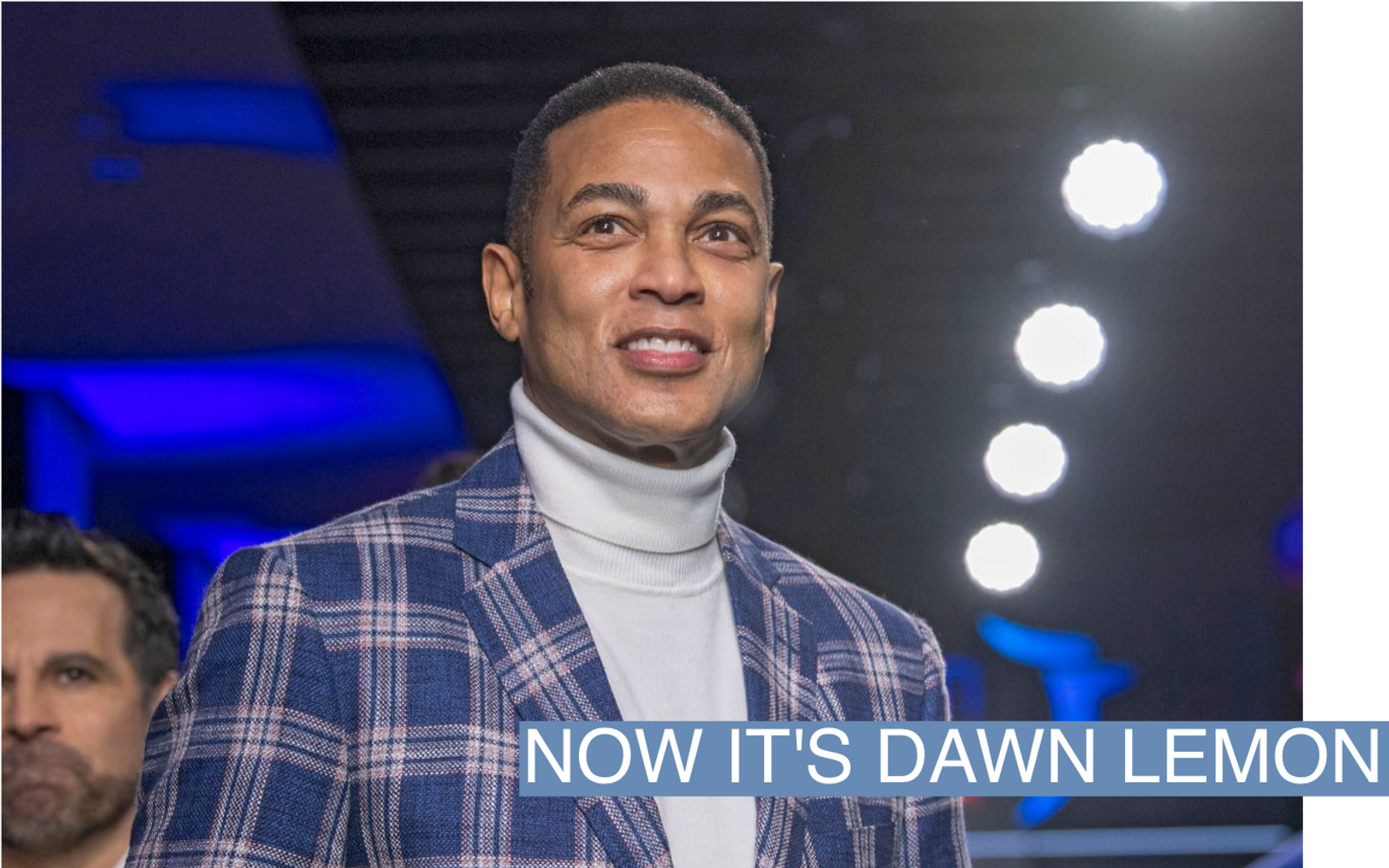 Don Lemon spent eight years mastering CNN's signature impassioned political monologues, comparing Donald Trump to a disease and saying his presidency left many Americans with PTSD.
Now, the veteran television news personality who got his start as a local news reporter in Alabama  is abandoning the anti-Trump diatribes, along with the evening newscaster look (more on that later), when he moves into a new role next month as the primary host of CNN This Morning, the relaunch of CNN's three hour morning news show.
In his first interview since the move was announced, Lemon told Semafor that he'd grown tired of the repetitiveness of his old show's format, and was intrigued by the offer from new president Chris Licht to host a less buttoned-up show in the morning.
"Has it been frustrating over the last couple of years having to deal with politics in the way it's been dealt with in primetime? Yes," he said. "Was I tired of it? In some ways, yeah it's gotten old."

Max's view
Lemon's move embodies a broader shift at CNN, and across the industry, to reel in what some executives see as the excesses of the Trump years. That era turned CNN and MSNBC into rival revivalist churches that pleased some of the faithful but won few converts and sometimes alarmed advertisers and corporate owners.
Lemon's unusual move from primetime to dayside is a test and an opportunity for both the 56-year-old anchor and Licht. The network president has been on defense since taking on the job earlier this year, taking heat internally and externally over that attempt to move CNN back toward the ideological center after over four years of aggressive anti-Trump programming encouraged by former president Jeff Zucker.
The new morning show is Licht's first big programming swing. He's aiming to take back hours CNN has ceded for decades to its cable news competitors, trailing Fox & Friends and Morning Joe, where Licht was once an executive producer.

The Inter-View
Semafor caught up with Lemon just a few hours after the show's first rehearsal on Monday. We've lightly edited the interview for length and clarity:
TANI: You're launching a new morning news show in 2022. Television news audiences are shrinking. And the previous morning show was lower than the two competitors on cable. How are you going to approach the format differently, and why do you think it'll work?
LEMON: I'm just going to be myself. It seems to have worked for the past however many decades in the business. I'm really not concerned about the ratings: I'm concerned about making it the best morning show possible and appealing to multiple demographics and people who are interested in other things than raw, tribal politics.
TANI: Throughout the previous administration, you would occasionally butt heads with Trump. You covered politics quite a bit on your primetime show. Was this something you got tired of?
LEMON: I would be lying to you if I didn't say that was a factor. I never really butted heads with the last president. He didn't have the courage to come on and take hard questions from CNN and me and my show.
Look, has it been frustrating over the last couple of years having to deal with politics in the way it's been dealt with in primetime? Yes. Was I tired of it? In some ways, yeah it's gotten old. But I also think we were transitioning to a different time.
It was frustrating to say the least, not that I wasn't committed to doing it in prime time. But after Donald Trump wasn't president anymore, and we had a war in Ukraine — that changed our approach to what we did in primetime, which was not starting every single night with a monologue about Donald Trump and how bad he was and how terrible things were in the country.
So I was ready to move on and I think the audience is ready to move on as well. And even if he comes back, I think there's a different approach that can be taken in primetime and in the mornings. The morning gives me more latitude to educate and elevate the conversation.
TANI: I heard Monday was your first rehearsal, and you were out the night before with Kaitlan at a bar.
LEMON: Kaitlan and I are friends, Poppy and I are friends. When I would go to DC, I would spend time with Kaitlan at Le Dip. And when she was here, we'd do the same thing. Poppy and I have been friends for a decade. So we've been hanging out.I tend to be a creature of habit, and Kaitlin will say "Let's go do something," and we'll go hang out and it'll be like "What am I doing here? These are 25-30 year olds, and I'm hanging out with them at a sports bar."
But it gives us something to talk about on the show because we can actually talk about our relationship and what we do, so we can talk about what we did over the weekend, which will be a part of the show.
TANI: You were close with Jeff Zucker. You went on air and said he was the backbone of CNN. You obviously have a new boss. How have you managed that transition? Has it been uncomfortable, has it been easier than you thought? How have things changed?
LEMON: I've had a lot of new bosses in my career. I've been in news since 1991 or so. The new boss comes in and you do what you have to do. Consistently what I've done is just do my job.Has it been uncomfortable? No, I think the only thing that's uncomfortable is us over the past year becoming the news. Especially at CNN, we don't really like that. The palace intrigue and the discomfort has been more about what's made up in the news. We read them and say "none of this is true, this wasn't such a big deal," but everyone likes to talk about this and write about it like it's the "Real News Diaries of New York."
I really like Chris. When I read stories about what's happening at CNN and about Chris and what he's doing, I think it's unfair. I think people should give him a chance. Everyone has a new vision when they come in as a new boss. Let's see what his vision is and how it plays out.
TANI: Somebody told me to ask you what you'd be wearing on the show. Why did someone tell me to ask you that?
LEMON: The perfect answer is tune in. I'll be wearing what I wear in my normal everyday life and not necessarily newsguy at night Don Lemon. It will be appropriate to the show. It will also be a lot younger and a lot more fun than what people are used to seeing on TV news.
Maybe you'll get some new fashion tips.
TANI: Have you heard from fellow morning show hosts since this was announced, and what advice did they have?
LEMON: I have heard from a number of them. I got a nice call from Gayle King who said "Hi, this is the host of your favorite morning show until the beginning of the month."
I had dinner with one of my dear friends and mentors Bryant Gumbel the other night and he gave me some great advice. He said, "Make sure they build the show around you and your co-anchors. So when you sit in that seat you feel very comfortable, like you're in your own living room. If you can do that, everything else will be easy."

Notable
"Licht's tenure has been defined by trying to lower the temperature for a network that ran hot during the Trump administration," John Koblin wrote in the Times when he rolled out the new morning show cast. The new show "demonstrates our commitment to the morning," Licht said. The tough thing about mornings is that they come regardless of your commitment level.
Don Lemon has had a long, often entertaining road to his current heights. Along the way, he spent some time with the great profiler Taffy Brodesser-Akner in GQ. He explained to her the proper pronunciation of sorbet, and she concluded that "he may not be the steady, infallible news anchor America needs right now. But he sure feels like the anchor we deserve."